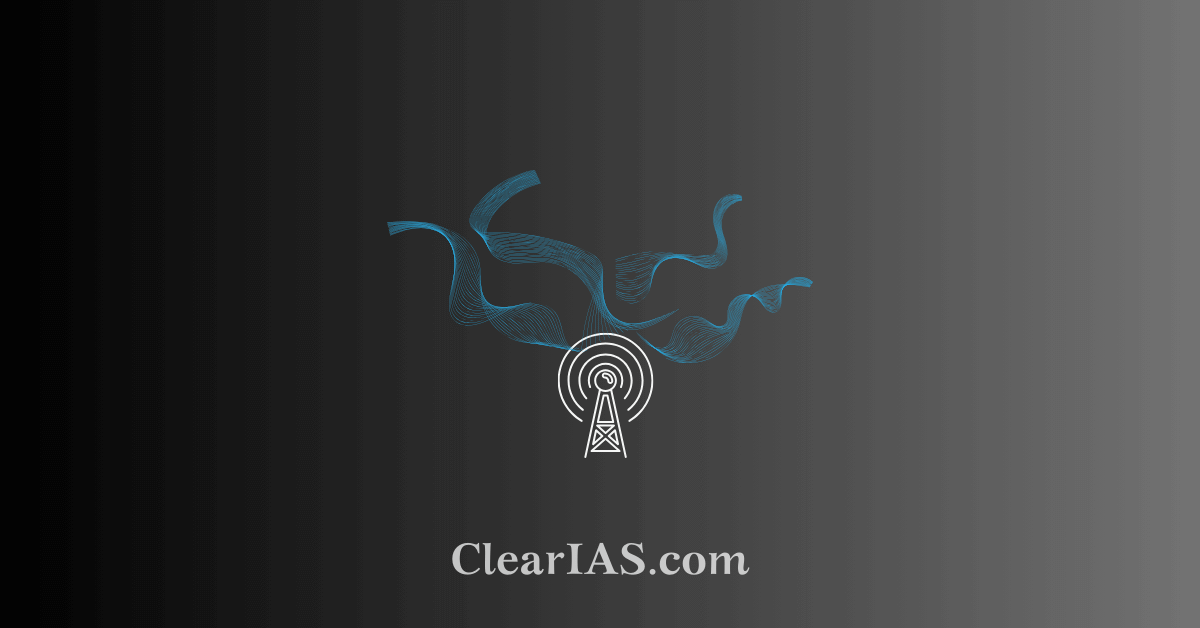 A fast radio burst, or FRB, is a pulse of radio-frequency electromagnetic radiation. It lasts a small fraction of a second but outshines most other sources of radio waves in the universe. Radio waves have the longest wavelengths in the electromagnetic spectrum. Read here to learn more about FRBs.
Recently, astronomers have detected an intense flash of radio waves coming from what looks like a merger of galaxies dating to about 8 billion years ago – the oldest-known instance of a phenomenon called a fast radio burst that continues to defy explanation.
This burst in less than a millisecond unleashed the amount of energy our sun emits in three decades, researchers said.
It was detected using the Australian SKA Pathfinder, a radio telescope in the state of Western Australia. Its location was pinpointed by the European Southern Observatory's Very Large Telescope in Chile, one of the most powerful optical telescopes.
Fast Radio Bursts
Fast Radio Bursts (FRBs) are intense, millisecond-duration bursts of radio waves that originate from outside of our galaxy.
These astronomical phenomena were first discovered in 2007 and have since become an intriguing area of study in astrophysics.
FRBs are incredibly brief, often lasting just a few milliseconds, but they release as much energy in that short time as the Sun does in weeks or even years.
The exact origins of FRBs are still not completely understood. There are several theories, including magnetars (highly magnetic neutron stars), supermassive black holes, or even extraterrestrial civilizations. Some FRBs repeat while others are one-time events.
FRBs are detected using radio telescopes, and they appear as short-lived bursts of radio waves. The bursts are typically identified after the fact through data analysis, and their source location is not always immediately determined.
One of the key characteristics of FRBs is their dispersion measure, which is a measure of how much the burst's radio waves are spread out as they travel through space.
This dispersion can provide information about the density of the interstellar or intergalactic medium through which the signal has traveled.
Locating the exact source of an FRB is challenging because they appear and disappear rapidly. However, advances in technology and the detection of repeating FRBs have improved our ability to determine their origins.
FRBs are believed to be of cosmic origin, and they have been detected in various parts of the universe. They can provide insights into distant and extreme astrophysical environments.
Scientific significance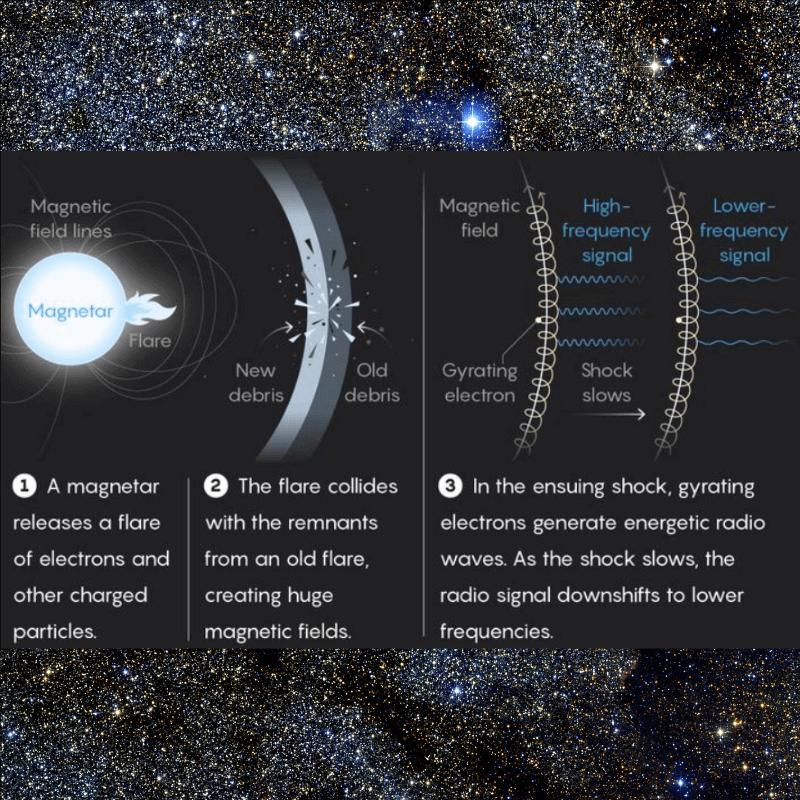 Studying FRBs can help scientists learn more about the distribution of matter in the universe, the properties of neutron stars, and the conditions in regions near black holes. They also hold the potential to be used as cosmological probes.
Some have proposed that FRBs could be used for interstellar communication or for "beacon" signals to locate advanced civilizations in the universe, although this remains highly speculative.
The researchers believe that studying these bursts also can help to detect and measure the immense amount of matter believed to populate the expanses of space between galaxies.
The study of Fast Radio Bursts is still an active area of research in astrophysics, and discoveries are being made regularly. Ongoing efforts aim to understand the origins and nature of FRBs and use them to probe the universe's most extreme environments.
FRBs are a relatively new and enigmatic discovery, and they represent a significant astrophysical mystery. The exact sources and mechanisms that produce these bursts are still not fully understood, and solving this mystery has captured the imagination of astronomers and astrophysicists.
FRBs are believed to originate from extremely distant galaxies. Studying them provides a unique opportunity to explore the cosmos at vast distances and investigate the environments and conditions in distant parts of the universe.
FRBs can serve as probes of the intervening space between their source and Earth. As the bursts travel through space, they interact with the surrounding environment and can provide information about the density, composition, and magnetic fields of the intergalactic and interstellar medium.
The energy levels associated with FRBs are incredibly high, making them a subject of interest in high-energy astrophysics. Understanding the sources and mechanisms behind FRBs can shed light on extreme physical processes in the universe.
Because FRBs travel such vast distances, they have the potential to be used as cosmological tools. By studying their dispersion and redshift, astronomers can gain insights into the expansion rate of the universe and the distribution of matter along the path of the burst.
Some FRBs have been linked to magnetars, highly magnetized neutron stars. This connection provides an opportunity to study the extreme conditions near these exotic objects and to investigate the relationship between magnetars and FRBs.
The polarization properties of FRBs can provide information about the magnetic fields in their source regions and the intervening medium. Studying polarization and Faraday rotation can yield insights into the magnetic environments of the universe.
Some FRBs may be associated with neutron stars or black holes. Investigating the circumstances that lead to FRBs originating from these environments can offer insights into the behavior of these compact and dense objects.
The extreme nature of FRBs makes them suitable for the search for new physics. Some theories propose that FRBs could be linked to exotic phenomena, such as cosmic strings or axion mini clusters, which could expand our understanding of the fundamental laws of the universe.
Fast Radio burst discoveries
2001: The Parkes Observatory in Australia made the first detection of an FRB as it blasted out of the Small Magellanic Cloud, a satellite galaxy of the Milky Way. However, this event would not be discovered until 2007, when astrophysicist Duncan Lorimer and colleagues found it in archival data from the observatory, thus named the Lorimer burst.
2011: The Keane burst, or FRB 010621 was the second FRB to be detected and was observed in data from the Parkes Multibeam Pulsar Survey.
2012: In 2012, the Arecibo Observatory, a former radio telescope in Puerto Rico, discovered the first repeating FRB, designated FRB 121102.
Since then, FRBs have been reported almost every year.
Until now, the oldest-known such burst dated to 5 billion years ago, making this one 3 billion years older. The universe is about 13.8 billion years old. For comparison, Earth is about 4.5 billion years old.
Conclusion
FRBs are among the most enigmatic and exciting phenomena in modern astronomy, and they continue to pique the interest of scientists and astronomers worldwide as they seek to unlock the mysteries surrounding these cosmic radio bursts.
Related articles:
-Article by Swathi Satish