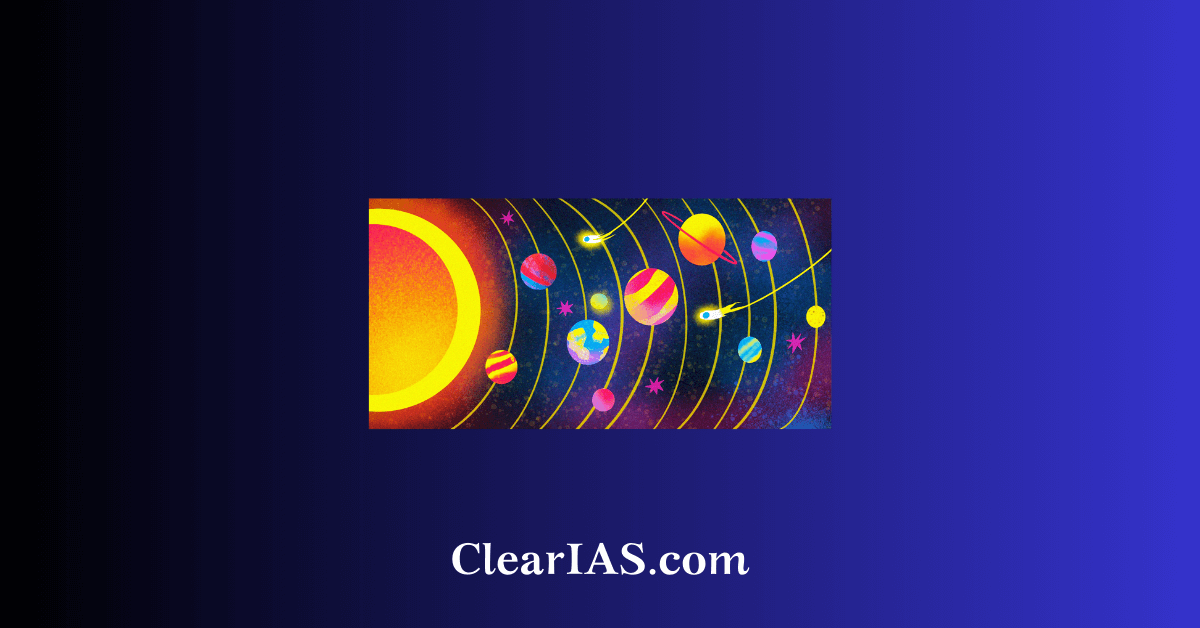 The solar system is a vast and complex celestial system that consists of the Sun, planets, moons, asteroids, comets, and other celestial objects bound together by gravity. Read here to learn all about the solar system.
Our solar system has one star, eight planets, five officially recognized dwarf planets, at least 290 moons, more than 1.3 million asteroids, and about 3,900 comets.
It is located in an outer spiral arm of the Milky Way galaxy called the Orion Arm, or Orion Spur. Our solar system orbits the center of the galaxy at about 515,000 mph (828,000 kph). It takes about 230 million years to complete one orbit around the galactic center.
Read: The Universe
Milky way
The Milky Way is the barred spiral galaxy in which our solar system is located. It is a vast, disk-shaped structure that contains billions of stars, as well as planets, asteroids, comets, and other celestial objects.
It has a diameter of approximately 100,000 to 120,000 light-years. It consists of a flattened, disk-shaped region with a central bar and spiral arms that extend outward from the center.
The Milky Way's structure can be divided into several main components, including:
Bulge: The central, bulging region of the galaxy where stars are densely packed.
Disk: The flattened disk of the galaxy where most of its stars, including the Sun, are located.
Halo: The spherical region that surrounds the bulge and disk, containing older stars, globular clusters, and dark matter.
Spiral Arms: The Milky Way has several spiral arms, including the Perseus Arm, Sagittarius Arm, and the Orion Arm (where our solar system is located).
Galactic Center: At the center of the Milky Way is a supermassive black hole called Sagittarius A*, which has a mass of approximately 4.1 million times that of the Sun.
The Milky Way rotates, with stars, gas, and dust in the disk moving around the galactic center. It takes the Sun about 225-250 million years to complete one orbit around the center, known as a cosmic year or galactic year.
The Milky Way's spiral arms contain a higher density of stars and regions of star formation. They appear as bright, winding structures when viewed from a distance.
The Milky Way is just one of billions of galaxies in the observable universe. It is part of the Local Group, a small cluster of galaxies that also includes the Andromeda Galaxy, the Triangulum Galaxy, and numerous smaller dwarf galaxies.
Studying the Milky Way and its structure is challenging because we are inside it. Astronomers use a variety of tools, including radio and infrared telescopes, to study different regions and components of the galaxy.
Solar system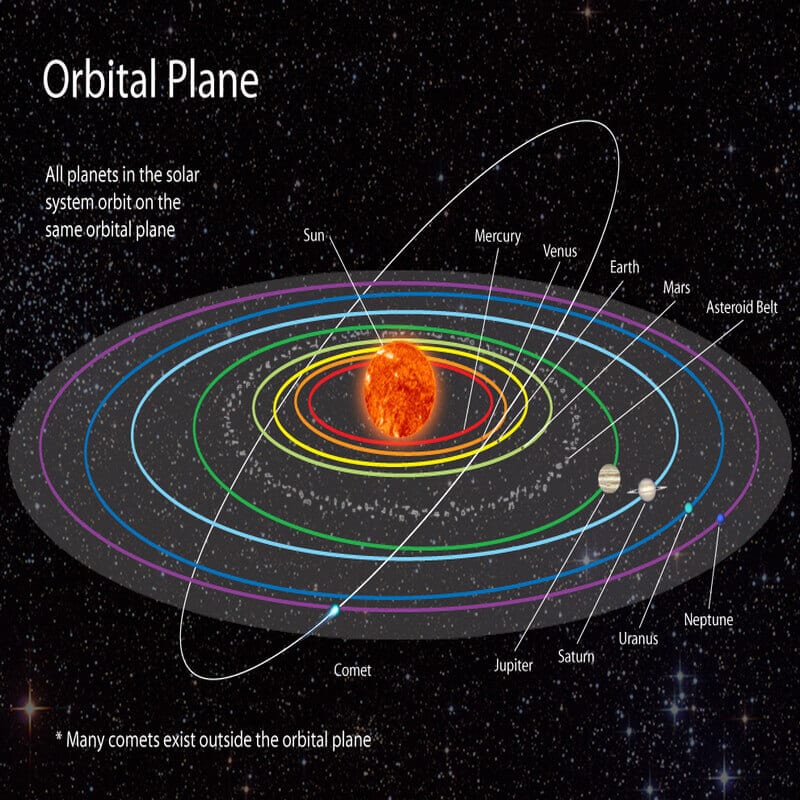 We call it the solar system because it is made up of our star, the Sun, and everything bound to it by gravity – the planets Mercury, Venus, Earth, Mars, Jupiter, Saturn, Uranus, and Neptune; dwarf planets Pluto, Ceres, Makemake, Haumea, and Eris – along with hundreds of moons; and millions of asteroids, comets, and meteoroids.
Our solar system is the only one we know of that has a planet that supports life. So far, we only know of life on Earth, but we're looking for life on other worlds.
It is a small part of the Milky Way galaxy and serves as our cosmic neighborhood.
The Sun is the central and most massive object in the solar system. It accounts for over 99% of the total mass of the solar system. It is a G-type main-sequence star, primarily composed of hydrogen and helium. The Sun's gravitational pull keeps all other objects in the solar system in orbit around it.
Planets
There are eight recognized planets in the solar system, divided into two groups:
Inner Planets (Terrestrial Planets): These include Mercury, Venus, Earth, and Mars. They are characterized by their solid surfaces and relatively small sizes. They are often called the "terrestrial planets" because their surfaces are rocky.
Outer Planets: These include Jupiter, Saturn, Uranus, and Neptune. They are sometimes called the Jovian or "Jupiter-like" planets because of their enormous size relative to the terrestrial planets. They are composed primarily of hydrogen and helium. They lack solid surfaces and have extensive ring systems.
Jupiter and Saturn are sometimes called the gas giants, whereas the more distant Uranus and Neptune have been nicknamed the ice giants. This is because Uranus and Neptune have more atmospheric water and other ice-forming molecules, such as methane, hydrogen sulfide, and phosphene, that crystallize into clouds in the planet's frigid conditions
Dwarf Planets: In addition to the eight planets, there are several dwarf planets in the solar system, including Pluto, Eris, Haumea, Makemake, and Ceres. These objects do not dominate their orbits and share them with other celestial bodies.
Other components of the Solar system
Moons (Natural Satellites): Many of the planets and dwarf planets have moons. Earth's moon is the most well-known. For example, Jupiter has over 80 moons, while Saturn has more than 80 as well.
Asteroids: Asteroids are rocky, metallic objects that orbit the Sun, primarily located in the asteroid belt between Mars and Jupiter. Some notable asteroids include Ceres, Vesta, and Pallas.
Comets: Comets are icy bodies that travel in elliptical orbits around the Sun. When they approach the Sun, they develop a glowing coma and a tail due to the sublimation of their ice. Famous comets include Halley's Comet and Comet Hale-Bopp.
Kuiper Belt: Beyond the orbit of Neptune lies the Kuiper Belt, a region containing numerous small icy bodies and some dwarf planets. Pluto is one of the Kuiper Belt objects.
Oort Cloud: The Oort Cloud is a hypothetical, spherical region surrounding the solar system, where long-period comets are believed to originate. It is much farther from the Sun than the Kuiper Belt.
Interplanetary Space: The vast regions of space between the celestial objects in the solar system are filled with solar wind, cosmic dust, and electromagnetic radiation.
Different types of solar systems
The term "solar system" specifically refers to our star system, which includes the Sun and all the celestial bodies orbiting it, such as planets, moons, asteroids, and comets.
However, throughout the universe, there are countless star systems, each with its own set of celestial objects.
Single Star Systems: These are star systems that consist of a single star, like our own solar system with the Sun as the central star.
Binary Star Systems: Binary star systems contain two stars that orbit a common center of mass. They can be further classified into various types:

Visual Binaries: These are binary stars that can be observed as two distinct stars through telescopes.
Spectroscopic Binaries: In these systems, the two stars are so close together that they cannot be visually separated, but their presence is detected through spectroscopic observations.
Eclipsing Binaries: These systems, when observed from Earth, periodically eclipse each other, causing variations in brightness.

Multiple Star Systems: These systems consist of three or more stars orbiting each other. They can be hierarchical, with pairs of binary stars orbiting each other, or more complex configurations involving multiple stars nearby.
Stellar Clusters: Stellar clusters are groups of stars that are gravitationally bound and have formed from the same molecular cloud. Open clusters contain young stars, while globular clusters are typically older and contain many more stars.
Planetary Systems: These systems, like our solar system, consist of one or more planets orbiting a star. Exoplanetary systems are planetary systems outside our solar system.
Star-Planet Systems: These systems involve a single star and one or more planets that orbit it. These are also known as planetary systems.
Exoplanetary Systems: These systems are located outside our solar system and consist of exoplanets (planets that orbit stars other than the Sun) and their host stars.
Multiple Planetary Systems: Some stars have multiple planets in orbit around them, and these planetary systems can be complex with various combinations of planets and their orbits.
Pulsar Systems: Pulsars are highly magnetized, rotating neutron stars that emit beams of electromagnetic radiation. Some of them are found in binary systems where they can have companion stars.
White Dwarf Systems: In these systems, a white dwarf, which is the remnant of a Sun-like star, may have a companion star. Material from the companion star can accrete onto the white dwarf, leading to periodic outbursts.
Black Hole Systems: These systems involve a black hole, an extremely dense region of spacetime, and may include stars or other objects in orbit around the black hole.
Young Stellar Objects (YSOs): YSOs are stars in the early stages of formation. These systems often have disks of gas and dust, which may lead to the eventual formation of planetary systems.
Conclusion
The solar system formed about 4.6 billion years ago from a giant molecular cloud of gas and dust. Over time, gravitational forces led to the formation of the Sun and the various objects that make up the solar system.
The solar system provides a unique window into the study of planetary science, astronomy, and the origins of our cosmic neighborhood.
Here only a few examples of the diverse star systems found throughout the universe are mentioned. The study of different star systems helps astronomers better understand the processes of star formation, evolution, and the formation of planets and other celestial objects.
Related articles:
-Article by Swathi Satish