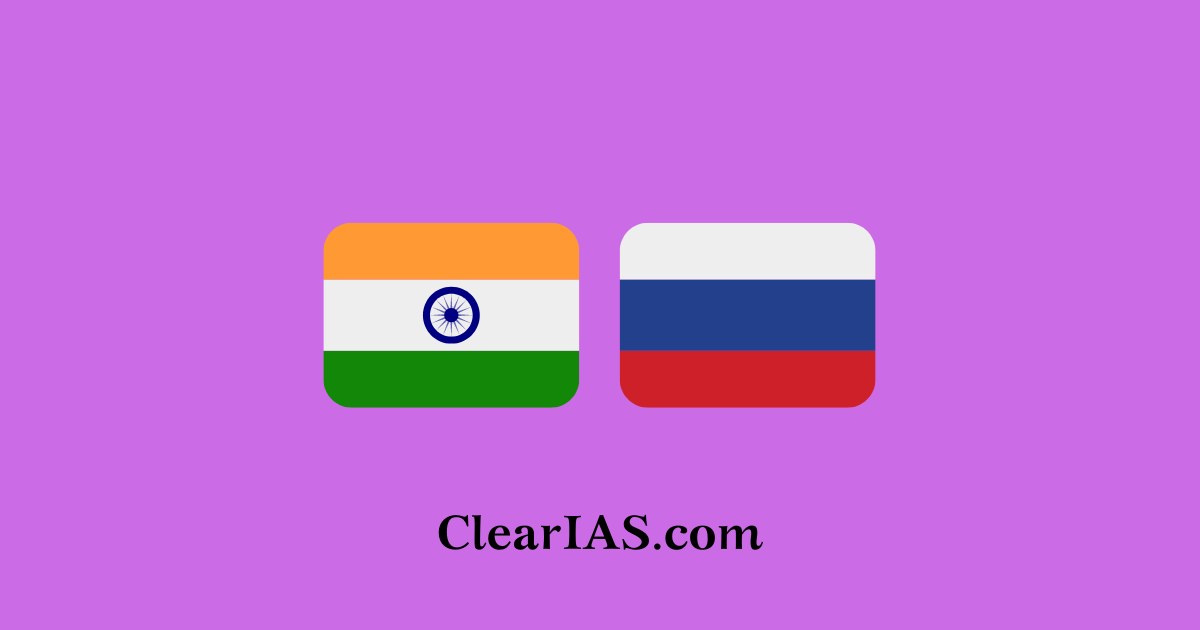 Russia and India have had a long-standing relationship. Both the countries have strong historical ties that are based on mutual respect and cooperative efforts that benefit both parties. Read to know more about India-Russia Relations.
This relationship between India and Russia officially began following the collapse of the Soviet Union. Since 1947, India and Russia have had cordial connections. Through investment in heavy machinery manufacturing, mining, energy production, and steel plants, Russia assisted India in achieving its aim of economic self-sufficiency. The citizens of both countries have supported this strategic alliance, which has endured the test of time.
India and Russia has recently commemorated 75 years of diplomatic relations. This has happened in the midst of the battle between Russia and Ukraine.
History of India-Russia Relations
USSR was India's most trusted Ally. USSR not only contributed to India's security, it has been a pillar of India's scientific and industrial development.
Immediately after the end of the cold war, Russia adopted a Pro-West policy, it came under US pressure. Russia denied technology transfer related to cryogenic engines and even insisted on settling the debts in dollars.
However very soon it realized that it could not trust the west and reviewed its treaty of peace and friendship with India.
It was during Putin's visit that India-Russia relations entered into a strategic partnership in 2000, which was elevated into Special and Privileged partners in 2010.
The two nations are participants in several international organizations and connectivity initiatives. This comprises the Shanghai Cooperation Organization and the BRICS (Brazil, Russia, India, China, and South Africa) nations, the Group of Nuclear Suppliers (NSG), and the United Nations Security Council (UNSC).
Political Relations
The highest level of institutionalized conversation in the strategic partnership between India and Russia occurs at the annual summit meeting between the Prime Minister of India and the President of the Russian Federation.
The order of St. Andrew the Apostle, Russia's highest state decoration, was presented to Prime Minister Narendra Modi on April 12, 2019, as per an executive decree approved by President Putin. The order was given to the prime minister in recognition of his outstanding contribution to the establishment of cordial connections between the Russian, and Indian peoples and a privileged strategic partnership between Russia and India.
Annual meetings are held by two intergovernmental commissions: the IRIGC-TEC for trade, economic, scientific, technological, and cultural cooperation and the IRIGC-MTC for military-technical cooperation.
New Delhi needs Moscow's support to gain a permanent seat on the UN Security Council.
Defense Relations
One of the main pillars of bilateral relations between India and the former Soviet Union and later with Russia was its defense cooperation.
Military-technical cooperation between India and Russia has developed from a buyer-seller model to one that involves collaborative research, development, and manufacture of cutting-edge defense technology and systems.
In Vladivostok, the inaugural Tri-Services exercise known as "INDRA 2017" was held. Examples of such landmark cooperation include the BrahMos Missile System and the licensed production of SU-30 aircraft and T-90 tanks in India.
Additionally, Russia is crucial in helping the Indian Navy with its submarine-related projects. Russia supplied the first submarine of the "Foxtrot Class" for the Indian Navy.
India and Russia signed a historic deal in October 2018 to buy five S-400 Triumf surface-to-air missile defense systems—among the strongest missile defense systems in the world—for $5.43 billion, ignoring the CAATSA statute of the United States.
India's nuclear submarine program is reliant on Russia. The only aircraft carrier used by India, INS Vikramaditya, is similarly Russian in origin.
Energy Relations
According to the International Energy Agency, India will surpass Japan this year to become the third-largest oil consumer in the world. By 2040, India is predicted to have the highest rate of growth in the world's crude demand.
It is necessary to revitalize the oil and gas investments and exports between Russia and India. India is buying more oil from Russia at cheaper prices.
In terms of the peaceful use of nuclear energy, Russia is a crucial ally for India. It acknowledges India as a nation with cutting-edge nuclear technology and a spotless non-proliferation record.
In India, the Kudankulam Nuclear Power Plant (KKNPP) is being constructed with Russian assistance.
Together with the Ministry of Science and Technology, DAE signed a trilateral Memorandum of Understanding (MoU) on cooperation in the execution of the Rooppur NPP construction project in Bangladesh.
Trade Relations
India, which has one of the fastest-growing economies in the world, is viewed as a potential solution by Russia for its economic woes.
Russia's governmental and corporate sectors would be open to be working with the Make in India initiative.
Construction, large-scale infrastructure projects like dedicated freight corridors and industrial clusters, smart cities, and engineering services are areas where Russian companies have expressed a readiness to invest in India while also exchanging technology and expertise.
Major investment opportunities in Russia are being investigated by Indian businesses, particularly in the natural resources of coal, fertilizer, hydrocarbons, minerals, and rare earth metals.
The trade percentage between the two countries significantly decreased from 2013 to 2016. However, it started to rise after 2017, and a steady rise was also seen in 2018 and 2019.
Cultural Relations
Indian studies have a long history in Russia. In addition to teaching Hindi, Russian educational institutions also teach Tamil, Marathi, Gujarati, Bengali, Urdu, Sanskrit, and Pali.
Russians are generally interested in Indian dance, music, yoga, and Ayurveda.
To encourage intercultural exchanges between Russia and India, there are ongoing cultural projects.
The Year of Indian Culture "Namaste Russia" was launched by the President of India on May 10 in Moscow.
At the State Duma of the Russian Federation, an exhibition commemorating Mahatma Gandhi's 150th birthday and detailing his connection with Russian author Leo Tolstoy was unveiled on October 2.
Significance
One of the biggest arms exporters to India has been Russia.
A turning point in India-China ties was caused by Chinese aggression in eastern Ladakh's border regions, but it also showed how Russia may help ease tensions with China.
New economic engagement sectors, such as mining, agro-industrial, and high technology, including robotics, nanotechnology, and biotechnology, are projected to emerge in addition to conventional cooperation areas like weaponry, hydrocarbons, nuclear energy, and diamonds.
India's influence in the Arctic and the Far East of Russia is expected to grow. Projects involving connectivity could also benefit.
Way Forward
Though there are serious concerns, India and Russia need to be transparent and maintain the channels of communication.
India is one such country that will not go against the rise of China. On the other hand, Russia may have to pay a considerable price if Russia goes for allowing China's dominance in Central Asia. India should use its position for Bridge building against the rising China.
At the same time, Russia should also not forget the role of Pakistan in the split of the USSR which Putin himself considers the biggest geopolitical disaster.
India should draw Red Line. Russia can go ahead with the partnership with Pakistan and China in the present age of interdependence. Yet Russia should not take any action which can cause India's security. India needs Candid dialogue.
India did the right thing in reminding Russia that one old friend is better than two new ones.
Russia is not the USSR and India of the 21st century is not dependent on Russia as it used to be.
India should look at Russia with clear-eyed realism. As middle powers, there is a lot Delhi and Moscow can do with each other.
The nostalgic open relationship may be useful but cannot drive the relationship at present. The weakest aspect of India Russia relationship is that it is government-government relations. It's high to strengthen economic engagement and people-to-people contact.
In order to improve their positions during a period of change in the international order, both India and Russia will need to learn how to manage their relationships in the face of difficulties arising from both bilateral and regional as well as global forces.
Article written by Chetna Yadav