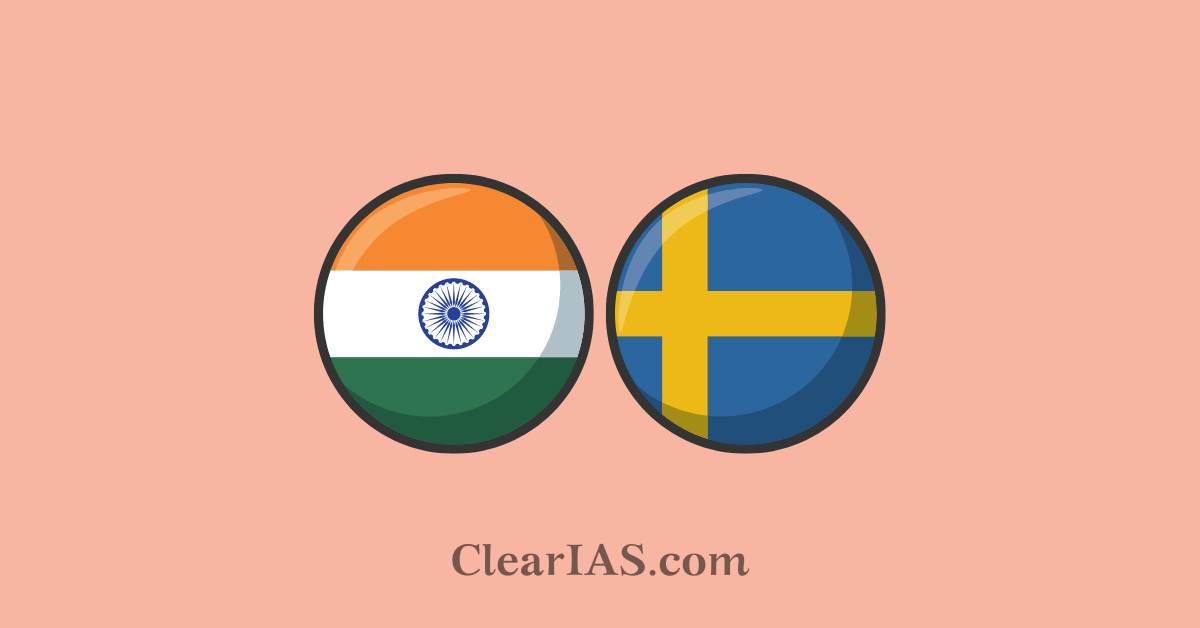 India-Sweden has close relations based on similar approaches to global challenges, peace, and security. Read here to know more.
India and Sweden have had longstanding close relations based on common values; strong business, investment, and R&D linkages; and similar approaches to meet global challenges of peace & security, and development.
Sweden(the largest Nordic country in terms of landmass, population, and GDP) is a member of the EU and Schengen visa regime but not the Eurozone. Sweden is not a member of NATO.
The ties between India and Sweden were established in 1949, based on the strong foundation of shared democratic values. High-level contacts between the two countries go back to 1957 when Prime Minister Jawaharlal Nehru visited Sweden.
History of India-Sweden relations
Sweden recognized India as an independent nation in 1947, with both countries establishing formal diplomatic relations two years later. India set up a diplomatic mission in Stockholm in 1949.
At the first-ever UN Conference on Human Environment that was hosted by Sweden in Stockholm in 1972, the Indian delegation was led by PM Indira Gandhi. Sweden also co-hosted the Stockholm+50 with Kenya in June 2022.
In the 1980s India and Sweden worked together on nuclear disarmament issues within the framework of the 'Six Nation Peace Summit' (which also included Argentina, Greece, Mexico, and Tanzania).
At the UN General Assembly, India and Sweden present an annual Joint Statement on Humanitarian Affairs.
In 2013 during the Swedish Presidency, India joined the Arctic Council as an Observer at the Kiruna Ministerial Meeting.
Both countries have, in the past, joined hands on common causes such as decolonization, anti-apartheid promoting development partnerships, environment, UN Peacekeeping, UN Peacebuilding, and disarmament.
Political relations
The partnership has witnessed a sharp upswing in high-level engagement since 2014.
The bilateral visits have increased in recent times- four Indian Prime Ministers – Jawaharlal Nehru, Indira Gandhi, Rajiv Gandhi, and Narendra Modi – have visited Sweden for official visits.
Sweden hosted the First ever India Nordic Summit in Stockholm in April 2018 where Prime Minister Modi and his counterparts from all five Nordic countries participated.
During the 2018 visit of Prime Minister Modi to Sweden, the two sides adopted a wide-ranging Joint Action Plan and signed a Joint Innovation Partnership.
Innovation, Technology, Investment, and R&D collaborations provide the bedrock of this modern relationship.
Sweden is an externally oriented economy with a focus on services and industry sectors, especially on manufacturing, IT, life sciences, circular economy, and clean technologies.
Sweden consistently ranks among the top two economies in the world in terms of Innovation.
India-Sweden Economic relations
After China and Japan, India is Sweden's third-largest trade partner in Asia.
The main Swedish exports to India are pharmaceuticals, paper & pulp products, chemicals, engineering products, and telecom equipment.
The main items of Indian exports are chemical products, food products, and semi-manufactured and manufactured goods.
Many Swedish companies such as Ericsson, Swedish Match (WIMCO), SKF, and ASEA (later to become ABB) came to India even before it became independent Since then numerous other Swedish companies like Atlas Copco, Sandvik, Alfa Laval, Volvo, Astra Zeneca, SAAB, etc., have invested in India.
Cultural relations
In 1913 Rabindranath Tagore became the first non-European to be awarded the Nobel Prize (for Literature).
In the mid-1950s, a small bronze statuette of Buddha seated on a lotus was discovered during an excavation conducted in an old Viking settlement on the island of Helgö on Lake Mällaren, west of Stockholm. The statuette, popularly known as 'Helgö Buddha' is dated around 1,400 years ago and is thought to be from Kashmir. In 2015 the Swedish Post issued a special stamp on Helgö Buddha.
Indian classical arts, especially music and dance, are widely appreciated in Sweden. Yoga (and also Ayurveda) are popular among the Swedes. A day-long Ayurveda Seminar was organized in Feb 2022 where around 70 Ayurveda practitioners from Sweden joined.
Research & Innovation Collaboration
Departments of S&T (DST)and Biotechnology (DBT), along with GITA (DST-CII collaboration)and ICMR from India are partnering with Swedish agencies including Vinnova (Swedish Govt Innovation and R&D agency), Swedish Energy Agency, Swedish Research Council and FORTE (under Ministry of Health) to co-fund projects relating to research and industrial applications.
The range of areas of cooperation for India-Sweden includes Smart Cities & cleantech, Nano Sciences, Computer Sciences, AI, Smart Grids, Energy Research (storage, e-mobility, new fuels), water, waste to wealth, circular economy, embedded systems, and new technologies.
Other areas include Digitisation and the Internet of Things (IoT), Health & Life Sciences, Biomedical Devices, Bio-Economy, Startups, Test Beds, Bioclusters, Digital Healthcare, Ageing, New materials, Space & Aeronautics, etc.
Other bilateral agreements
A range of MoUs and bilateral Agreements exist covering sectors including Science & Technology; Healthcare, Sustainable Urban Development, Renewable Energy, Railways; Space, Polar Science, and Defence. There are several Joint Working Groups (JWG) established under many of these MoUs. There also exist agreements on avoidance of Double TaxationBilateral Investment Protection and Air Services.
The 19th session of the Indo-Swedish Joint Commission for Economic, Industrial and Scientific Corporation (JCEC) was held in Sweden in October 2019.
Recent India-Sweden Multilateral engagement
India and Sweden jointly launched the Leadership Group on Industry Transition (LeadIT) in association with World Economic Forum (WEF) at the UN Climate Action Summit convened by the UN Secretary-General in September 2019 in New York.
The Stockholm Environment Institute is the Secretariat for the Lead IT whose membership has since expanded to 35 members including 16 countries (including France, Germany, RoK, UK, and the USA) and 19 big companies (including Dalmia Cement, Mahindra Group, and Spice Jet).
Defence and space cooperation
In 2009, the two countries signed a Memorandum of Understanding (MoU) for Defence Cooperation. The Joint Working group established under it meets regularly.
The General Security Agreement signed in 2019 on the exchange and mutual protection of classified information enables a comprehensive partnership.
Sweden and India are also working together on India's Venus orbiter mission, Shukrayaan. In November 2020, the Swedish Institute of Space Physics (IRF) announced this as its second collaborative project with ISRO.
IRF's satellite instrument Venusian Neutrals Analyzer (VNA) will study how the charged particles from the sun interact with the atmosphere and exosphere of the planet.
Issues in past
The Bofors scandal of 1987 damaged bilateral relations when Swedish and Indian journalists exposed that Swedish armaments manufacturer Bofors used corruption to secure the sale of howitzers and related supplies to India.
Recent news
Recently, India and Sweden hosted the Industry Transition Dialogue in Stockholm, as a part of their joint initiative i.e. Leadership for Industry Transition (LeadIT).
This high-level dialogue has contributed to the UN Conference 'Stockholm+50' and set the agenda for COP27 (Climate Change).
Way forward
The strategic importance of the India-Sweden relationship is being reflected at the regional and global levels. Sweden is important for India's engagement with the Nordic counties and EU as well.
India-Sweden should expand defence and security partnership along with boosting cooperation on climate change, high-tech, and innovation partnership, research and development, healthcare innovation, trade and investment, leadership skill, and industry transition. In each of these focus areas, India and Sweden have rich and diverse proficiency based on resource endowment, mobilization, and capacity enhancement implying shared politico-socio-economic and technological progress.
As India and Sweden traditionally share similar perspectives for sustainable development, the present relationship in the wake of the COVID-19 global pandemic is the moment for making collaborative intervention in preventing global warming, establishing harmony with nature, and saving planet Earth while complying with the goals and commitments made as signatories of the Paris Agreement 2015.