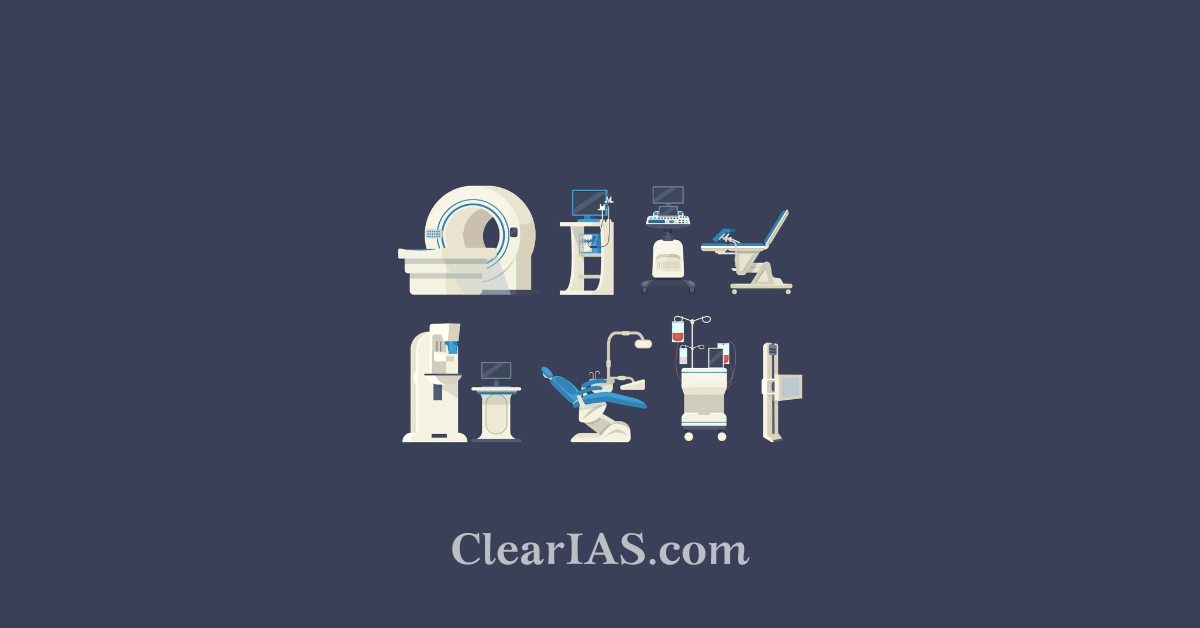 The medical devices sector in India is a sunrise sector that is growing quickly. It is an essential and integral constituent of the Indian healthcare sector. The Indian medical devices sector is on a growth track and has an enormous potential to become self-reliant and contribute towards the goal of universal health care. Read here to learn more about the sector.
The medical devices sector in India is an essential and integral constituent of the Indian healthcare sector.
The Indian medical devices sector's contribution has become even more prominent as India supported the domestic and global battle against COVID-19.
India helped the global community through the large-scale production of medical devices & diagnostic kits, such as Ventilators, Rapid Antigen Test kits, Real-Rime Reverse Transcription Polymerase Chain Reaction (RT-PCR) kits, Infrared (IR) Thermometers, Personal Protective Equipment (PPE) Kits & N-95 masks.
Recently, the Union cabinet approved the National Medical Devices Policy, in 2023.
Medical device sector in India
The market size of the medical devices sector in India is estimated to be $11 billion (approximately, ₹ 90,000 Cr) in 2020 and its share in the global medical device market is estimated to be 1.5%.
The medical devices industry in India consists of large multinationals as well as small and medium enterprises (SMEs) growing at an unprecedented scale.
100% FDI is allowed under the automatic route for both brownfield and greenfield setups. Strong FDI inflows reflect the confidence of global players in the Indian market.
Medical devices are segregated into five major segments:
Consumables & Disposables include needles and syringes, etc
Diagnostic Imaging includes MRI, X-Ray, Ultrasounds, etc
Dental Products include dentures, braces, etc
Orthopaedics & Prosthetics include knee implants, artificial joints
Patient Aids include hearing aids and pacemakers, etc
The strategic growth drivers of the Indian medical and pharmaceutical sector can be listed as-
Growing Population: India's population is set to touch 1.45 bn by 2028, making it the world's most populous nation
Life Expectancy: From the current 67.5 years, life expectancy in India is expected to increase to 70 years by 2025
Shifting Disease Burden: Non-Communicable Diseases (NCDs) account for 50% of the disease burden and 60% of all deaths in India
Changing Preferences: Growing health awareness, changing attitude towards preventive healthcare, & increasing onset of lifestyle diseases
Growing Middle Class: ~73 mn households will be moving into the middle-class category in India over the next 10 years, thereby enhancing their purchasing power, including concerning Medical Devices
Increasing disposable income: 8% of Indians will earn more than $ 12,000 p.a. by 2026
Health Insurance: 20% of Indians have health insurance coverage. This number is expected to increase with rising incomes and growing urbanization
Rise in Medical Tourism: Expected to grow to $13 Bn by 2026, the medical tourism sector is set to accelerate demand for high-end technological devices, medical equipment, and appliances
Infrastructural Development: 4 Medical Devices Parks are coming up in Himachal Pradesh, Tamil Nadu, Madhya Pradesh, and Uttar Pradesh
Government initiatives for the medical device sector
The Indian medical devices sector is on a growth track and has an enormous potential to become self-reliant and contribute towards the goal of universal health care.
National Medical Devices Policy, 2023
The National Medical Devices Policy, of 2023 is expected to facilitate an orderly growth of the medical device sector to meet the public health objectives of access, affordability, quality, and innovation.
Vision: Accelerated growth path with a patient-centric approach and emerge as the global leader in the manufacturing and innovation of medical devices by achieving a 10-12% share in the expanding global market over the next 25 years.
Mission: The policy lays down a roadmap for accelerated growth of the medical devices sector to achieve the following missions viz, Access & Universality, Affordability, Quality, Patient Centred & Quality Care, Preventive & Promotive Health, Security, Research and Innovation and Skilled manpower.
PLI Schemes
The Government of India has already initiated the implementation of the PLI Scheme for medical devices and support for the setting up of 4 Medical device Parks in the States of Himachal Pradesh, Madhya Pradesh, Tamil Nadu, and Uttar Pradesh.
Under the PLI scheme, a total of 14 projects producing 37 products have been commissioned and domestic manufacturing of high-end medical devices has started which include Linear Accelerator, MRI Scan, CT-Scan, Mammograms, C-Arm, MRI Coils, high-end X-ray tubes, etc.
In June 2021, the Quality Council of India (QCI) and the Association of Indian Manufacturers of Medical Devices (AiMeD) launched the Indian Certification of Medical Devices (ICMED) 13485 Plus scheme to undertake verification of the quality, safety, and efficacy of medical devices
Strategies to Promote Medical Device Sector
The medical devices sector will be facilitated and guided through a set of strategies that will cover six broad areas of National medical device policy interventions:
Regulatory Streamlining: To enhance ease of doing research and business and further to balance patient safety with product innovation measures such as the creation of a Single Window Clearance System for Licensing of Medical Devices and designing a coherent pricing regulation, will be followed.
Enabling Infrastructure: The establishment and strengthening of large medical device parks, and clusters equipped with world-class common infrastructure facilities.

This will be near economic zones with requisite logistics connectivity as envisioned under the National Industrial Corridor Program and the proposed National Logistics Policy 2021 under the ambit of PM Gati Shakti.

Facilitating R&D and Innovation: The policy envisages promoting Research & Development in India and complements the Department's proposed National Policy on R&D and Innovation in the Pharma- MedTech Sector in India.
Attracting Investments in the Sector: Along with recent schemes and interventions like Make in India, Ayushman Bharat program, Heal-in-India, and Start-up mission, the policy encourages private investments, a series of funding from Venture Capitalists, and also Public-Private Partnerships (PPP).
Human Resources Development: To have a steady supply of skilled workforce across the value chain such as scientists, regulators, health experts, managers, technicians, etc., the policy envisages:
Brand Positioning and Awareness Creation: The policy envisages the creation of a dedicated Export Promotion Council for the sector under the Department which will be an enabler to deal with various market access issues.
Way forward
The medical device sector is expected to realize its full potential, with the strategies namely,
building an enabling ecosystem for manufacturing along with a focus on innovation
creating a robust and streamlined regulatory framework
providing support in training and capacity-building programs
promoting higher education to foster talent and skilled resources in line with the industry requirements.
Given the diversity and multi-disciplinary nature of the sector, the regulations, and skilling trade promotion of the medical device industry are spread over several departments in the Government both at the Centre and State levels.
There is a need to bring together the range of interventions in a coherent manner that would facilitate focused and efficient support and facilitation for the sector by the respective agencies.
There is still a huge gap in the current demand and supply of medical devices in India, as India has an overall 70-80% import dependency on medical devices.
Encouraging domestic investments and production of medical devices complements the Government's 'Atmanirbhar Bharat' and 'Make in India' programs.
The new policies are expected to provide the required support and directions to strengthen the medical devices industry into a competitive, self-reliant, resilient, and innovative industry that caters to the healthcare needs of not only India but also the world.
­-Article written by Swathi Satish