Most UPSC aspirants, including previous year toppers, are fans of ClearIAS Most Probable Prelims Questions – the 3 MCQs we send daily via email. Now the compilation of the Daily MCQs is available on ClearIAS Store to be downloaded in PDF format.
It has been a long-pending request from ClearIAS users to provide the PDFs compilation of the daily MCQs we send daily via email.
As promised, ClearIAS has now released in PDF format, the compilation of our Daily MCQs (Most Probable Prelims Questions – for Prelims 2020).
ClearIAS Most Probable Prelims Questions (Daily MCQs)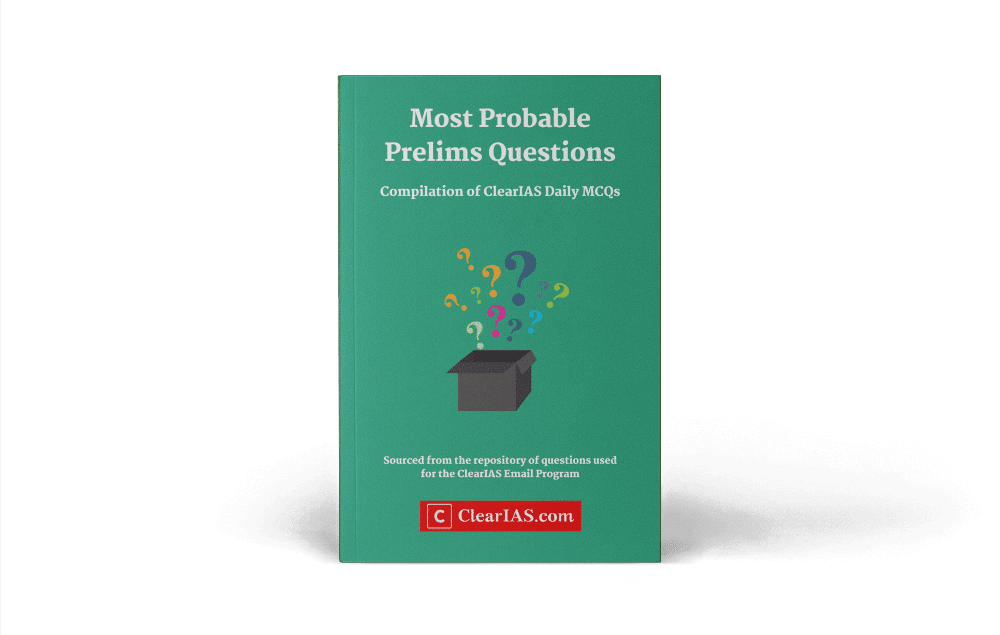 We email 3 questions on a daily basis to all users to joined ClearIAS Email Program. "ClearIAS Most Probable Prelims Questions" Ebook (PDF) is a Compilation of ClearIAS Daily MCQs.
As part of the latest release from ClearIAS, 6 new sets of Most Probable Prelims Questions are now available on the Instamojo Store of ClearIAS. Each set consists of 100 questions. The previous release (5) sets is also available. Thus, there are 1100 questions we discussed from Jan 2019 -Dec 2019 via emails in the PDF compilations.
These 1100 questions will be highly useful for aspirants preparing for UPSC 2020.
Click here to download PDF compilation (Set-1) for FREE.
ClearIAS Prelims Test Series Subscribers (Premium Users) can download all 11 Sets for FREE
If you are a paid user of ClearIAS Prelims Online Mock Test Series, as a value addition, we will be providing all 11-sets (1100 questions) of the PDF compilations worth Rs.1100 for FREE.
All you need to do is to enter the discount code (we send you in a separate email) in the download link for each PDF.
Not yet enrolled in ClearIAS Prelims Test Series?
If not yet enrolled, you can join now and get access to uploaded and upcoming exams!
You will also get access to the value-additions materials like the ClearIAS ebooks and Intelligent Elimination Techniques seminar/webinar.
More ebooks to be released in the coming months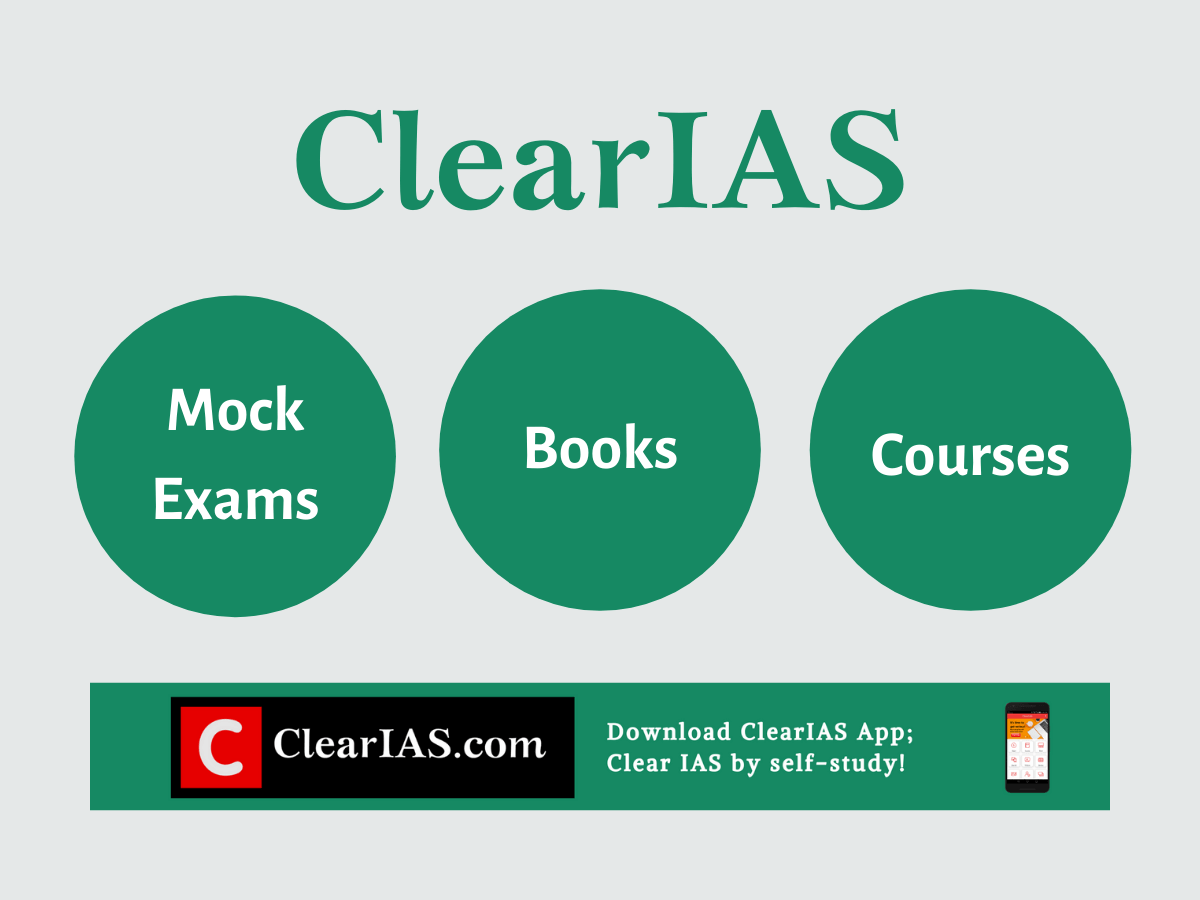 ClearIAS will be releasing more ebooks (PDF format) in the coming months.
As we continue to send daily MCQs until the date of UPSC Preliminary Exam 2020 (May 31, 2020), aspirants can expect more PDF compilations of MCQs – ie. from January 2020 in the coming months.
ClearIAS Current Affairs Capsules (CCCs) were released only until October 2019. CCCs of November 2019, December 2019 and January 2020 will be released soon.
Also, new ebooks will be released for easy-understanding of budget, survey, schemes etc.
New branding for ebooks: Helps in easy identification of our products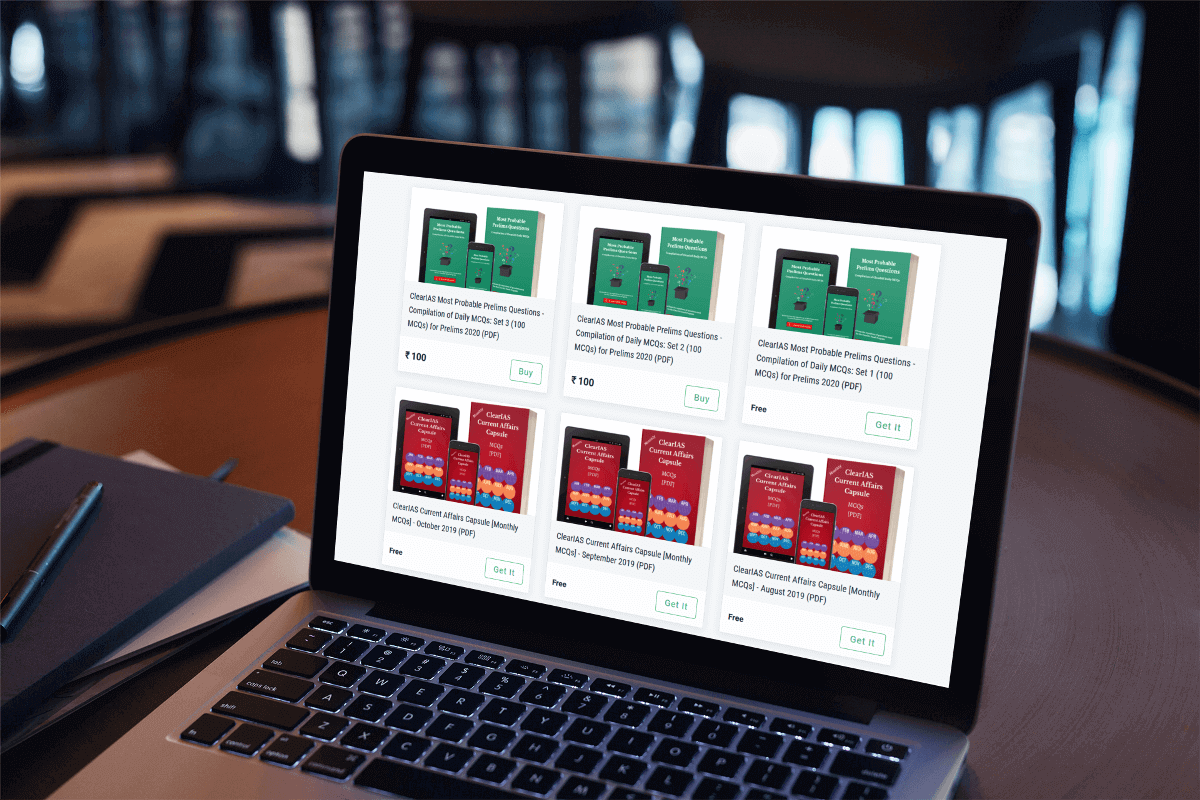 From now onwards, we will be using separate colours for each type of e-book we release.
(1) ClearIAS Current Affairs Capsules (CCC)
CCCs handle monthly MCQs from government sources like PIB. These will continue to be released in red theme.
(2) ClearIAS Most Probable Prelims Questions
CMPPQs covers daily MCQs mainly from major newspapers. These will be released in a new green theme.
(3) ClearIAS Current Affairs Backgrounder
ClearIAS Backgrodunder for Current Affairs will continue the brown theme.
(4) ClearIAS Ebooks connected with government-related information
ClearIAS ebooks connected the government-related information like schemes, budget, survey etc will continue in the orange theme.
Download ClearIAS ebooks (PDF)
Download ClearIAS ebooks to make your learning simple, faster, and focussed.