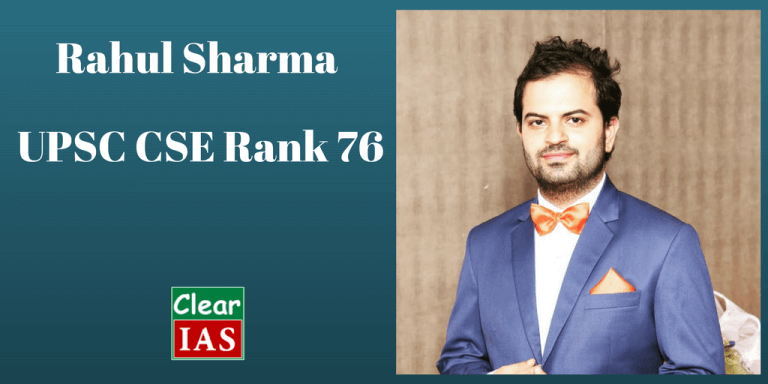 Do you know what is common in the below study materials/notes published on clearias.com?
Well, these articles were written by ClearIAS content writer Rahul Sharma; he secured Rank 76 this year!
Rahul Sharma had written many articles on clearias.com, in his spare time during his preparation. There is no surprise that he topped UPSC Civil Services Exam, his analytical ability and writing skills are evident in the above articles itself.
ClearIAS is proud to say that many of our young team members and content contributors are now in service – kudos to their hard work and mentality to share while they learn. ClearIAS Prelims Test Series has many questions set by toppers and those who later got selected by UPSC for different services. A few names include Wazim Mustafa (IRS), Sandeep K P (IPoS) etc. Many talented resource persons -including those who are in service – associate with us to share their knowledge with our students/fellow aspirants.
Do you wish your articles/analysis to be published on clearias.com?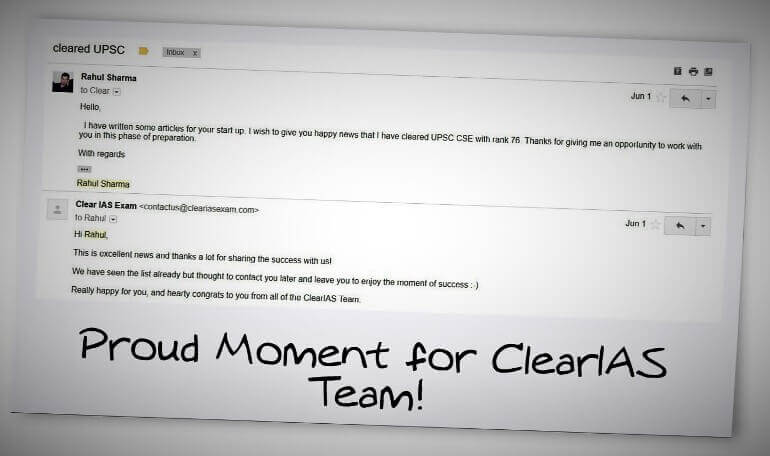 Complexity is your enemy. Any fool can make something complicated. It is hard to make something simple. – Richard Branson
Writing quality articles/analysis in a simple language to make others understand is not easy.
If you think that you have the ability to make complicated things simple, you may create articles on current/conventional topics and send us.
If your article meets our quality guidelines, we will publish it.
Quality Guidelines of ClearIAS.com
Below are our requirements:
The article should be original in nature (no plagiarism). You can do research and analysis on the topic (and give a proper reference), but not copy from anywhere.
The article can be on any topic, but not be previously published in clearias.com (you can use the custom google search engine in clearias.com to search if the topic is previously published or not).
Prepare simple and easy to learn articles. The article should help an aspirant to learn that topic faster.
Focus on a single topic and ensure that you cover all the aspects related to the same (eg: definition, history, different dimensions, positives, negatives, future, conclusion etc).
The presentation of the article should match the overall style and approach used by ClearIAS Team so far.
Use of bullet points, diagrams and mind maps are appreciated.
The total length of the article should be 1000-3000 words.
Take extra care to avoid spelling mistakes, grammar mistakes, punctuation mistakes, improper use of case etc. Use a grammar checker software and correct your mistakes before you send us.
Send us images which can be used along with the content as separate attachments.
Give proper reference in the end.
Send your write-ups in word format (.doc) along with a brief resume of yours clearly indicating your academic performance and experience with UPSC CSE, if any.
Send the new articles to contactus[at]clearias[dot]com with the subject line Article Submission: [Topic].
Reference links to understand ClearIAS way of presentation:
1. Brexit
2. BoP
3. Ocean Currents
Things to note
Remuneration will be per article basis, for each published article.
There is no need of email follow-ups regarding the status of your articles. If your article is worth publishing in clearias.com, we would do that. It's almost impractical to reply to thousands of email we get.
Articles from those who are already in service or those who have reached Civil Service Interview stage will be given higher weightage.
The fewer corrections/editing needed in the articles, the faster the article will be published.
At clearias.com, quality and simplicity are the priority items. Thank you for being part of the community.