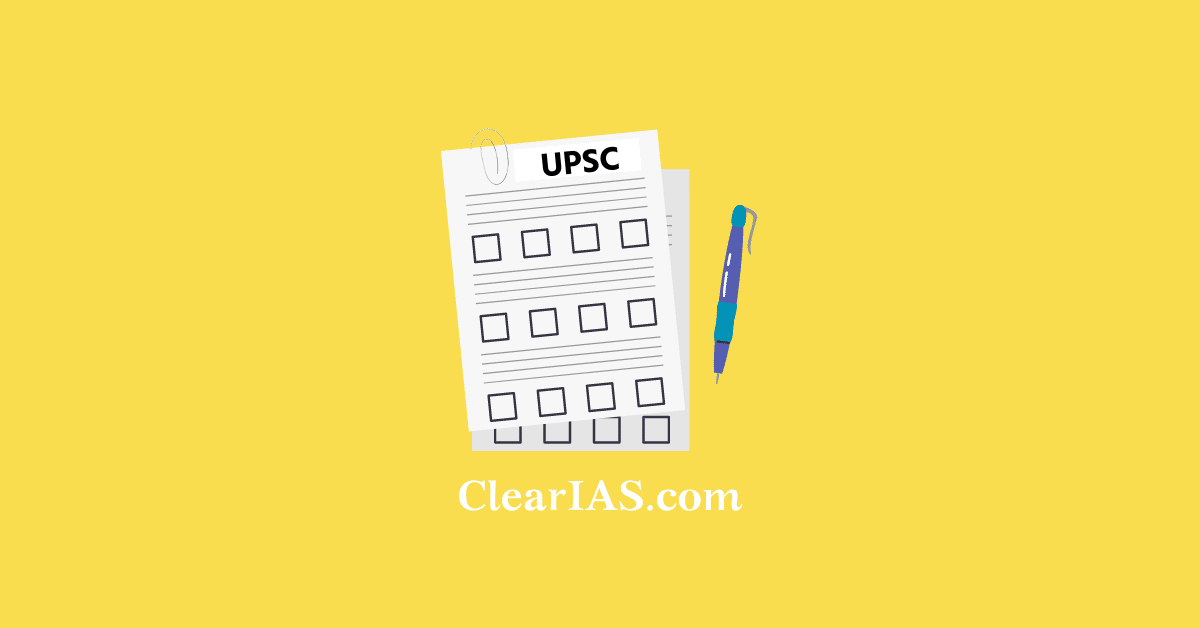 Is your UPSC CSE Preparation going on in the right direction? Do you know the 100 areas from which UPSC framed Questions in 2022? What are the clues you can get from last year's question paper?
UPSC CSE Preliminary Exam is becoming tougher and tougher. The cut-off score is coming down year after year. Why is this so?
This is because UPSC has improved their game altogether. The Commission is asking questions from new areas most aspirants are unheard of.
However, aspirants are, unfortunately, still preparing the traditional way! There are big gaps in their preparation!
Stop preparing using traditional methods!
Questions are now being asked from entirely different areas/topics.
Do you wish to narrow your gaps and adopt the UPSC way of thinking?
This is possible only if you properly analyse the UPSC question papers of previous years.
Let's now analyse the UPSC Prelims General Studies Questions Paper of 2022 (Version A).
It may help you get important insights into the priority areas of UPSC. I believe this exercise will give you valuable clues.
PS: I will be personally doing a video series to help aspirants with the direction they should prepare for upcoming prelims. Stay tuned.
UPSC Prelims 2022 Topics: 100 Question Areas
The questions in Version A followed a proper subject-specific order. This was the case in 2021 as well.
Indian Economy
''Rapid Financing Instrument'' and ''Rapid Credit Facility'' – IMF
NEER and REER – Inflation/Exchange Rate Connection
RBI-Government Securities – Inflation/Exchange Rate Connection
G20 Common Framework
Inflation-Indexed Bonds (IIBs)
Foreign-owned e-commerce firms operating in India – Rules
Real sector in the economy
Indirect Transfers
Capital expenditure and revenue expenditure
Government borrowings and internal debt
Indian Polity
Contempt of Courts
Advocates and Bar Council
Constitution Amendment Bill
Ministers in the Union Government
Exclusive power(s) of Lok Sabha
Anti-defection law in India
Attorney General of India and Solicitor General of India
Writs issued by the Courts in India
Ayushman Bharat Digital Mission
Deputy Speaker of Lok Sabha
Geography
Crops – the anthropogenic source of both methane and nitrous oxide
System of Rice Intensification
Lakes of West Africa
Gandikota canyon of South India
Peak: Mountains (Match the following)
Levant
Countries bordering Afghanistan
Monazite
Northern hemisphere, the longest day
Wetland/Lake: Location (Match the following)
Science and Technology
Open-source digital platforms
Web 3.0
Software as a Service (SaaS)
Fractional Orbital Bombardment System
Qubit
Short-Range devices/technologies
Biofilms
Probiotics
Vaccines manufactured to prevent the COVID-19 pandemic
Solar storm (solar-flare)
Environment
Climate Action Tracker
The Climate Group – EP100
Wetlands
WHO Air Quality Guidelines
Gucchi
Polyethylene terephthalate
Birds
Nitrogen-fixing plants
Biorock technology
Miyawaki method
Indian History and Culture
Government of India Act 1919 – "Reserved" and "Transferred" subjects
Medieval India – the term "Fanam"
Freedom fighters – Ghadar Party
Cripps Mission
Jaina texts
Historical persons/scholars
Jalal-ud-din Khalji – Ala-ud-din Khalji – Muhammad-bin-Tughlaq
"Kulah-Daran"
The English East India Company – Dutch and Portugese
Kautiyla's Arthahastra
Miscellaneous
Capital flight
Tea-producing States
Credit rating agencies
Banks Board Bureau (BBB)
Convertible Bonds
India – Member Nation
Vietnam
Organisation that maintains price stability by controlling inflation
Non-Fungible Tokens (NFTs)
Reservoirs – States
Labour Bureau – industrial disputes
Coal Controller's Organization (CCO)
Fifth Schedule of the Constitution of India
India Sanitation Coalition/National Institute of Urban Affairs
Central Ground Water Authority – Environment (Protection) Act, 1986
United Nations Credentials Committee
Polar Code
United Nations General Assembly
Tea Board
Greenwashing
Clouds
Bidibidi – South Sudan – Kenya
Organization of Turkic States
Solar Projects
United Nations Convention on the Law of Sea
Senkaku Islands
Country: Important reason for being in the news recently (Match the following)
Regions often mentioned in the news: Country (Match the following)
Indian laws about wildlife protection
Cultivators of fungi
Ashoka's major rock edicts: State (Match the following)
King: Dynasty (Match the following)
Sangam literature
Yogavasistha – Nizamuddin Panipati
Ramanuja
Somnath Temple
Role of B cells and T cells in the human body
Nanoparticles
DNA Barcoding
Acid rain
UPSC Prelims 2022 Question Topics: Subject-wise Break-Up
If you are a regular follower of ClearIAS you might have noticed the UPSC Prelims 100 Question Topics series before as well. It's my practice to break the previous year's UPSC question papers subject-wise and topic-wise. I have done this in 2019, 2020, and 2021 as well.
The break-up of questions was approximately as below:
As stated above, in 2022, with respect to Version A, UPSC followed the subject-wise order of questions. The Commission didn't randomly shuffle questions between subjects. Mostly, questions were divided between subjects in a batch of 10 questions each.
What was the weightage of current affairs?
Almost all of the questions in Science and Technology and Environment were connected with topics in news in the last 10 years.
Even 2-3 questions from the Indian History section were based on the background of news topics.
There were around 10 questions with the keyword 'recent' or 'news' or 'media' in the question.
However, students should note that many of these questions could have been answered with a good understanding of static topics as well. This is because questions from current affairs were not strictly from topics in news in the last 1 year.
Topics like indirect transfers and inflation index bonds were in news for more than 8 years.
A student with a regular reading habit of a good newspaper like The Hindu or The Indian Express would have quickly answered many of the questions.
Analysis of the UPSC Questions Paper 2022
The purpose of the analysis of the UPSC question paper is to find an idea regarding the question areas and priority topics (if any).
However, you should understand that the priority of UPSC will not remain stagnant.
UPSC in one year gives priority to a few subjects or topics. The weightage can vary in the next year.
However, there are certain key points to be remembered. I am mentioning it below.
(1) You should be conceptually strong in static subjects: UPSC CSE syllabus can be divided into static topics and dynamic topics (current affairs). You should understand that Current affairs are not separate from static areas.  They are highly connected. However, priority should be given to static areas. Only if you know static areas, you can properly connect them with items in news (Economy-related news, Polity-related news, Technology-related news, Environment-related news etc).
(2) UPSC has increased the sources from which questions are prepared: In earlier days, UPSC used to prepare 100 questions by referring to only a few sources. But now, in the online age, there is no dearth of sources for the Commission. The Commission does not stick to just the popular textbooks most aspirants limit their preparation with. You should build your basics from the NCERT books/standard books/video courses and then expand your learning to higher topics.
(3) Don't limit your preparation just to traditional sources: Most of the questions asked in UPSC CSE 2022 cannot be answered by just referring to NCERT text-books or standard reference textbooks. I am not saying textbooks are unimportant. But you may get only 30-40% of questions nowadays from traditional textbooks. You need wide reading (Eg: Newspapers, Online Courses, New Textbooks etc). You should also master 40 Intelligent Elimination Techniques (IETs) of ClearIAS to ensure that you cross the cut-off score.
(4) Focus on the new topics along with evergreen question areas: There are certain favourite areas for UPSC. For example, Exchange Rate, Inflation, Monetary Policy etc are evergreen topics with respect to the Indian Economy. However, aspirants cannot limit their preparation just to these repeated areas. UPSC nowadays includes questions from a lot of new areas which is of interest to a serious aspirant.
(5) First things first: It's impossible to go behind all possible sources. You should focus your attention on those resources which give maximum results in minimum time. From that perspective, I recommend the 3 items – ClearIAS Online Classes, ClearIAS Online Mock Exams, and UPSC CSE Re-Take Exams – to be part of the Core Resources.
(6) There is no alternative to newspapers: The monthly compilations of coaching websites may help. But they should be clubbed with at least 30 minutes of daily newspaper reading. I recommend The Hindu and The Hindu Business Line.  You can use the discount code CLEARIAS to get an extra Rs.100 discount on TH and BL e-papers. More details are here.
(7) Learn beyond the basics: You may know very well about Indian President, Prime Minister or Speaker. But UPSC asked about Deputy Speaker and Solicitor General. They also asked about day-to-day polity like Advocates and Bar Council. The mantra is that once you build your conceptual understanding, expand the horizon of your learning.
(8) Focus on organisations: Many questions from polity and international relations were connected with organisations. This includes questions on organisations which many won't expect to be asked. For example, questions on Tea Board, questions on Central Ground Water Authority, and questions on United Nations Credentials Committee.
(9) Give importance to agriculture: Agriculture is a repeated theme in UPSC CSE Prelims and Mains.
(10) Give importance to Important Acts: Learn about the important acts, bills, and rules. You should also learn the historical acts.
100-Topics Break Up of UPSC Previous Year Question Papers
10 Repeatedly Asked Question Areas in UPSC Prelims
Based on the analysis of the last several years of UPSC question papers, I have consolidated 10 repeatedly asked question themes in UPSC CSE Prelims.
If you are lucky, a quick overview of the above topics may help you get at 15-20 extra questions correct in the next UPSC Prelims.
Video Class about the insights from UPSC Previous Year Question Papers
This is not the end of the discussion. I have many more insights to share on the previous year's UPSC CSE Question Papers.
A detailed analysis of the paper will be conducted live in the coming days as part of the ClearIAS Prelims Marks Booster Program.
I shall also guide you on how to prepare for the upcoming prelims based on the trends and patterns noticed in the previous year's question papers.
Catch you in the live interactive class!
Meanwhile, let me know what you think of the break-up of the 100 topics in this article. You can use the comment section.
Regards, Alex.