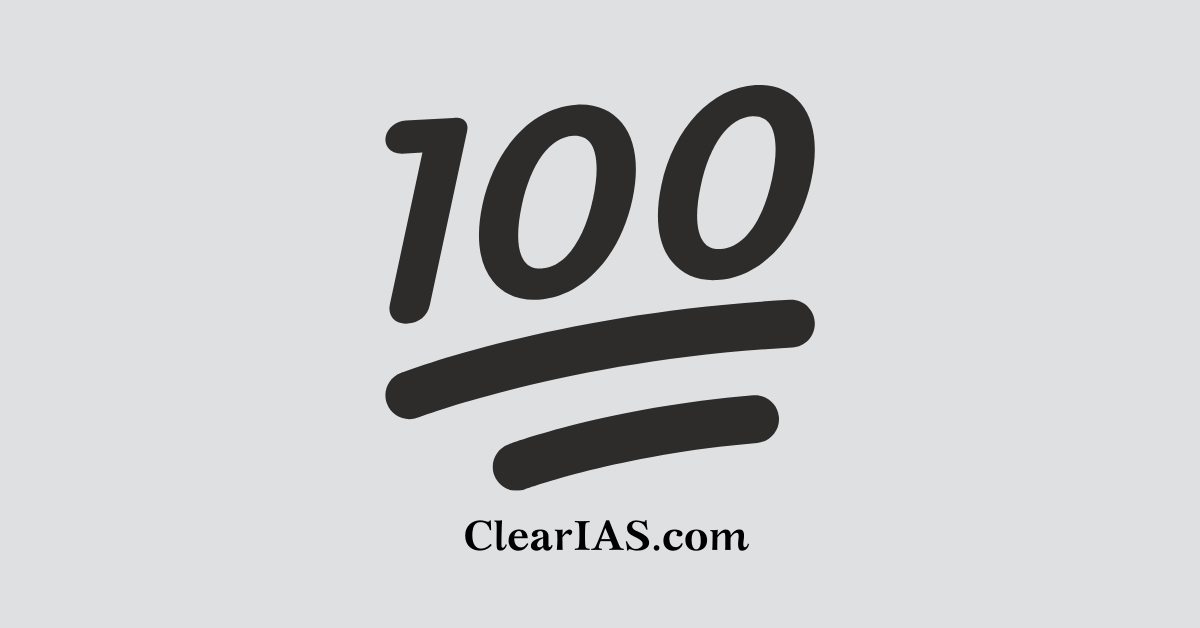 Do you know the 100 areas from which UPSC framed Questions in 2021? Have you done research on the UPSC Prelims 2021 Question Topics?
If you are an aspirant who finds it difficult to crack UPSC CSE, you might have felt that you prepare in one direction while UPSC asks questions in another direction.
This is the case with most aspirants.
However, UPSC questions are of real quality and standard. It tests the knowledge, curiosity, and understanding of well-read youth.
Do you wish to narrow your gaps with the UPSC way of thinking?
This is possible only if you properly analyse the UPSC question papers of previous years.
Let's now analyse the UPSC Prelims General Studies Questions Paper of 2021 (Version A).
It may help you get important insights into the priority areas of UPSC.
UPSC Prelims 2021 Question Topics: Subject-wise Break-Up
It's my practice to break the previous year's UPSC question papers subject-wise and topic-wise. I have done this in 2019 and 2020 as well.
In 2021, UPSC followed subject-wise order in questions throughout Version A. The Commission didn't shuffle questions between subjects. This made my job easy.
The break-up of questions was as below:
Note: Questions that can be purely categorized as Events of National and International Importance (current affairs) were only four in number. However, some questions from subjects like Environment, Indian Economy, Science and Technology had connections with items in recent news (last 3-4 years).
Also read: UPSC Prelims 2022 Question Topics: What are the 100 Areas from which UPSC Framed Questions last year?
UPSC Prelims 2021 Question Topics: 100 Areas from which UPSC Framed Questions
Economics
Casual Workers
Economic Recession
Demand and Supply: Law of Demand, Inferior Goods, Complementary Goods
Urban Cooperative Banks
Indian Government Bond Yields
FDI: Types
Effect of devaluation of a currency
Effect of creation of black money
Inflation: Creation of new money
Money Multiplier
Demand-pull inflation
Government Securities Market
Water Credit
Reserve Bank of India: Lender of last resort
Environment
R2 Code of Practices: Electronics recycling industry
Copper smelting plants
Furnace Oil
Blue Carbon
Organisms: Surviving without soil
Natural Mosquito repelling plant
Primary food producers in oceans
Animals that roll up to protect themselves
New York Declaration on Forests
Magnetite particles
Filter feeder
Biogeochemical cycles: weathering of rocks
Detrivores
The Common Carbon Metric
Symbiotic Relationships
Indian History and Culture
Chausath Yogini Temple: Indian Parliament
Ancient Towns: Dams in Indus Valley
Factories of the English East India Company
Post-Gupta Political History
The women in Vijayanagar Empire
Madanapalle of Andhra Pradesh
Historical place: Well-known for
Medieval Indian History: Major events timeline
St.Francis Xavier
History of ancient India: Mitakshara system vs Dayabhaga system
History of ancient India: Playwrights
Acts enacted by British Parliament: Women's rights
8th August 1942 in Indian History: Quit India Movement
Songs from Prison: Mahatma Gandhi
Medieval India: Paragana-Sarkar-Suba
Secretary with Hindu Female School: Ishwar Chandra Vidyasagar
Officers of the Indian National Army: Shah Nawaz Khan, Prem Kumar Sehgal and Gurbaksh Singh Dhillon
Indian History: Kingdoms – Hyderabad State, Vijayanagara Empire, Rohilkhand Kingdom
Heritage locations: Rivers
National languages
Geography
Permaculture farming vs conventional chemical farming
Palm Oil
Indus River system
Saline Lakes in India – Didwana, Kuchaman, Sargol and khatu
Rivers that rise from the Eastern Ghats
Seabed exploration and mining in international waters
Least water-efficient crop
Tropical Zone: Temperate Zone
Climate-smart Agriculture
Tropical rain forest – Description
Vegetation of savannah
Water on the planet Earth
Moringa and Tamarind
The black cotton soil of India
Science and Technology
Recombinant Vector Vaccines
Hereditary diseases
Bollgard I and Bollgard II technologies
Pressure cooker mechanism
Microorganisms: artificial/ synthetic medium
Adenovirus vs Retrovirus
Solubility of water: Dipole
Street lighting: Sodium Lamps vs LED Lamps
ACE2: Spread of Viral Diseases
Bisphenol A (BPA): Polycarbonate Plastics
Triclosan: Toiletries
Astronomical distance: Light years
Indian Polity
Parliamentary democracy: India vs Britain
Union Government: Administrative Reforms
Election: candidates contesting from multiple constituencies
Right to the City
Judicial custody
Parole Rules
Uncontrolled discretionary power: Article
Federal Character
Defenition of the State
Indian Judiciary
Citizenship
Best safeguard of liberty in a liberal democracy
Indian constitution – concentration of wealth: DPSP
Position of the Right to Property in India
The exact constitutional status of India on 26th January 1950
Constitutional government
Tribal languages: halbi, Ho and Kui
Bharat Ratna and Padma Awards
Current Affairs: Events of National and International Importance
Hyderabad: Tree City of the World
Laureus World Sports Award
32nd Summer Olympics
ICC World Test Championship
Also read: UPSC Prelims 2019 Question Topics – 100 Areas from which UPSC Framed Questions This Year
Analysis of the UPSC Questions Paper 2021
The priority of UPSC will not remain stagnant.
UPSC in one year gives priority to a few subjects or topics. The weightage can vary in the next year.
What UPSC gives priority in the Civil Services Examination (CSE) has changed a lot in the last 3-4 years.
However, there are certain key points to be remembered.
(1) You should be conceptually strong in static subjects: There are static areas and there are dynamic areas (current affairs). Current affairs are not separate from static areas.  They are highly connected. However, priority should be given to static areas. Only if you know static areas, you can properly connect them with items in news (Economy related news, Polity related news, Technology related news etc).
(2) UPSC has increased the sources from which questions are prepared: In earlier days, UPSC used to prepare 100 questions by referring to only a few sources. But now, in the online age, there is no dearth of sources for the Commission. The Commission does not stick to just the popular textbooks most aspirants limit their preparation with.
(3) Don't limit your preparation just to traditional sources: Most of the questions asked in UPSC CSE 2021 cannot be answered by just referring to NCERT text-books or standard reference textbooks. I am not saying textbooks are unimportant. But you may get only 30-40% of questions nowadays from traditional textbooks. You need wide reading (Eg: Newspapers, Online Sources, New Textbooks etc) and the application of Intelligent Elimination Techniques (IETs) to ensure that you cross the cut-off score.
(4) Focus on the new topics along with evergreen question areas: There are certain favourite areas for UPSC. For example, FDI, Inflation, Monetary Policy etc are evergreen topics with respect to the Indian Economy. However, aspirants cannot limit their preparation just to these repeated areas. UPSC nowadays includes questions from a lot of new areas which is of interest to a serious aspirant.
(5) First things first: It's impossible to go behind all possible sources. You should focus your attention on those resources which give maximum results in minimum time. From that perspective, I recommend the 3 items – ClearIAS Online Classes, ClearIAS Online Mock Exams, and UPSC CSE Re-Take Exams – to be part of the Core Resources.
(6) There is no alternative to newspapers: The monthly compilations of coaching websites may help. But they should be clubbed with at least 30 minutes of daily newspaper reading. I recommend TheHindu and TheHindu Business Line. Questions like The Tree City of the World in 2021 and The Bud Chip Settling of Sugar Cane in 2020 could have been answered from the Hindu Business Line. You can use the discount code CLEARIAS to get an extra Rs.100 discount on TH and BL e-papers. More details are here.
100-Topics Break Up of UPSC Previous Year Question Papers
More insights on UPSC Previous Year Question Papers
This is not the end of the discussion. I have many more insights to share on the previous year's UPSC CSE Question Papers.
A detailed analysis of the paper will be conducted live in the coming days as part of the ClearIAS 50-Days Prelims Marks Booster Program.
Let me know what you think of the break-up of the 100 topics in this article. You can use the comment section.
I shall also guide you on how to prepare for the upcoming prelims based on the trends and patterns noticed in the previous year's question papers.
Catch you in the live interactive class!
Regards, Alex.