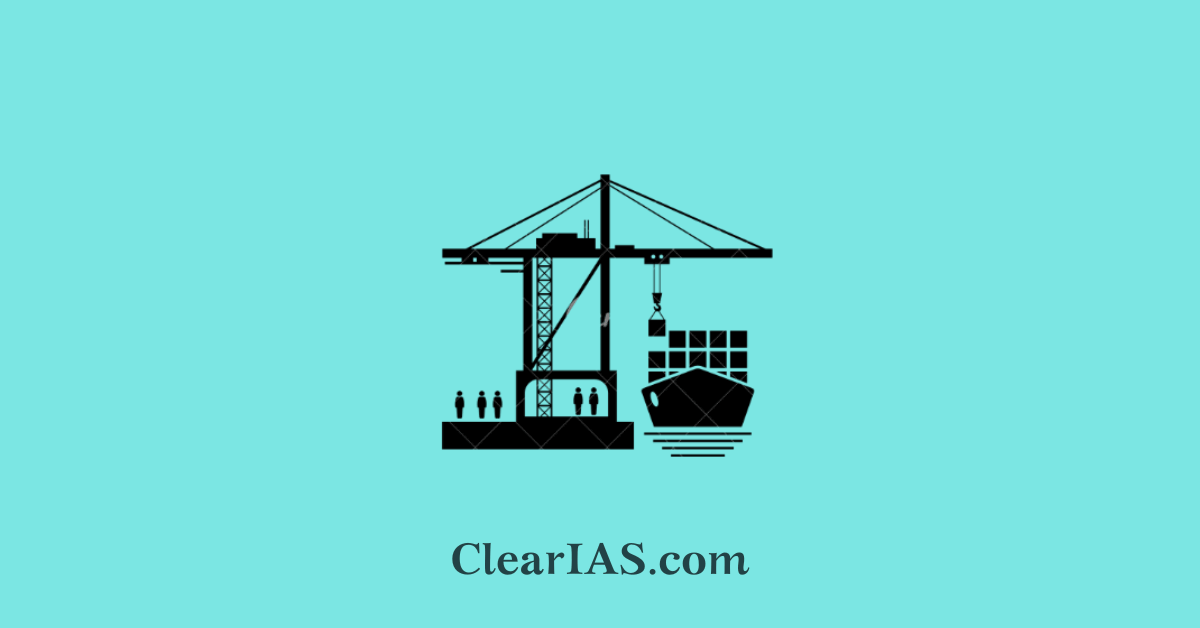 The Chabahar Port is a strategically important seaport located on the southeastern coast of Iran, along the Gulf of Oman. The port holds strategic and geopolitical significance to India's connectivity plans. Read here to understand the importance of the port for India.
The Chabahar is situated in the Sistan and Baluchestan Provinces and is the only oceanic port in Iran. Chabahar Port has gained significant attention due to its geopolitical and economic significance.
According to recent news, India and Iran have been discussing long-term deals for the development of the port.
Even though sanctions have affected India's strategic investments in Chabahar, the significance of the port has kept India's interests in the project alive.
Chabahar Port
Chabahar Port's location is strategically important because it provides access to the Arabian Sea and the Indian Ocean.
It is located outside the Persian Gulf, which is a major advantage for landlocked countries in the region, particularly Afghanistan and Central Asian states, as it offers an alternative trade route that bypasses Pakistan.
Trade Corridor: Chabahar Port is envisioned as a trade corridor that connects India, Iran, and Afghanistan, providing an alternative route for Indian goods to reach Afghanistan and Central Asia.
The port is connected to Afghanistan's road and rail networks, facilitating the movement of goods.
For landlocked Afghanistan, Chabahar Port offers an alternative to Pakistan's Karachi Port.
Historically, Afghanistan has relied heavily on Pakistani ports for its imports and exports, and Chabahar provides diversification and reduces dependency on Pakistan.
Development Projects: Several development projects have been undertaken at Chabahar Port, including the construction of new terminals, road and rail connections, and the development of free trade and economic zones to attract investment and promote economic activity in the region.
Apart from India, Iran has explored partnerships with other countries, including Russia and Afghanistan, to develop Chabahar and its connectivity infrastructure. These partnerships can influence the port's prospects.
Geopolitical Implications
Chabahar Port has geopolitical implications in the broader context of regional power dynamics. It provides India with a presence in Iran and the ability to counterbalance China's influence in the region, particularly through its Belt and Road Initiative (BRI).
U.S. sanctions on Iran have had implications for Chabahar Port's development and operations. While India has received a waiver for its activities at the port for its role in facilitating Afghan trade, the sanctions have still affected investment and financing.
Chabahar is not only a port but also aims to become a transportation hub, connecting landlocked Central Asian countries to global markets through a combination of sea, rail, and road routes.
Significance of Chabahar Port for India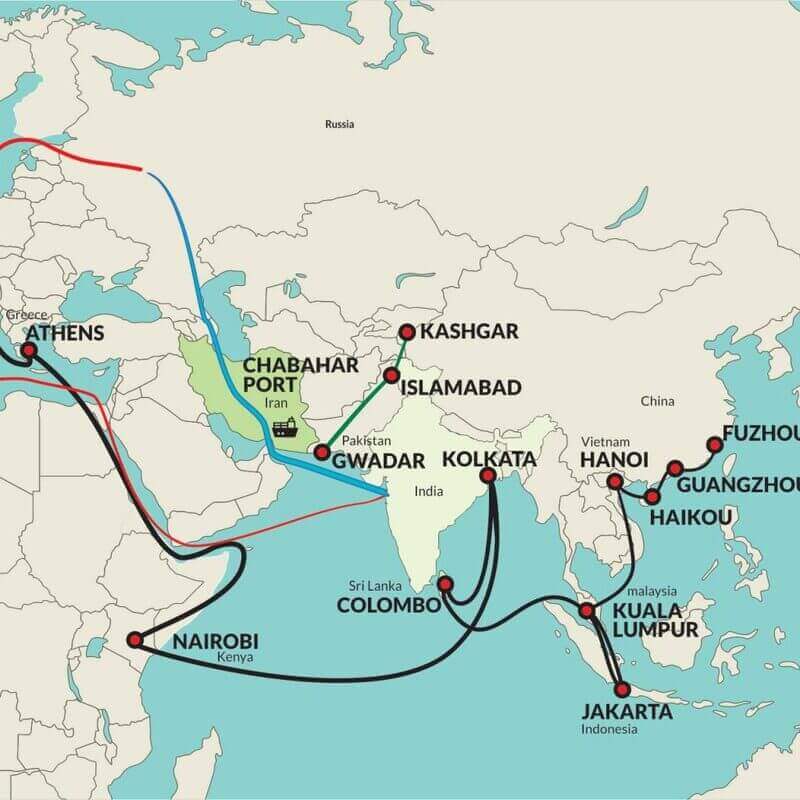 India has been a key player in the development and operation of Chabahar Port. The Indian government has invested in the port's infrastructure and has been involved in upgrading its facilities to make it a viable transit route for Indian goods bound for Afghanistan and Central Asia.
Chabahar Port holds significant geopolitical importance for India for several reasons:
Access to Afghanistan and Central Asia: Chabahar Port serves as a strategic gateway for India to access landlocked Afghanistan and Central Asian countries. It provides an alternative and more direct trade route to the region compared to traditional routes that pass through Pakistan. This access is vital for India's economic and strategic interests in the region.
Diversification of Trade Routes: By circumventing Pakistan, which has historically imposed restrictions on India's trade with Afghanistan and Central Asia, Chabahar Port diversifies India's trade routes. This reduces India's dependence on a single corridor and enhances its trade resilience.
Energy Security: The Port allows India to access energy resources in Iran and the broader region. It opens up opportunities for India to invest in Iran's energy sector and secure a more stable energy supply.
Counterbalancing China's Influence: Chabahar Port is strategically located near the Chinese-operated Gwadar Port in Pakistan, which is part of the China-Pakistan Economic Corridor (CPEC). India's presence in Chabahar serves as a counterbalance to China's growing influence in the region and allows India to protect its interests in the Indian Ocean.
Strengthening Regional Connectivity: India has invested in the development of the Chabahar-Zahedan railway line, which will connect Chabahar Port to Afghanistan and further into Central Asia. This infrastructure project enhances regional connectivity and promotes economic integration among countries in the region.
Humanitarian and Development Assistance: Chabahar Port facilitates India's humanitarian and development assistance efforts in Afghanistan. It enables the transport of goods and supplies for reconstruction projects and humanitarian aid, contributing to stability and development in Afghanistan.
Strategic Presence in the Indian Ocean: Chabahar Port extends India's maritime reach and presence in the Indian Ocean. It bolsters India's maritime capabilities and supports its efforts to ensure maritime security and freedom of navigation in the region.
Enhanced Maritime Trade: Chabahar Port offers India an alternative maritime route to reach markets in the Persian Gulf, the broader Middle East, and beyond. It reduces transit time and shipping costs for Indian goods.
Geopolitical Leverage: India's engagement in Chabahar provides it with geopolitical leverage in the region. It allows India to engage with Iran, Afghanistan, and Central Asian countries and contribute to regional stability.
India and Iran have a long-standing agreement, signed in 2002, to develop Chabahar into a full deep sea port, the it has been extended to include the port with the International North–South Transport Corridor (INSTC).
Also read: India's connectivity projects
Way forward
Chabahar Port is a crucial component of India's broader geopolitical and economic strategy in the region. It enhances India's connectivity, trade, and influence, while also serving as a counterbalance to the expanding presence of other regional and global powers in the Indian Ocean and Central Asia.
The Port has the potential to enhance regional connectivity and trade, particularly for Afghanistan and Central Asian nations.
Its development is seen as a significant step toward strengthening economic ties and regional stability in South Asia and beyond. However, challenges, including geopolitical tensions and financing issues, continue to impact its progress.
The future of Chabahar depends on several factors, including geopolitical developments, international sanctions, competition with other regional ports, infrastructure development, and regional security.
While it holds significant promise as a trade and transport hub, its full realization may require ongoing efforts and cooperation among regional and international stakeholders. The evolving dynamics in the region will continue to shape the port's future role and importance.
-Article by Swathi Satish