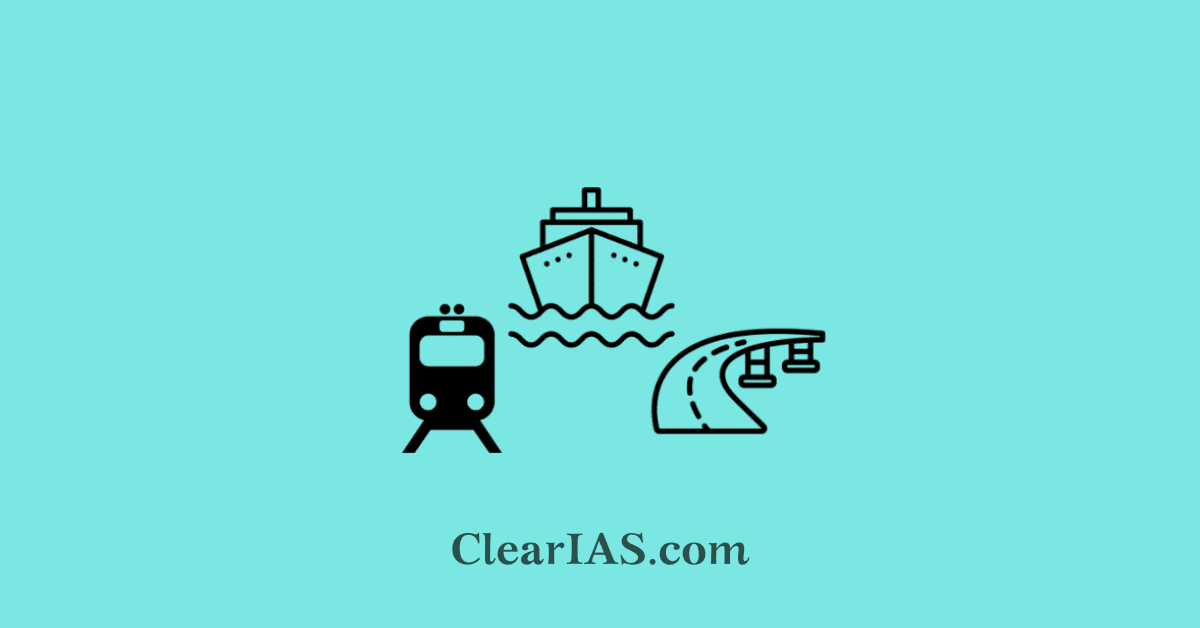 India's Connectivity projects are a vital part of its foreign policy, especially with respect to its neighbors. There are numerous projects in the making and few are being discussed. It's important to understand the need for these and the details related to them. Read here to learn all the details.
Supply chains and connectivity are gaining credence over sovereignty and borders as the organizing principles of humanity in the 21st century. Connectivity has become the foundation of a global society.
Connectivity can be of two broad categories- soft cross-border infrastructure and Hard cross-border infrastructure.
Soft cross-border infrastructure involves improved coordination between customs and streamlining of border procedures. Hard cross-border infrastructure concerns improving physical connectivity (cross-border roads, railways, etc.) of transportation links, enhancing IT connectivity, and improving connectivity for energy transmission.
India's connectivity projects
India has multiple connectivity regions with its neighbors- a vital part of India's foreign policy.
The major connectivity projects of India according to regions are:
India's Connectivity Projects with Myanmar
India's 'Act East' strategy places a high focus on the government's efforts to strengthen ties with its near neighbors.
Connectivity is prioritized because it will help South Asia become a more powerful subregional force.
In fact, fostering economic cooperation, cultural links, and strategic alliances depends on connectedness.
Kaladan Multimodal Transit Transport Project: Will connect Kolkata port to Sittwe port in Myanmar's Rakhine state; link Sittwe port to Paletwa along the Kaladan river, and finally connect Paletwa to Zorinpui on the India/ Myanmar border by road
Rakhine State Development Program: Pre-fabricated housing for displaced Rohingyas; development of schools and roads
India-Myanmar Border Area Development: Roads, bridges, and Schools in Chin State and the Naga Self-Administered Area
Bangladesh-China-India-Myanmar Economic Corridor: To link Kunming in China's Yunnan province with Kolkata, passing through nodes such as Mandalay in Myanmar and Dhaka in Bangladesh before heading to Kolkata.
Myanmar's network infrastructure is still in its infancy. Most commodities are transported by road due to a lack of multimodal transportation infrastructure, which raises the cost of transportation.
Myanmar's regional neighbors are ahead of it in terms of logistical performance.
The expense of conducting business is further increased by the lack of consistency and transparency in border processes.
Stakeholders also take issue with the numerous legal and informal toll gates that are situated along key thoroughfares, such as the road between Yangon and Hpa-An (which is a part of the East-West Economic Corridor), increasing expenses and delays.
Enhancing Myanmar's physical connection can benefit the nation's physical and commercial corridors as well as its bilateral relations with India.
India-ASEAN Connectivity
Mekong-India Economic Corridor (MIEC): Involves the integration of four Mekong countries – Vietnam, Myanmar, Thailand, and Cambodia – along with India, connecting Ho Chi Minh City, Dawei, Bangkok, and Phnom Penh with Chennai.
India-Myanmar-Thailand Trilateral highway project: Will connect Moreh (Manipur, India) to Mae Sot (Thailand) via Myanmar.
The massive increase in road, rail, and bridge constructions in North East India is partly due to China's large-scale development initiatives in Tibet's fortification and the construction of a gateway to ASEAN and other adjacent nations.
India-middle East and Central Asia
Due to their landlocked status and lack of overland connectivity with India, the development of regional connectivity is crucial for boosting trade and commerce between India and the Central Asian nations.
India plans deeper connectivity with the Middle East to counter China's footprint in Gulf.
A new ambitious connectivity project aims to link the Middle East to India through roads, rails, and seaports
Chahbahar Port: Located in the Sistan-Balochistan province on the energy-rich Iran's southern coast, the Chabahar Port is being developed by India and Iran to boost connectivity and trade ties.
International North-South Transport Corridor: A 7,200-km-long multi-mode transport project for moving freight among India, Iran, Afghanistan, Armenia, Azerbaijan, Russia, Central Asia, and Europe.
A new ambitious project aims to link New Delhi to the Middle East, an idea that developed during the meetings of the I2U2 group.
The proposed initiative shows that India and the United States are ready to make joint efforts to counter China beyond the Indo-Pacific region and into the Middle East.
Domestic connectivity projects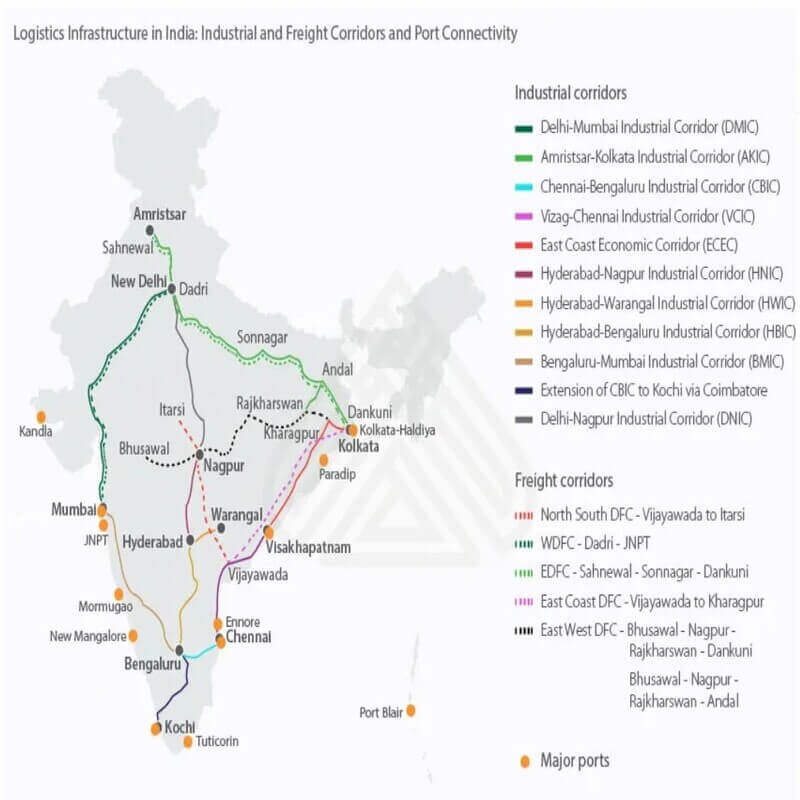 Golden Quadrilateral Project: Golden Quadrilateral is a network of highways connecting India's four top metropolitan cities, namely Delhi, Mumbai, Chennai, and Kolkata, thereby, forming a quadrilateral. The largest highway project in India, the Golden Quadrilateral Project was launched in 2001 as part of the National Highways Development Project (NHDP).
Industrial and freight corridor projects: The government launched the National Infrastructure Pipeline (NIP) for FY 2019-25, under which projects have been identified to construct, refurbish, strengthen, and expand roads networks, housing, urban development, railways, conventional power, renewable energy, and irrigation. Key programs will focus on highways and railways.
Sagarmala Program for port development
Development along main transportation corridors: To set up greenfield industrial cities with connectivity to major transportation corridors, such as the eastern and western dedicated freight corridors, expressways, national highways, ports, and airports.
Significance of India's Connectivity Projects
Since 2022, the Russia-Ukraine War and its effects on world geopolitics have been hot topics.
However, strategic analysts are also paying close attention to the war's effects on post-Soviet nations, particularly on their economies, as well as the new opportunities for the Caspian region's nations, which also include Iran, a nation that is regarded as a significant geopolitical player.
It is necessary to consider how India might increase its influence in the Caspian Sea area.
This is becoming significant in light of the improved India-Russian energy partnership.
In a similar vein, Turkmenistan, Iran, and Kazakhstan are now becoming as important strategic allies of India.
It is necessary to consider the relevance of the connection initiatives and the ramifications of the strategic developments from a wider perspective in this situation.
As India, Iran, and Central Asian nations wrapped up a two-day conference on Chahbahar on April 13-15, it is thought that the connectivity problem is important in the context of the Caspian countries.
A new alternate route for Central Asian nations is also forming, known as the International North-South Transport Corridor (INSTC).
This has been considered crucial in recent years due to widespread concerns about China's geopolitical objectives in Central Asia and its Belt and Road initiative.
How pertinent these projects, particularly the INSTC, are in the light of the current sanctions on Russia, however, is a moot point.
Conclusion
Increased trade, money, and idea movements will be encouraged by systematic, earnest efforts to dramatically lower trade costs.
As a consequence, through scale, network, and agglomeration economies, improved connectivity, information network, and logistics will benefit all regional nations significantly.
The poor would have access to trade possibilities as well, which would have a significant influence on eliminating severe poverty in the region. At the same time, lowering intraregional trade costs would provide trade access to the underprivileged.
Prelims Question
Q) With reference to India's projects on connectivity, consider the following statements:
East-West Corridor under Golden Quadrilateral Project connects Dibrugarh and Surat.
Trilateral Highway connects Moreh in Manipur and Chiang Mai in Thailand via Myanmar.
Bangladesh – China -India – Myanmar Economic Corridor connects Varanasi in Uttar Pradesh with Kunming in China.
How many of the above statements are correct?
Only one
Only two
All three
None
­-Article written by Swathi Satish