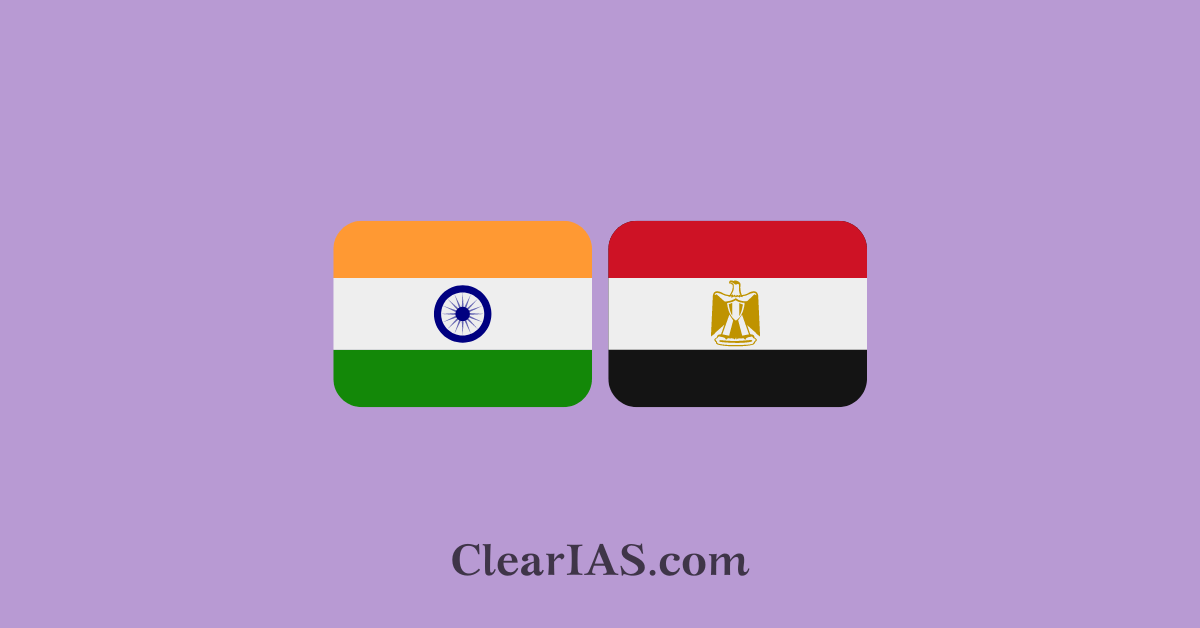 India-Egypt relations have enjoyed a history of close contact from ancient times as they are two of the world's oldest civilizations. The bilateral relations have gone through major developments in all eras. The current Egyptian President has been invited as a guest of honor for India's 74th republic day celebrations. Read here to know more about the bilateral relations between India and Egypt.
India-Egypt relations have spanned across various timelines of history.
India and Egypt have long-standing, people-to-people-based civilizational, cultural, and economic ties.
They both contributed to the non-alignment movement during the cold war by opposing British colonialism and advancing its cause. India wants to expand and deepen the "time-tested" connection between New Delhi and Cairo by inviting President Sisi to the republic day celebrations this year.
Along with Oman and the UAE from the region, Egypt has also been invited by India to the G20 conference in New Delhi later in 2023.
History of India-Egypt Relations
Even before the Common Era, Ashoka's edicts refer to his relations with Egypt under Ptolemy II.
Modern ties between Egypt and India date back to discussions between Saad Zaghloul and Mahatma Gandhi about the shared objectives of their respective independence movements.
The Non-Aligned Movement was founded in 1955 by Egypt under Gamal Abdel Nasser and India under Jawaharlal Nehru along with Yugoslav President Josip Broz Tito.
Nehru stood up for Egypt during the 1956 War (Suez Crisis) to the point of threatening to expel his nation from the British Commonwealth.
India aided Egypt and the Arabs in 1967 after the Six-Day War.
In 1977, New Delhi praised President Anwar al-trip Sadat's to Jerusalem as a "brave" decision and viewed the peace agreement between Egypt and Israel as a crucial step toward a fair resolution of the Middle East conflict.
India and Egypt are celebrating 75 years of establishment of diplomatic relations this year.
India-Egypt trade and economic relations
Egypt has traditionally been one of India's most important trading partners in the African continent. The India-Egypt Bilateral Trade Agreement has been in operation since March 1978 and is based on the Most Favoured Nation clause.
India-Egypt has collaborated closely over the past ten years.
In 2021–2022, bilateral trade between the nations increased to a record $7.26 billion.
Additionally, their trade is fairly balanced, with Egyptian exports to India totaling $3.52 billion and Indian exports to Egypt totaling $3.74 billion.
Additionally, both nations expanded their cooperation in several fields, including retail, energy, textiles, industries, defence, and security.
Major Egyptian exports to India include raw cotton, raw and manufactured fertilizers, oil and oil products, organic and non-organic chemicals, and leather and iron products.
Major imports into Egypt from India are cotton yarn, sesame, coffee, herbs, tobacco, and lentils.
India is the fourth largest trade partner of Egypt, after the US, Italy, and Saudi Arabia.
More than 50 Indian companies have invested around 3.15 billion dollars in diverse sectors of the Egyptian economy, including chemicals, energy, textile, garment, agri-business, and retail.
Other areas of cooperation
During the pandemic and the war between Russia and Ukraine, it was clear how India and Egypt's relations were strengthening.
Egypt sent medical supplies and doses of the antiviral Remdesivir injection to India during the second Covid-19 outbreak.
In exchange, India approved the maiden shipment of wheat to Egypt in May 2022, despite the country's prohibition on wheat exports in the wake of the heatwave caused by climate change that hindered grain output.
Egypt experienced a serious wheat shortage following the Russian invasion of Ukraine because it was primarily dependent on wheat shipments from Russia and Ukraine.
India is looking at increasing investments in the country, especially in major infrastructure projects in and around the Suez Canal, in terms of special economic zones in Alexandria and Cairo.
Egypt is also keen to push for more tourism from India, and ease the movement of people so that there is more forex inflow into their tourism-dependent economy.
The two countries will also look at the education sector, where Indian higher educational institutions can set up campuses in Egypt- a proposal for establishing an IIT in Egypt is in the works.
India-Egypt cooperation in the field of science and technology is also noteworthy. They have held workshops on Agriculture-Biotechnology and Nanotechnology.
The grants-in-aid projects include Pan Africa Tele-medicine and Tele-education project at Alexandria University, the Solar electrification project in Agaween village, and Vocational Training Centre for textile technology in Shoubra, Cairo, which have been completed. An IT Centre at Al Azhar University, CEIT, is also operational since February 2019.
Space cooperation is an emerging vertical of cooperation between India and Egypt. Joint Working Group meetings and discussions between ISRO and NARSS (National Authority for Remote Sensing and Space Sciences) have been held.
Defence
Egypt is interested in procuring defence equipment from India, which includes LCA Tejas, missiles like Akash, DRDO's Smart Anti-Airfield Weapon, and radars. This is being developed as part of defence industry cooperation.
Egypt is the eighth country in the Middle East to enter a defence agreement with India, after Iran, the UAE, Qatar, Saudi Arabia, Oman, Israel, and Jordan.
The first-ever joint exercise between the special forces of the Indian Army and the Egyptian Army named "Exercise Cyclone-I" is in progress at Jaisalmer in Rajasthan since January 2023.
Significance of India-Egypt relations
India is keen to further expand ties with Egypt, a key player in the politics of both the Arab world as well as Africa. It is also seen as a major gateway to markets in Africa and Europe.
Egypt is in charge of the Suez Canal, one of the world's main choke points that links the Mediterranean Sea with the Red Sea and the Indian Ocean.
As a gateway to Africa, the nation has extensive commercial and logistical networks.
Egypt was also the first Arab nation to reestablish diplomatic ties with Israel in 1978.
India is aware of Egypt's geopolitical and geoeconomic importance in the area. India's status as a prominent global player is likewise respected by Egypt. Relations between Egypt and India have a lot of unrealized potentials.
Both countries could shape the regional security and economic architecture and engage in multilateral engagements along the lines of the recently conceived I2U2 (India, Israel, the US, and the UAE), Negev Forum (Bahrain, Egypt, Israel, Morocco, the US, and the UAE) and India-UAE-France trilateral.
President Sisi's visit will be a turning point in India-Egypt relations as there are talks of upgrading the bilateral ties to a strategic partnership.
-Article written by Swathi Satish