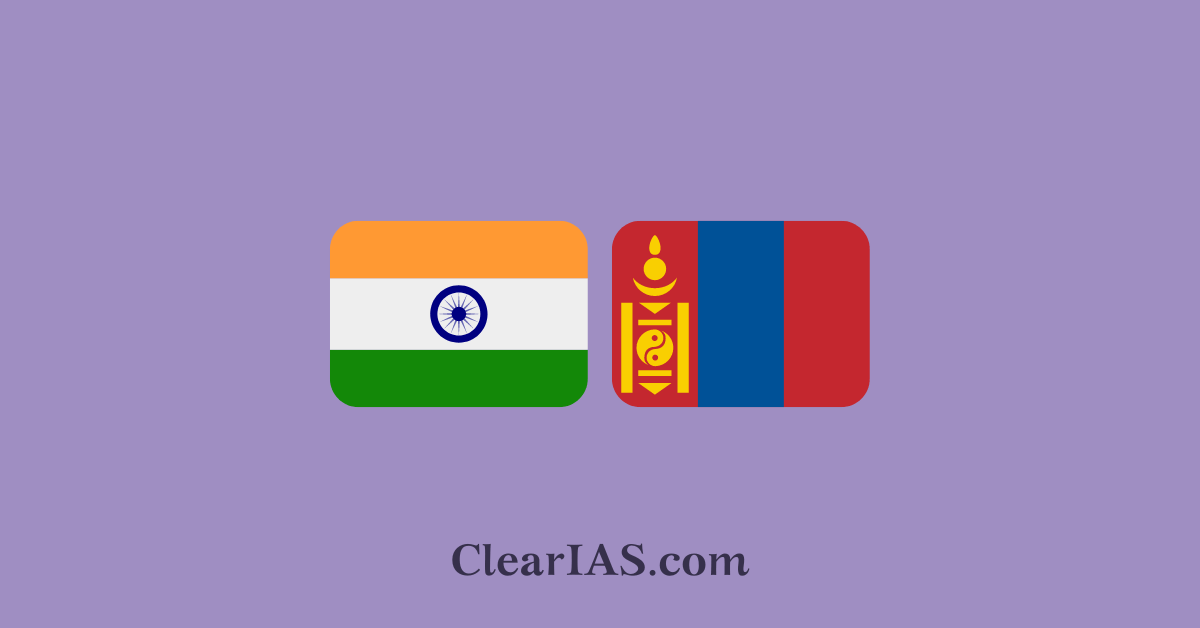 India-Mongolia relations date back to ancient times and in modern times bilateral relations have been rapidly developing through multiple facets. Both countries have been spiritual neighbors which have now transformed into a strategic partnership. Read here to know more about the bilateral ties.
The cooperation between India and Mongolia, which was previously limited to diplomatic missions, the provision of soft loans and financial aid, and joint ventures in the IT industry, is now rapidly expanding.
In 2015, the two Prime Ministers announced a "strategic partnership" between the two Asian democracies.
Mongolia is a landlocked country situated between Russia and China. Its two characteristics are noteworthy. First, in foreign policy, it follows the non-aligned approach, and second though situated between two autocracies, it is a democratic country.
History of India-Mongolia relations
India and Mongolia have interacted since ancient times through the vehicle of Buddhism.
Some Indian and Mongolian historians have speculated about the migration of some tribes from the Kangra kingdom (Himachal Pradesh) to Mongolian territory 10000 years ago.
Mangaldev, son of the King headed the migrants and the majority of them returned to India after staying there for about 2000 years. A branch of the Kangra family, the Katoch dynasty is considered to be the oldest surviving dynasty in the world.
According to some Mongolian scholars, Buddhism traversed to Mongolian steppes through Tibet.
During the Hunnu State of the 3rd century BCE and later during the period of the Great Mongol Empire Buddhist monks, and several traders from India visited Mongolia.
In 552 BCE, a Lama Narendrayash from the State of Udayana (Northern India) with some others visited Nirun state.
Since to most Mongols, India is the land of Buddha, Lamas and students from Mongolia used to travel to Nalanda, once the largest residential University in India, to study Buddhism.
In modern times, Buddhism was promoted by cultural and literary contacts between the people of India and Mongolia
The Mongol invasions of the Indian subcontinent are a major chapter in Indian history.
The Turco Mongol conqueror Timur attacked the Tughlaq dynasty in Delhi in 1398.
In 1526, Babur, a descendant of Timur and Genghis Khan from Fergana Valley (modern-day Uzbekistan), came through the Khyber Pass and established the Mughal Empire, covering modern-day Afghanistan, Pakistan, India, and Bangladesh.
The Mughal emperors married local royalty, allied themselves with local maharajas, and attempted to fuse their Turco-Persian culture with ancient Indian styles, creating a unique Indo-Saracenic architecture.
Both India and Mongolia especially during the 5-7th centuries CE were in close direct contact. It seems that Buddhism in Mongolia accelerated the process of the further spread of Indian culture in Mongolia.
The intellectual development of Mongolia was influenced by the Mahayana school of Buddhism and its philosophy. Philosophical treatises of Nagarjuna used even simplified expressions of philosophical terminology.
India-Mongolia Political and diplomatic relations
India established diplomatic relations with Mongolia on 24 December 1955.
Mongolia appreciates India's support for its membership in United Nations in 1961 which was championed by Pt. Jawaharlal Nehru.
In 1991, India supported Mongolia's membership in Non-Aligned Movement (NAM).
Mongolia along with India and Bhutan co-sponsored the famous UN Resolution for the recognition of Bangladesh as an independent country in 1972.
The first, ever visit by PM Shri Narendra Modi to Mongolia in May 2015 marked the 60th anniversary of the establishment of diplomatic relations between India and Mongolia.
This visit was part of the "Act East Policy" which proved to be a watershed movement in India-Mongolia relations.
The declaration of 'Strategic Partnership' and the announcement of USD 1 Billion LoC for the development of Infrastructure in Mongolia set the tone for accelerated economic cooperation with Mongolia.
India and Mongolia have the 'India-Mongolia Joint Committee on Cooperation (IMJCC)' chaired at the Ministerial level.
International cooperation
Mongolia supported India for the non-permanent seat of the UN Security Council (UNSC) for 2011-2012.
India and Mongolia declared support to each other for UNSC non-permanent seats respectively for terms 2021-22 and 2023-24.
Mongolia voted in favor of India's proposal for Yoga's inscription into the list of UNESCO's Intangible Cultural Heritage.
India also voted for registering Mongolian legacy on "Mongolian Traditional Custom to Worship Mountain and Ovoo" in the list of Intangible Cultural Heritage.
Mongolia has publicly reiterated its support for India's membership to the permanent seat of the expanded UNSC.
India-Mongolia has a declaration in place for the protection of snow leopards- the Bishkek Declaration.
Economic relations
There are numerous agreements signed between the nations over the years, the major ones are:
Joint Trade Sub-Committee and cooperation between the Planning Commission of India and the National Development Board of Mongolia
co-operation in the field of geology and mineral resources
Trade and Economic Cooperation provides r MFN status to each other in respect of customs, duties, and all other taxes on imports and exports.
Investment Promotion and Protection Agreement
The main items of exports to Mongolia include medicines, mining machinery, auto parts, etc. Imports from Mongolia include raw cashmere wool.
Defence cooperation
There is the India-Mongolia Joint Working Group for Defence cooperation which meets annually.
The Joint India-Mongolia exercise 'Nomadic Elephant' is held annually.
Indian Armed Forces Observers regularly participate in the Annual multilateral peacekeeping exercise 'Khan Quest' in Mongolia.
The BSF (MHA) of India and the Mongolian General Authority for Border Protection (GABP) have been closely cooperating on border patrolling and related subjects for over eight years.
Cooperation between National Emergency Management Agency (NEMA) and National Disaster Management Agency (NDMA) has picked up pace in recent years.
Way forward
Bilateral ties between India and Mongolia have the potential to advance Asia's regional integration process.
Even if trade between India and Mongolia has recently increased at a higher rate, there are still chances and room for boosting growth. It is necessary to locate and get rid of obstacles.
Given the importance of Mongolia in the current security context, strategic cooperation needs to be significantly upgraded.
It will take skillful handling of bilateral trade and economic policy difficulties to make considerable progress.
While there is still a need for strategic engagement on the security and foreign policy fronts, it is imperative to develop an effective plan in the new, complicated international setting to ensure that shared objectives are rapidly attained without falling victim to large power rivalry.
-Article written by Swathi Satish