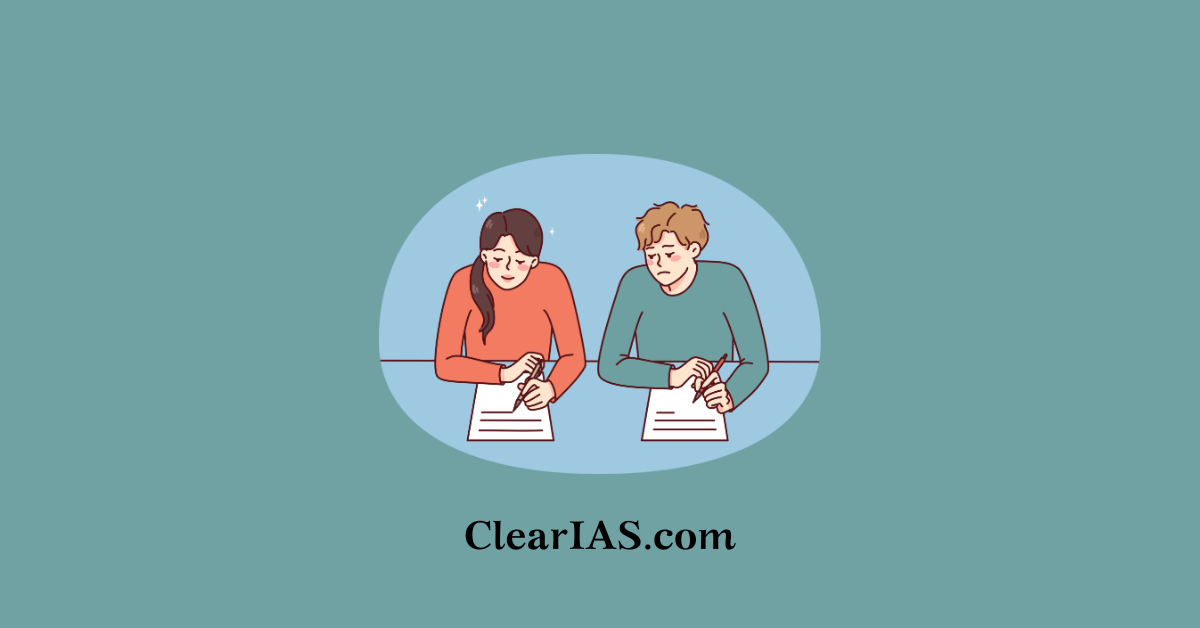 Details regarding the UPSC (Union Public Service Commission) CSE Exam Pattern and Marking Scheme are mentioned in detail below.
The UPSC Civil Services Examination (CSE) is a challenging journey and a dream of millions of aspirants.
This examination serves as the gateway to some of the most prestigious positions in the civil services. So having a better understanding of this exam is very important.
In this article, we are going to talk about exam patterns and marking scheme-related details of the UPSC Civil Services Examinations.
About UPSC Civil Services Examination
The Civil Service Exam is conducted by UPSC every year. It is a dream of lakhs of students but the selection criteria and exam pattern of this exam make this task challenging.
Before getting into the UPSC CSE preparation, each and every aspirant shall have an in-depth understanding of the nature of this exam, including a detailed UPSC syllabus, exam pattern, marking pattern, nature of questions, etc.
The selection process of the UPSC exam comprises three stages, Prelims, Mains, and Interview. Only a handful of aspirants make it to the interview every year. So, it is important to be aware of each and every detail regarding this paper.
Understanding the UPSC Exam Structure
All the stages of this exam have a different pattern. Like UPSC prelims paper is objective in nature and the main examination is descriptive. Let's understand the UPSC exam pattern in detail here.
UPSC Prelims Exam Pattern
The first stage of the selection process is the prelims exam which consists of two papers: General Studies Paper-I and General Studies Paper-II (CSAT).
General Studies Paper-I contains objective-type questions and aspirants are required to choose the most suitable option out of all.
GS Paper-I contains 100 questions, each carrying 2 marks, summing up to 200 marks in total.
General Studies Paper-II (CSAT) contains 80 questions, each carrying 2.5 marks, totaling 200 marks.
GS Paper II which is CSAT is qualifying in nature, which means, in order to clear that paper, an aspirant has to secure a minimum of 33% marks in the exam.
The duration of both GS paper I and paper II is two hours. UPSC conducts both exams on the same day, but there will be a three-hour time gap between both papers.
There is a negative marking on both papers, with one-third of the marks allotted for each incorrect answer deducted.

Negative Marking in UPSC CSE Prelims Paper
The marking criteria of UPSC CSE for Paper I and Paper II are described below in detail:
There will be a deduction of 1/3rd marks allotted to each right question, in case an aspirant has marked the wrong answer.
There will not be any deduction of marks if the aspirant leaves the question unattended.
So, there will be a negative marking of 0.66 for GS Paper I for each wrong answer.
There will be a mark deduction of 0.83 for GS II (CSAT) for each wrong answer.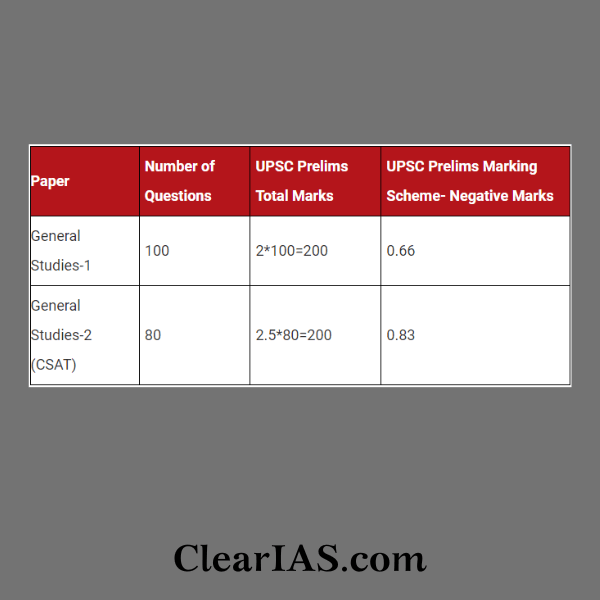 Also read: UPSC Prelims Test Series 2024 – Practice Mock Exams
UPSC Mains Exam Pattern
Those aspirants who will successfully clear the prelims exam will have to attempt the mains exam, which is the second stage of the selection process.
The second stage consists of a written examination with nine papers, out of which two are qualifying in nature (means an aspirant needs to secure just 25% of the total marks in these papers in order to qualify them.
Marks of these two papers will not be included in the final merit list), four are GS papers and two are optional subject papers.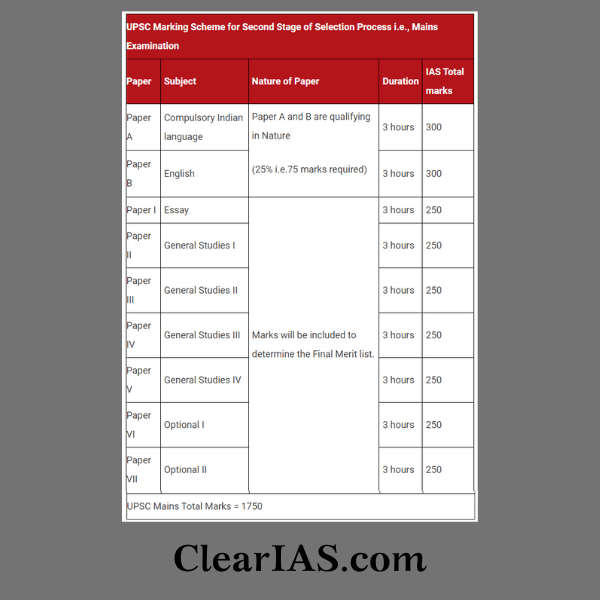 Also read: UPSC Mains Test Series: Online Mock Exams
UPSC Personality Test (Interview)
The third and final stage of the selection process is the Interview round. Those aspirants who succeed in this round will be called for training purposes.
This round is very important as it assesses the candidate's personality, mental alertness, and suitability for a career in civil services.
The interview carries 275 marks.
Also read: ClearIAS Interview Program
Tips for Success in UPSC CSE
Here are some general tips to succeed in this exam.
Understand the syllabus thoroughly for both Prelims and Mains. Do not neglect the importance of interviews as well.
Practice time management during Prelims, considering the length of the questions, speed, and precision, both are important.
Develop a well-structured approach for the main answers, with a clear introduction, body, and conclusion.
Stay updated with current affairs and build a strong foundation for diverse subjects.
Take mock tests and analyze your performance regularly, it will help you improve in this journey.
Also read: ClearIAS Programs: Online and Offline Courses for UPSC Civil Services Prelims, Mains, and Interview
Conclusion
Understanding the UPSC CSE exam pattern and marking scheme is important. Though this journey is tough, but with dedication, strategic preparation, and a clear understanding of the process, you can improve your chances of success.
Remember that each stage of the examination serves as a stepping stone towards your dream of joining the civil services. Stay focused, stay motivated, and you can achieve your goal of becoming a civil servant.
Also read: Civil Services Exam Pattern Change Controversy: The Reality
Article Written By: Priti Raj