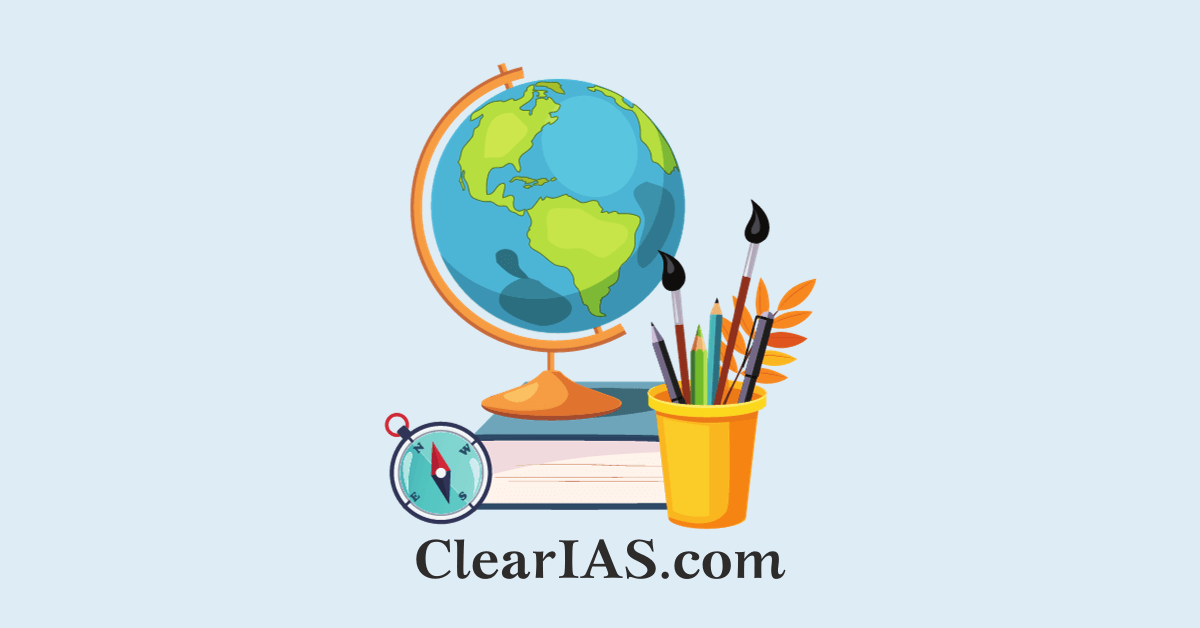 Geography is the most popular optional subject among UPSC aspirants.
In the Mains stage of the UPSC Civil Services Examination (CSE), while most of the subjects are compulsory and common for all aspirants, one subject may differ from candidate to candidate. This subject is called the 'optional subject'.
Aspirants are free to choose their optional subject based on their interest – from a list provided by UPSC – irrespective of their graduation background.
Geography is the most preferred optional subject in UPSC CSE
As per the data available on the UPSC website, Geography is the most preferred subject among the optional subjects chosen by the candidates.
Analyzing previous year trends, it is found that around 3500 candidates opt for Geography as their optional subject in UPSC CSE every year. Considering the fact that every year only 10000-12000 candidates are selected by UPSC to sit for the Main Exam (written), around 30% of all candidates who write UPSC Mains are geography lovers!
Among candidates who appeared for UPSC CSE Mains (written), 3391 candidates opted for Geography in 2015 while 3427 candidates opted for it in 2016.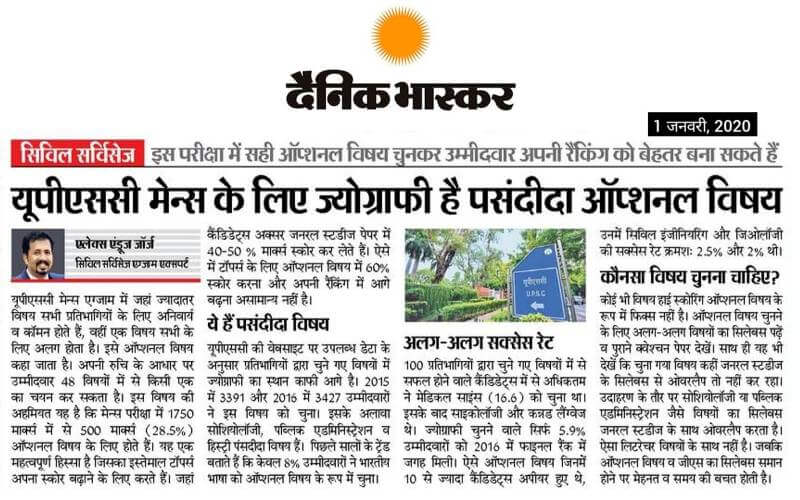 Sociology, Pub Ad, and History – The Next Favourites!
Among its popularity, Geography is followed by Sociology, Public Administration, and History.
While Geography is opted by more than 3,000 candidates, Sociology, Public-ed, and History have around 1,500 takers every year. The only other optional subject that had more than 1000 takers was Political Science and International Relations (2016 data).
Anthropology – The Emerging Hot Favourite!
The recent trends show that the love for Anthropology as an optional subject has been increasing among UPSC aspirants.
Literature (Indian Language) is preferred by only 8% as an optional subject
Previous years' trends show that only around 8% of candidates chose an Indian Language as their optional subject.
Out of the 13052 candidates who appeared for UPSC CSE Mains 2017, only 1043 (7.8%) opted for one of 22 scheduled languages as his/her optional subject.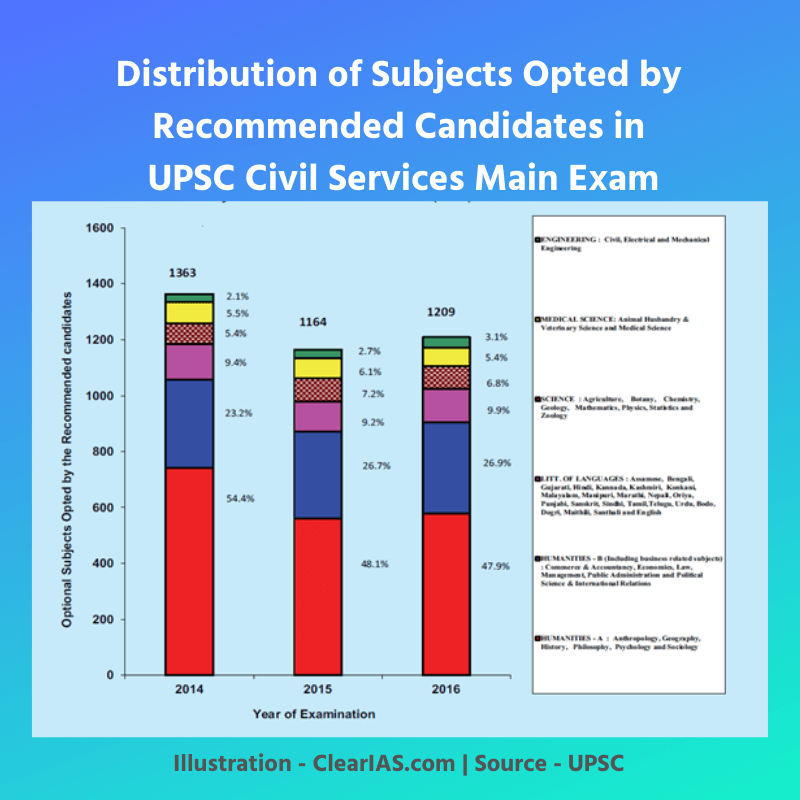 Number of Candidates who Appeared For Each Optional Subject in UPSC CSE Mains (Data: 2016-17)
Sl.
Number

Optional Subject in UPSC CSE Mains

Number of
Candidates

1

Geography

3427

2

Sociology

1635

3

Public Administration

1506

4

History

1427

5

Political Science & International Relations

1218

6

Anthropology

922

7

Philosophy

847

8

Mathematics

406

9

Medical Science

368

10

Law

313

11

Literature of Hindi Language

288

12

Psychology

244

13

Economics

232

14

Commerce & Accountancy

229

15

Electrical Engineering

190

16

Literature of Kannada Language

154

17

Mechanical Engineering

152

18

Physics

141

19

Literature of Gujarati Language

131

20

Chemistry

126

21

Civil Engineering

121

22

Literature of Tamil Language

115

23

Literature of Telugu Language

114

24

Literature of Maithili Language

99

25

Agriculture

97

26

Management

94

27

Literature of Malayalam Language

90

28

Literature of Sanskrit Language

80

29

Zoology

79

30

Botany

57

31

Geology

51

32

Literature of Punjabi Language

46

33

Animal Husbandry & Veterinary Science

42

34

Literature of Urdu Language

30

35

Literature of English Language

21

36

Literature of Marathi Language

18

37

Literature of Manipuri Language

13

38

Literature of Assamese Language

5

39

Literature of Sindhi(Devanagari Script) Language

5

40

Literature of Bengali Language

4

41

Literature of Oriya Language

4

42

Statistics

4

43

Literature of Santhali Language

2

44

Literature of Bodo Language

1

45

Literature of Sindhi(Arabic Script) Language

1
The cross-domain shift while taking the optional subject
While approximately 70% of the candidates appearing in the 'IAS Exam' are engineers and doctors combined, around 85% of optional subjects opted by the recommended candidates are related to Humanities (including the literature of languages).
This shows that most of the candidates have made a cross-domain shift from their original stream (i.e., Engineering, Science, and Medical Science) to humanities.
Probably, many engineers think it is more logical to learn humanities subjects for UPSC CSE than their core subject. However, there is no such trend in the reverse direction.
List of optional subjects for the Main Examination
A candidate can choose his optional subject from any of the 48 subjects/languages listed below.
(i)Agriculture (ii) Animal Husbandry and Veterinary Science (iii) Anthropology (iv) Botany (v) Chemistry (vi) Civil Engineering (vii) Commerce and Accountancy (viii) Economics (ix) Electrical Engineering (x) Geography (xi) Geology (xii) History (xiii) Law (xiv) Management (xv) Mathematics (xvi) Mechanical Engineering (xvii) Medical Science (xviii) Philosophy (xix) Physics (xx) Political Science and International Relations (xxi) Psychology (xxii) Public Administration (xxiii) Sociology (xxiv) Statistics (xxv) Zoology (xxvi) Literature of any one of the following languages: Assamese, Bengali, Bodo, Dogri, Gujarati, Hindi, Kannada, Kashmiri, Konkani, Maithili, Malayalam, Manipuri, Marathi, Nepali, Odia, Punjabi, Sanskrit, Santhali, Sindhi, Tamil, Telugu, Urdu and English.
Note: While each optional subject is of 500 marks, the optional subject is further divided into two papers – 250 marks each.
Importance of the Optional Subject
Out of the 1750 marks in the UPSC Civil Services Mains Examination (written), 500 marks (28.5%) are for the optional subject. This is a crucial area that most toppers effectively utilize to maximize their marks.
While candidates usually score 45-50% marks in their General Studies Papers, it is not uncommon for toppers to score around 60% marks in the Optional Subject and take a giant leap in their ranking.
What is the depth of study needed for the optional subject?
Though the qualification needed to write the UPSC Civil Services Examination is only a degree (graduation), the standard of questions to be expected from the optional subject is a little more on the higher side.
The scope of the syllabus for optional subject papers for the examination is broad for the honors degree level i.e. a level higher than the bachelor's degree and lower than the master's degree. In the case of Engineering, Medical Science, and law, the level corresponds to the bachelor's degree.
Also read – Books to study UPSC CSE Mains Optional subjects
Success-Rate of Different Optional Subjects
Amongst the subjects opted for by 100 or more candidates, the highest percentage of successful candidates had opted for Medical Science (16.6 percent) followed by Psychology and Literature of Kannada Language (15.6 percent each).
Only 5.9% of candidates who wrote Mains with Geography as their optional subject were selected in the final rank list prepared by UPSC in 2016.
Among those optional subjects where more than 10 candidates appeared, the success rate of Civil Engineering and Geology was among the lowest – only 2.5% and 2% final conversions respectively.
However, aspirants should note that the success rate of optional subjects varies every year depending on the question difficulty and quality of aspirants attempting the exam.
Which optional subject should you choose?
No subject is fixed as a 'high-scoring optional subject' or a 'safe optional'. The trend varies from year to year. What matters most is your interest and confidence in the subject.
The first step to determine your optional subject is to go through the syllabus of various optional subjects provided by UPSC. The next step is to go through the previous-year UPSC question papers. In most cases, the optional subject which you find comfortable will be the right choice for you.
You may also see the extent of overlap of the subject with the General Studies syllabus. For example, many topics in the optional subjects like Sociology or Public Administration overlap a lot with the syllabus of General Studies. That is not the case with other options like Literature subjects.
While the overlap of your optional subject with General Studies (GS) helps you save time and effort, what should matter most to you is the possibility of maximizing your total marks (Optional + GS).