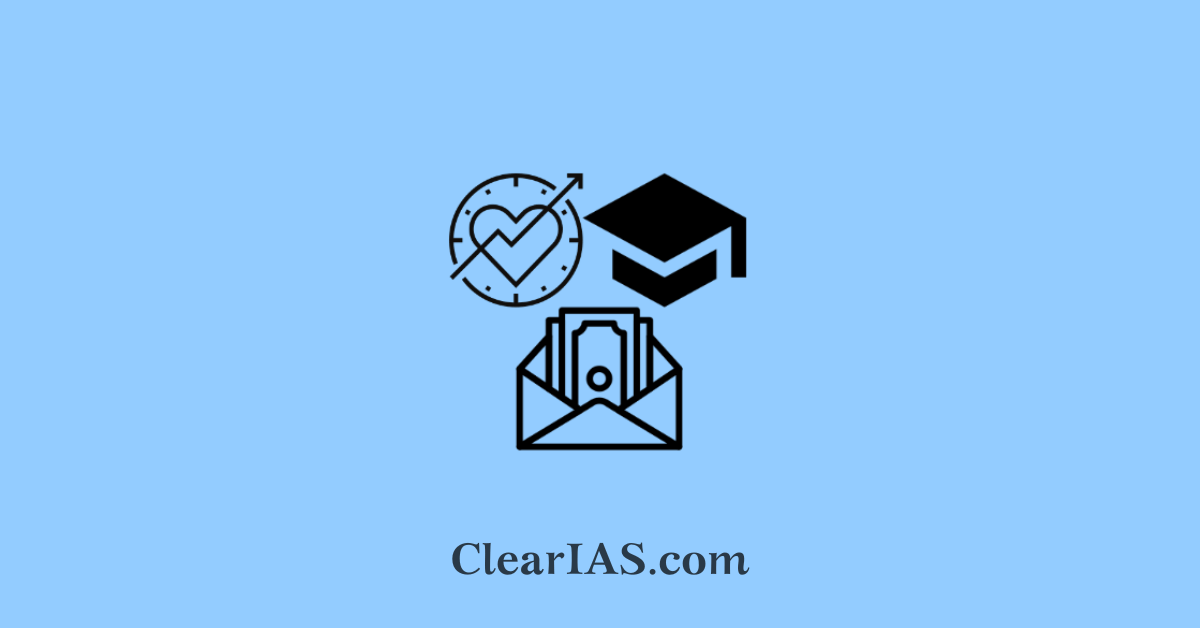 Human development in India has witnessed significant progress and challenges, reflecting the country's diverse population, complex social fabric, and economic disparities. But has it been at par with the economic development? Read further to learn more.
Human development refers to the overall well-being and development of individuals, including factors like health, education, income, and quality of life.
According to the latest Human Development Index 2021-22, 9 out of 10 countries fall backward in human development in the face of multiple crises like COVID-19, the war in Ukraine, and dangerous planetary changes.
India ranks 132 out of 191 countries and territories on the 2021/22 Human Development Index, tracking the global decline in human development.
Human Development Index 2021-22
HDI measures progress on 3 key dimensions of human development –
a long and healthy life
access to education
a decent standard of living
It is calculated using 4 indicators –
life expectancy at birth
mean years of schooling
expected years of schooling
Gross National Income (GNI) per capita.
The last two years have had a devastating impact on billions of people worldwide when crises like COVID-19 and the war in Ukraine hit back-to-back and interacted with sweeping social and economic shifts and dangerous planetary changes.
Ninety percent of countries have registered a reduction in their Human Development Index (HDI) value in 2020 or 2021, reversing much of the progress toward the Sustainable Development Goals.
A large contributor to the Human Development Index's recent decline is a global drop in life expectancy, down from 72.8 years in 2019 to 71.4 years in 2021.
The report also suggests that stress, sadness, anger, and worry have been increasing over the last decade, now reaching record levels.
The report recommends implementing policies that focus on 3 Is –
Investment– from renewable energy to preparedness for pandemics and
Insurance– including social protection- to prepare our societies for the ups and downs of an uncertain world.
Innovation in its many forms- technological, economic, cultural- can also build capacities to respond to whatever challenges come next.
Read: Human Capital
India
The intersecting crises have impacted India's development trajectory just as they have in much of the world.
India's HDI value of 0.633 places the country in the medium human development category, lower than its value of 0.645 in the 2020 report.
India ranks 132 out of 191 countries and territories on the 2021/22 Human Development Index, tracking the global decline in human development.
Policies that focus on the 3Is will enable people to thrive in the face of uncertainty.
India is already a frontrunner in these areas with its push towards renewable energy, boosting social security for the most vulnerable, and driving the world's largest vaccination drive through Co-WIN, supported by UNDP.
Over the last decade, India has lifted 271 million out of multidimensional poverty. The country is improving access to clean water, sanitation, and affordable clean energy.
India has also boosted access to social protection for vulnerable sections of society, especially during and after the pandemic, with a 9.8 percent increase in the budgetary allocation to the Social Services sector in 2021-22 over 2020-21.
Human Development in India
Human development in India remains a dynamic and evolving process. The government, civil society, and international organizations continue to work towards addressing disparities, enhancing access to basic services, and improving the overall well-being of its diverse population.
Challenges such as poverty, healthcare access, and education quality require ongoing efforts and policy initiatives.
Health
India has made significant progress in increasing life expectancy. Factors such as reduced child mortality rates and advancements in healthcare have contributed to longer life expectancies.
Challenges in Healthcare: Despite progress, India faces challenges in providing equitable healthcare access to all citizens. Disparities in healthcare infrastructure and services exist between urban and rural areas.
Public Health Concerns: India faces health challenges related to communicable diseases (e.g., tuberculosis), non-communicable diseases (e.g., diabetes), and maternal and child health. Malnutrition remains a significant concern, particularly among children.
Education
Increase in Literacy Rates: India has made notable progress in increasing literacy rates, with a particular focus on improving female literacy. Government initiatives like "Sarva Shiksha Abhiyan" have aimed to provide universal elementary education.
Quality of Education: While there have been improvements in enrollment, concerns remain regarding the quality of education, school infrastructure, and access to higher education. Disparities in educational outcomes persist.
Economic development
Economic Growth: India has experienced rapid economic growth over the past few decades, contributing to increased income levels and reduced poverty rates.
Income Inequality: Income inequality remains a challenge, with significant disparities between urban and rural areas, and among different states and regions.
Gender equality
Women's Empowerment: There have been advances in women's empowerment, including increased participation in the workforce and political representation. Gender-based violence and discrimination, however, continue to be concerns.
Female Education: Promoting female education is considered a key factor in advancing gender equality.
Accessibility
Clean Water and Sanitation: Efforts have been made to improve access to clean drinking water and sanitation facilities, but disparities still exist, particularly in rural areas.
Housing and Infrastructure: Access to adequate housing and infrastructure services like electricity and roads varies widely across the country.
Cultural plurality
India's rich cultural diversity and pluralism contribute to the country's human development. However, issues related to social exclusion, caste-based discrimination, and religious tensions persist.
Urbanization
Rapid urbanization has posed both opportunities and challenges, with urban areas experiencing greater access to services and economic opportunities, but also facing issues like overcrowding and environmental pollution.
Government programs like "MGNREGA" aim to improve rural livelihoods and infrastructure.
Sustainable development
India is increasingly focusing on sustainable development, addressing environmental issues, and promoting renewable energy sources to combat climate change.
Economic development vs Human development
Economic development and human development are related but distinct concepts often used to assess a country's progress and well-being. In the case of India, both dimensions have seen significant advancements, but challenges remain.
Economic development primarily focuses on the growth of a nation's economy and the improvement of material well-being.
Human development goes beyond economic indicators and encompasses broader aspects of well-being, including health, education, and quality of life.
The disparity between human development and economic development in India is a complex issue with multiple contributing factors.
While India has experienced significant economic growth in recent decades, improvements in human development indicators, such as education, healthcare, and living standards, have not kept pace.
Inequality: India grapples with high levels of income and wealth inequality. Economic growth has disproportionately benefited certain segments of the population, leading to a widening wealth gap. This inequality can limit access to quality education, healthcare, and other essential services for a large portion of the population.
Healthcare Disparities: Despite economic growth, access to quality healthcare remains limited in many parts of India, especially in rural areas. High out-of-pocket healthcare expenses can push families into poverty, and preventable diseases continue to affect a significant portion of the population.
Education: While India has made strides in increasing literacy rates, the quality of education remains a concern. A large number of children attend schools with inadequate infrastructure, underqualified teachers, and outdated curricula. This affects the overall development and employability of the workforce.
Gender Disparities: Gender inequality continues to hinder human development in India. Discrimination against women and girls in terms of access to education, healthcare, and employment opportunities limits their contribution to the workforce and overall development.
Malnutrition and Food Security: Malnutrition remains a critical issue in India, particularly among children. Poor nutrition during the early years of life can have long-term impacts on physical and cognitive development.
Sanitation and Clean Water: Access to clean drinking water and sanitation facilities is uneven across India. Poor sanitation and lack of access to clean water can lead to health issues and hinder human development.
Social and Cultural Factors: Deep-rooted cultural norms and social hierarchies can perpetuate disparities in access to education, healthcare, and economic opportunities. Discrimination based on caste, ethnicity, and religion can limit the development prospects of marginalized groups.
Regional Disparities: India is a vast and diverse country with significant regional disparities in human development. States in the southern and western regions tend to have better human development indicators compared to states in the northern and eastern regions.
Government Priorities: The allocation of government resources and policy priorities can affect human development outcomes. Shifts in public spending and policy focus are necessary to address disparities.
Infrastructure Gaps: Inadequate infrastructure, including transportation, electricity, and digital connectivity, can limit economic opportunities and access to services in rural and remote areas.
Way forward
India's international contributions to sustainable development continue to grow.
The world's largest democracy is also fast-tracking the implementation and monitoring of the SDGs at the national and sub-national levels to meet the ambitious goals.
Addressing the gap between economic development and human development in India requires a multifaceted approach that addresses the social, economic, and cultural factors contributing to disparities.
It involves targeted investments in healthcare, education, and social welfare programs, along with efforts to promote gender equality and reduce inequality. Additionally, regional and local disparities need to be addressed through tailored development strategies.
Previous year question
Q. Why did human development fail to keep pace with economic development in India? (Answer in 250 words) (GS Paper 1 2023)
­-Article by Swathi Satish