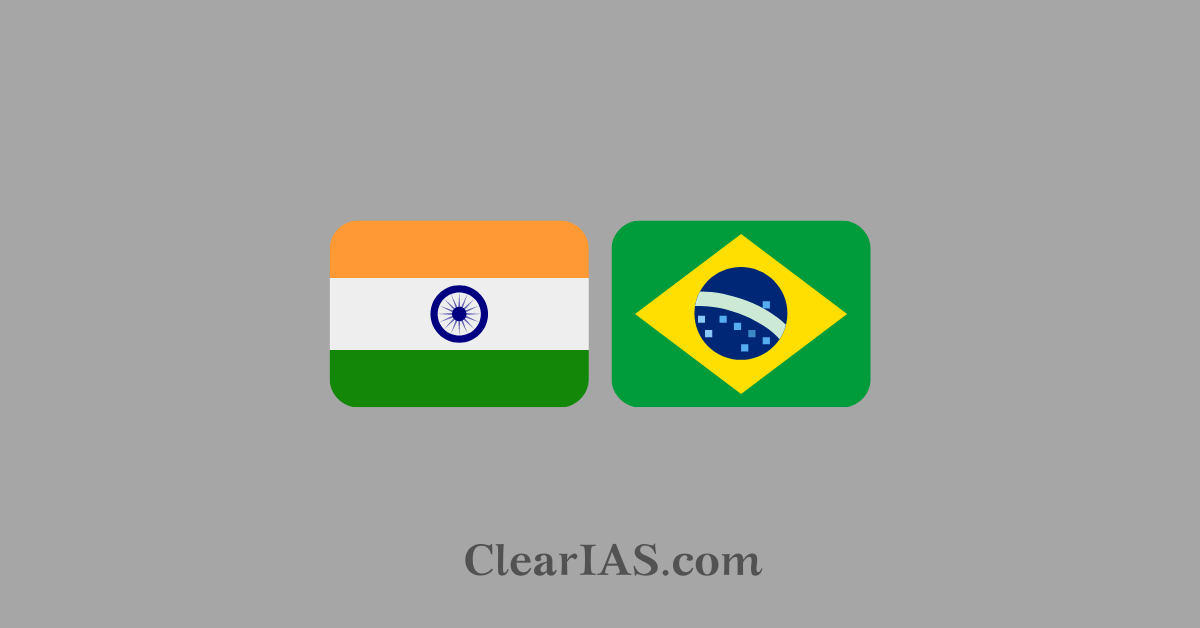 India-Brazil relations have seen substantial growth in the past decades. The recent BRICS and G4 meetings describe the importance of both nations at the global level. Read here to know more about their bilateral relations.
The relationship between India and Brazil is extensive, encompassing every significant aspect of interaction, and is visible at all three levels: bilateral, and plurilateral in forums like the IBSA, BRICS, G-20, and G-4, and in the larger multilateral arena like the UN, WTO, UNESCO, WIPO, etc.
Over the past ten years, bilateral ties between India and Brazil have taken on the characteristics of a strategic alliance.
Together with Germany and Japan, Brazil and India (G4) sought permanent seats on the UN Security Council and worked to create a multipolar world where powerful emerging nations could set international policy and democratize institutions.
India's strategic autonomy strategy and Brazil's reciprocal multilateralism approach to international relations are complementary.
History of India-Brazil relations
The Asian immigration to South America, which influenced the development of the indigenous people of the Americas, may have contributed to the deep historical linkages between India and Brazil.
Brazil and Goa, both Portuguese imperialist colonies, experienced bilateral interactions during the 16th and 18th centuries that were reflected in Brazil's flora and fauna, cuisine, clothing, and folklore.
For instance, the intriguing parallels between the folklore of Boi Bumba in northern Brazil and the Poikam Kudharai in southern India highlight the undercurrents of cultural interactions that have occurred over previous centuries.
India has made a great contribution to Brazilian agriculture, albeit this aspect of our bilateral relationship is less well known.
Indian cattle make up the majority of the livestock in Brazil. The Brazilian zebu variation known as "Nelore" was created from the Andhra Pradesh strain known as "Ongole."
Brazil continues to import live embryos from India to maintain the health of its cow herd.
Diplomatic relations between India and Brazil were established in 1948.
The 1961 liberation of Goa from the Portuguese occupation became a source of tension between India and Brazil.
Brazil backed Portugal's claim to Goa even while India pushed Portugal to leave the subcontinent.
Brazil didn't adjust its strategy until 1961 when it became increasingly obvious that India would be able to seize Goa from a weaker Portugal.
Portuguese were facing too many internal issues to be a serious military threat to India. India received harsh criticism from the Brazilian government for breaking international law.
The Indian government was extremely disappointed that Brazil, a democratic and former colony, would support a non-democratic Portugal against a democratic and recently independent India.
Eventually, both nations re-established cordial relations during the cold war. Both countries were against the idea of creating the non-proliferation treaty (NPT).
India-Brazil Economic and trade relations
India's top trading partner in the entire LAC (Latin America and the Caribbean) region is Brazil. Over the past two decades, India's bilateral trade with Brazil has significantly increased.
The main items of export from India to Brazil are diesel, organic chemicals, pharmaceutical products, man-made filaments, nuclear reactors, boilers, machinery and mechanical appliances, and textile products (synthetic filaments/fibers, cotton, apparel, accessories, etc.).
The main items of Brazilian exports to India were Petroleum products, mainly crude oil, cane sugar, copper ore, soya oil, and gold.
Bilateral agreements
Strategic Partnership Action Plan
Bilateral Investment treaty
Mutual Legal Assistance Agreement (MLAT) on crime
Agreements on double taxation avoidance, bio-energy or ethanol production, cybersecurity, health, mining, oil and gas exploration and investment, and animal husbandry.
Operationalization of the Social Security Agreement (SSA) signed between Brazil and India in March 2017, will allow investments in each other's pension funds, to help business processes and encourage the flow of investment.
India-Brazil Defence relations
In 2003, Brazil and India agreed to a bilateral "Defence Cooperation Agreement" for collaboration on defense-related issues, particularly in the areas of Research and Development, acquisition, and logistical assistance.
A "Joint Defence Committee (JDC)" has been established within the parameters of the agreement, and it convenes regularly.
Cultural relations
India's culture, religion, performing arts, and philosophy are extremely popular in Brazil.
A large number of people practice yoga and Ayurveda in Brazil. The Brazilian Association of Ayurveda (ABRA) is a nonprofit organization having branches in nine different Brazilian states and members throughout the country.
The telecasting of a tele-novella called 'Caminho das Indias' (Paths to India) made a significant impact in enhancing the consciousness of India in the Brazilian public mind.
President Bolsonaro attended the Republic Parade in New Delhi in 2020.
IBSA Dialogue Forum
IBSA Dialogue Forum (India, Brazil, South Africa) is an international tripartite organization for fostering international collaboration among these nations.
It symbolizes three crucial axes for promoting South-South collaboration and deeper understanding among three significant developing continents, namely Africa, Asia, and South America.
The meeting gives the three nations a stage to discuss working together in areas like agriculture, trade, culture, and defense, among others.
The first ever IBSA Summit was held in Brasília in September 2006, followed by the Second IBSA Summit held in Pretoria in October 2007, with the third one held in New Delhi in October 2008.
For the regions of Latin America, Africa, and Asia, India and Brazil see this as a vehicle of transformational diplomacy to bring economic growth, sustainable development, poverty reduction, and regional prosperity.
The South-South Partnership Award was given to the IBSA Fund for Alleviation of Poverty and Hunger at the 2006 UN Day. It has already provided funding for capacity building in East Timor and the battle against HIV/AIDS in Burundi.
Issues in India-Brazil relations
As mentioned earlier, the 1961 disagreement over the Portuguese occupation of Goa was the first sour point in the relations.
Brazil has complained to the World Trade Organization about New Delhi's subsidies to farmers of sugarcane. Brazil is the largest sugar producer and exporter and claims that Indian subsidies are against the global trade rules.
China is the largest trading partner of Brazil; hence the competition is tough for India.
Way forward
India-Brazil relations have mostly been cordial and mutually understanding. In 2020, the Brazilian Ambassador agreed with the Indian government's position that the 2019 Citizenship (Amendment) Act's implementation and the revocation of Jammu and Kashmir's special status were domestic matters for India.
India would benefit highly from the successful ethanol substitution programs of Brazil to implement green energy and reduce pollution.
India and Brazil share the stage at various global forums which is a sign of healthy and advantageous relations that can be used to address challenges of climate change, education, poverty, and so forth.
The growing relations between India and Brazil share similar values regarding liberal strategies, global governance, and human rights which are crucial for the global balance of powers.
-Article written by Swathi Satish