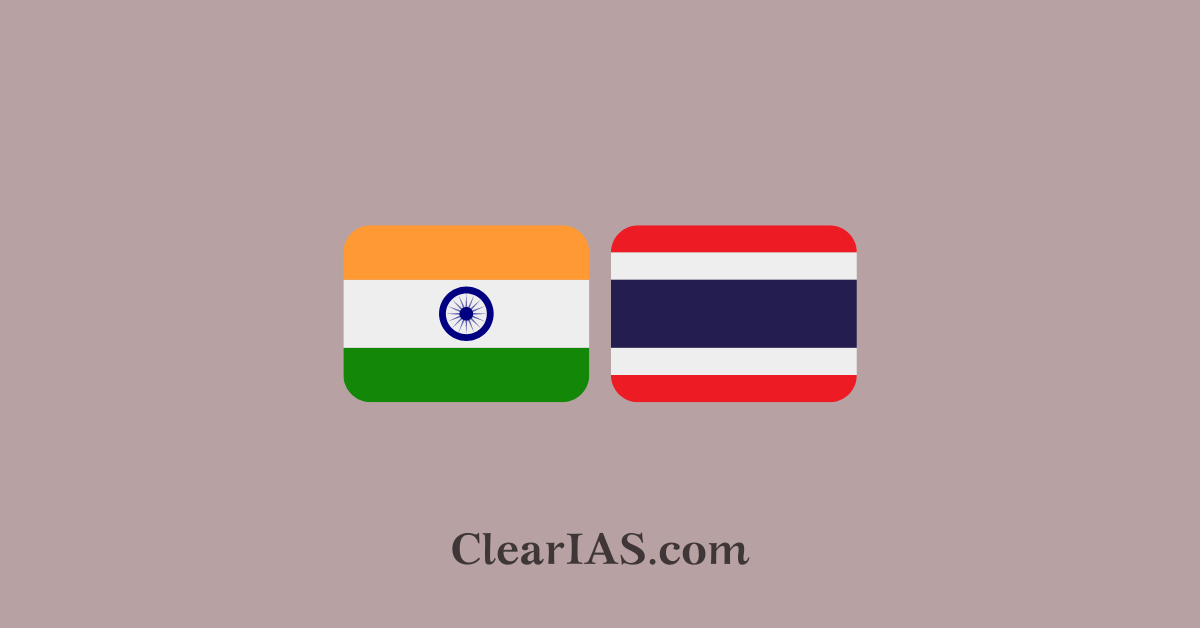 India-Thailand relations are rooted in history, age-old social and cultural interactions, and extensive people-to-people contact. India and Thailand, located in each other's extended neighborhood, share a maritime boundary in the Andaman Sea. Read here to learn more about bilateral relations.
Recently, the Government of Thailand invited India to co-chair the 8th meeting of the India-Thailand Defence Dialogue to be held in Bangkok.
During the dialogue, the co-chairs will review the defence cooperation between the two countries and explore new initiatives to further strengthen bilateral engagements.
Both sides will also exchange views on regional and global issues of shared interest.
India & Thailand share a strategic partnership and defence is a key pillar of this cooperation.
History of India-Thailand Relations
Thailand was one of the first countries to establish diplomatic relations with India in 1947.
The economic and cultural relations between the two can be traced back more than 2000 years and provide the very foundation of the bilateral relationship.
Indian influence was evident in Southeast Asian countries like Thailand, Laos, Cambodia, and Myanmar through ancient cultural routes.
India and Thailand, which are geographical neighbors, have a special civilizational connection.
The great Indian Emperor Ashoka sent Buddhist missionaries to Thailand, making Buddhism one of the major religions in Thailand and the rest of Southeast Asia.
In addition, Indian traders have long used the waterway that connects the two countries for commerce.
Through commerce, ancient Thailand gained access to ideas, a culture, a language, and technology from a region with established urban centers.
As a result, there were more people settled in areas of the lower Mekong basin as well as to the west, which included a region extending from the lower Chao Phraya basin over the peninsula's neck to its western shore.
Since ancient times, India and Thailand have had cultural ties, with India having a significant influence on Thai culture.
The traditional language of India, Sanskrit, is heavily incorporated into Thai.
Another significant root of Thai vocabulary is Pali, which is the medium of Theravada and was the language of Magadha.
The primary religion in Thailand is Buddhism, which has its roots in India.
Ramakien, the term given to the Hindu epic Ramayana, is well known across Thailand.
Post-Indian independence, India-Thailand had limited state visits till about 1976. This is majorly because, from 1948 to 1973, Thailand remained under three military dictatorships.
India's economic and commercial relations with Thailand are rooted in history, age-old socio-cultural interactions, and extensive people-to-people contacts. India and Thailand celebrated 70 years of diplomatic relations in 2017.
International forums
In the past two decades, with regular political exchanges, growing trade, and investment, India's ties with Thailand have now evolved into a comprehensive partnership.
India's 'Act East' policy has been complemented by Thailand's 'Act West' policy in bringing the two countries closer.
Both countries are important regional partners linking South and Southeast Asia. They cooperate closely in the-
East Asia Summit (EAS)
Asia Cooperation Dialogue (ACD)
Ayeyawady-Chao Phraya-Mekong Economic Cooperation Strategy (ACMECS)
The 35th ASEAN summit was held in Thailand and was attended by the Indian Prime minster and External Affairs Minister.
India-Thailand Economic & Commercial Relations
Thailand is the second-largest economy in the Association of Southeast Asian Nations (ASEAN) and the Greater Mekong Subregion (GMS).
The fast-growing Indian market remains attractive for Thai investors, given the vast opportunities available in the infrastructure sector, tourism, and retail industries. India continues to remain an interesting market for the export of goods from Thailand.
Major Thai Exports to India: Motor cars, parts & accessories, Automatic data processing machines and parts thereof, precious stones and jewelry, Rubber products, Polymers of ethylene, propylene, etc in primary forms, Electronic integrated circuits, Machinery and parts thereof, Chemical products, Refine fuels, Rubber, Iron and steel and their products, Rice, Air conditioning machine and parts thereof, Spark-ignition reciprocating internal combustion piston, Plastic products, etc.
Major Thai Imports from India: Crude Oil, Machinery & Parts, Electrical machinery & parts, Chemicals, Jewellery including silver bars & gold, Iron, steel and products, Parts & accessories of vehicles, Electronic integrated circuits, other metal ores, metal waste scrap and products, Computers, parts and accessories, Electrical household appliances, Vegetables and vegetable products, Aeroplanes, gliders, instruments and parts, Finished Oils, Plastic products, etc.
Defence and security cooperation
In terms of security cooperation, both nations share a strong partnership. They have even entered into joint defence production.
The bilateral defence engagements have expanded over some time to include wide-ranging contacts between the two countries including Defence Dialogue meetings, military-to-military exchanges, high-level visits, capacity-building and training programs, and bilateral exercises.
A joint military exercise between India and Thailand is called MAITREE in which the Indian Army and Royal Thai Army participate.
Exercise MAITREE is an annual training event that has been conducted alternatively in Thailand and India since 2006.
Tourism
An area that needs improvement is tourism. Indian travelers visiting Thailand made US $24.9 million profit before the outbreak and the ensuing travel ban.
India is an important tourist destination for the Thais as well.
Buddhism is a common thread that runs through both nations.
Millions of Thai Buddhists visit Lumbini, Bodh Gaya, Sarnath, and Kushinagar in India for their religious trips.
Significance of India-Thailand relations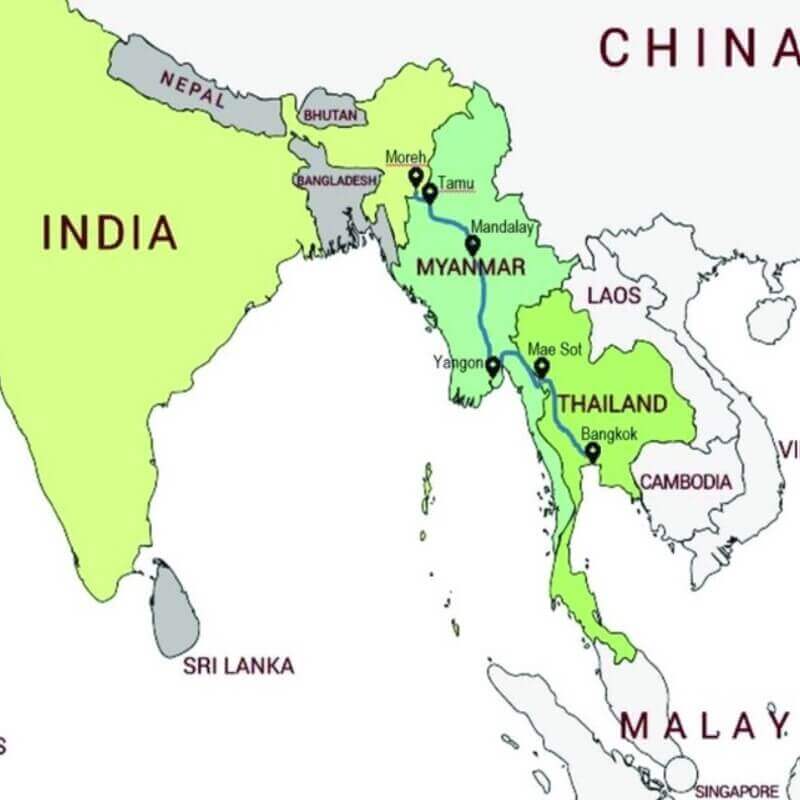 The most awaited India–Myanmar–Thailand Trilateral Highway is expected to expand land connectivity through Northeast India and Southeast Asia.
For the development of India's Northeast, the trilateral highway is the crucial entry point to ASEAN that facilitates trade and commerce as well as people-to-people links.
The completion of this project will also be an important development for Ranong Port in terms of multimodal connectivity with India and Myanmar.
India hopes to extend the highway to include Cambodia, Laos, and Vietnam.
There have also been talks since 2020 for Bangladesh to join this collaboration as the Trilateral highway hopes to facilitate and enhance the trade and connectivity of the nation too.
Way forward
There is huge potential for the growth of trade between India and Thailand.
To achieve this, addressing issues regarding the tariff lines and potential trade barriers will be significant.
In this regard, reducing import duty charges through bilateral engagements will be essential for expanding trade and investments.
Thailand and India have a lot of potentials to work together because of the start-up scene's phenomenal rise in India, where several have achieved unicorn status.
'Aatmanirbhar Bharat's' emergence is essential because it would enable it to make investments in India to close supply chain gaps.
Thailand may also trade with the Indian diaspora and the rest of the globe for goods created in India.
As 75 years of bilateral relations have been fruitful, there are more opportunities to further expand the strategic, security, and economic cooperation by opening channels of dialogue and solidarity between the two countries.
­-Article written by Swathi Satish