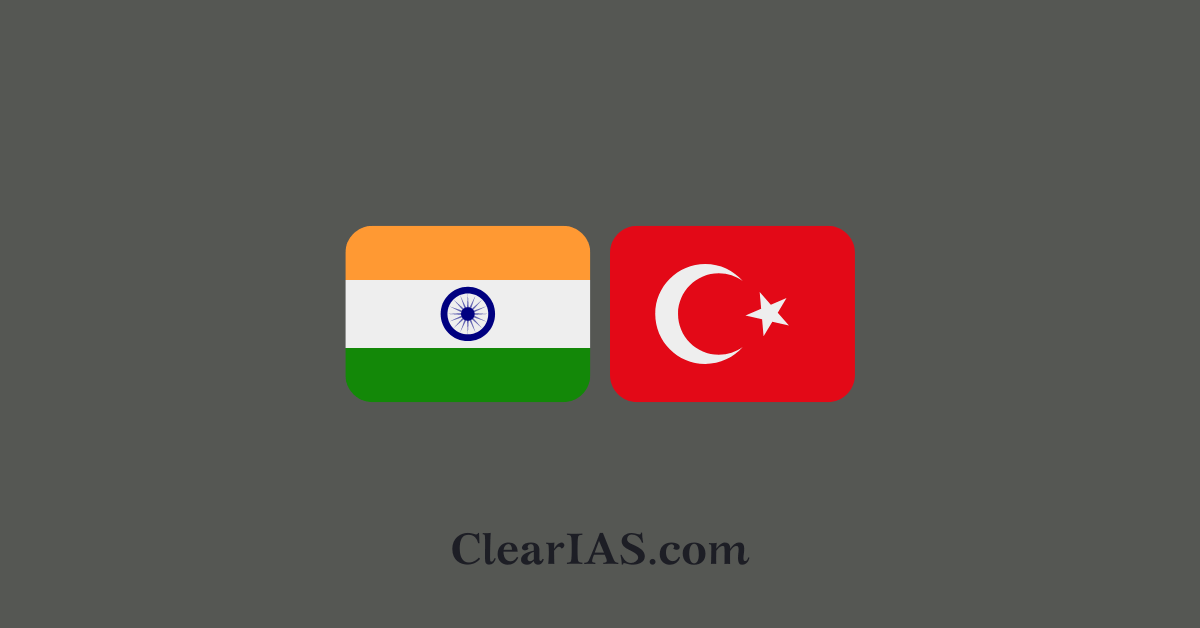 India-Turkey relations have historically been cordial with sporadic tensions arising every once in a while. With India's Operation dost to help the earthquake-hit regions of Turkey and Syria, the friendship has been appreciated by both countries. Read here to learn more about the bilateral ties.
India launched 'Operation Dost' to extend assistance to Turkey as well as Syria following a devastating earthquake. India has sent relief materials, and medical equipment, and the NDRF teams are rendering assistance in rescue operations.
The bilateral relations between the countries have generally been warm and cordial with occasional tensions arising from Turkey's support of Pakistan and comments on Kashmir.
Although Turkey and India have different histories, demography, economies, and populations, they share many characteristics. They are both republics that were established in the 20th century and have made significant economic and technical advancements.
Turkey's ties with India have generally improved since 1948, especially in recent years, as a result of ongoing multifaceted foreign policy changes.
History of India-Turkey relations
Economic and cultural relations between ancient India and Anatolia date back to the Vedic age.
In 1212, the Seljuk Sultanate of Rum, a Turko-Persian dynasty, was gifted a colony in Koothanallur from the Chola Emperor of Tamilakam. The descendants of the Turkic traders still exist as a Tamil-speaking community called Rowther.
The Ottoman Sultans and the Muslim kingdoms of the Indian subcontinent initially exchanged diplomatic delegations during 1481-1482.
Due to widespread anti-Portuguese feelings, the Ottoman Empire despatched expeditions against the sultanates of Gujarat, Bijapur, and Ahmednagar.
Ottoman artillery also helped bring down the Vijayanagara Empire, which supported the Portuguese.
When the Mughals seized the majority of India, Turkish-Indian relations deteriorated because the Mughal Empire represented a symbolic threat to the Ottoman Empire's status as the world's caliphate.
Turkey in the 18th century was still a force to imagine with. The country resisted Russian expansion and held vast territories in Eastern Europe.
Tipu Sultan of Mysore viewed the expansion of the British as a threat to the entire Islamic World and called the English "the enemies of the faith". He desired the Turkish Sultan to lead a crusade against the Europeans.
For this purpose, Tipu Sultan sent an ambassador to Constantinople in 1784.
More recent historical contacts between India and Turkey were reflected in the medical mission led by renowned Indian freedom fighter, Dr. M.A. Ansari, to Turkey in 1912 during the Balkan Wars and the Khilafat movement (1919- 1924).
During World War I, The British were part of the allies' campaign against Ottoman Turkey in which numerous Indian soldiers also participated. Mahatma Gandhi himself took a stand against the injustices inflicted on Turkey at the end of World War I.
India also extended support in the 1920s to Turkey's War of Independence and the formation of the republic.
Turkey recognized India right after its declaration of independence on 15 August 1947 and diplomatic relations were established between the two countries in 1948.
As Turkey was part of the Western Alliance and India of the Non-Aligned Movement during the Cold War era, bilateral relations did not develop at the desired pace.
After the 9/11 incident world politics shifted to the war on terror. Both states converged on mutual interest, and war against terrorism. They have begun to move closer to these issues and started to cooperate and take various steps towards a more substantive partnership.
India-Turkey trade relations
India-Turkey economic and commercial cooperation constitutes an important dimension of the bilateral relationship. The Bilateral Trade Agreement between India and Turkey was signed in 1973.
Bilateral India-Turkey trade has increased significantly in the preceding decade and a half.
The major Indian exports to Turkey include medium oils and fuels, man-made filaments and staple fibers, automotive spare parts, and accessories, organic chemicals, etc.
Turkey's exports to India include broken/unbroken poppy seeds; machinery and mechanical appliances, iron and steel articles thereof, inorganic chemicals, pearls, precious/semi-precious stones and metals (including imitation jewelry), marble, etc.
India-Turkey international relations
Due to Turkey's shared religious affiliation with Pakistan, India, and Turkey's ties have recently become tense. Turkish support for Pakistan's stance on the Kashmir conflict is well-known.
Turkey condemned India in September 2019 over the issue of Jammu and Kashmir and the repeal of article 370.
In the UN, it made strident remarks against India. As a result, it improved Pakistan's status in this regard. As a result, ties between Turkey and India are tense.
India criticized Turkey for its military assault into northern Syria, alleging that it will jeopardize both regional peace and the battle against terrorism. India also urged Turkey to use prudence and respect Syria's territorial integrity and sovereignty.
Moreover, Turkey was one of the few nations to oppose India's admission to the Nuclear Suppliers Group.
The G20 is a group of 20 major economies, in which both of these nations participate. There, they have worked closely together to govern the global economy.
India and Turkey share common interests in ensuring peace and political stability in Afghanistan and Central Asia
Way forward
The bilateral ties between India-Turkey have expanded in recent years. To improve the defense industry, they have strengthened their attention on military relationships.
The economies of Turkey and India are two of the ones that are expanding the quickest globally, and in the upcoming years, it is anticipated that they will rank among the top 10 economic powers in the world.
Joint defense initiatives between Turkey and India will improve the coordination of their approaches to counterterrorism and insurgency. The requirements for a Joint Working Group and a permanent strategic dialogue committee, which would be useful for advancing the ties, should be worked on by both nations.
India and Turkey may give priority to working together on international challenges by reducing contentious language from official declarations.
For instance, India and Turkey might cooperate to cut Pakistan's military assistance and stop terrorism against India from being supported on Pakistani land.
Turkish economy can be revived by trying to remove itself from the Financial Action Task Force (FATF) list while also enlisting the cooperation of India.
To maintain the existing course and promote improved economic ties, India and Turkey might negotiate a free trade deal or a Comprehensive Economic Partnership Agreement (CEPA).
India might be a component of Turkey's "Asia Anew Initiative," which strengthens commercial and economic connections with Turkey's Asian allies, particularly ASEAN.
India would be able to strengthen its increasing commercial influence in the Middle East through its prosperous business links with Turkey.
­-Article written by Swathi Satish