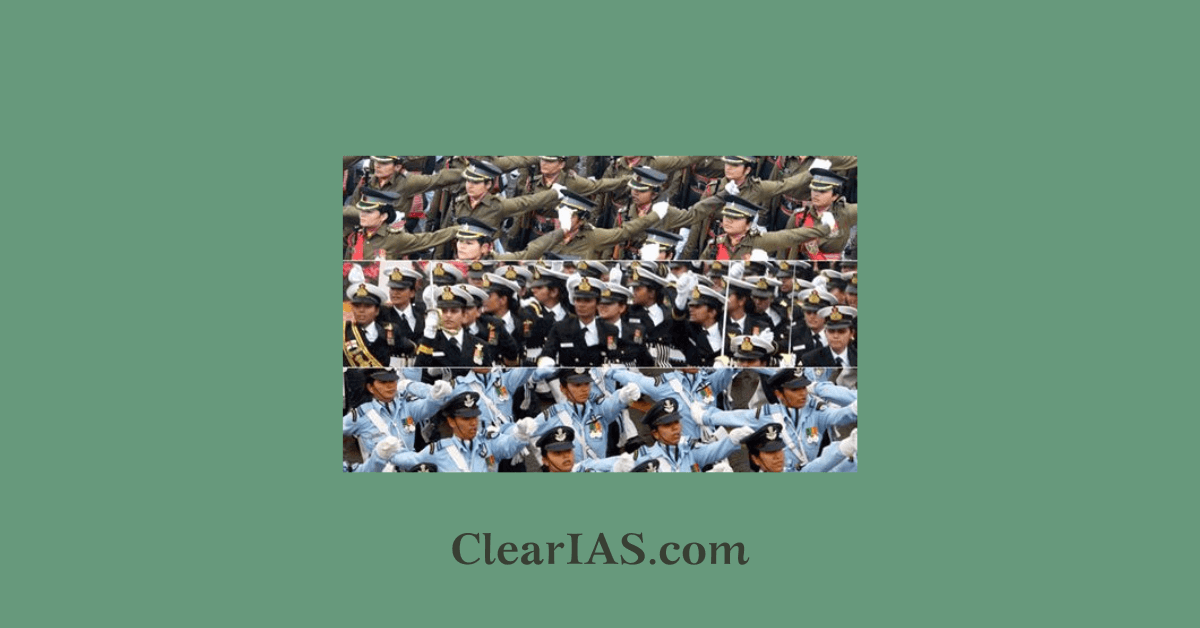 The role of women in armed forces in India has been expanding and touching greater heights with each passing day. More women officers are assuming command of units in the armed forces now. The road to gender equality in the armed forces is still long but the battle has begun on the right note. Read here to know more about the women in the Indian armed forces.
While seeking a job in the military, a person's gender will not stand in the way of their application. Being physically strong is less useful in modern combat than possessing the appropriate abilities and understanding.
Given that both recruiting and retention rates appear to have declined, the Indian Armed Forces are in desperate need of a robust mixed-gender force. This may be fixed by permitting women to work in combat positions.
The Indian Army decided to forbid women from holding commanding officer positions due to the dearth of women in leadership positions. To strengthen Army culture and standards, this issue has to be addressed.
History of Women in Armed Forces
India has produced many infamous women freedom fighters and leaders since time immemorial. In the motherland of Rani of Jhansi, Capt. Laxmi Sehgal, Sarojini Naidu, and many others it is a matter of time about creating feminist power in the Armed Forces as well.
The founding of the Indian Military Nursing Service in 1888 was a turning point for the advancement of women's roles in the Indian Armed Services.
Indian Army nurses participated in numerous roles during World War I.
Moreover, the Women's Auxiliary Corps was created to enable women to work in non-combat positions like administration and communications.
Women spies were quite successful during the second world war.
When Subhash Chandra Bose founded the Azad Hind Fauj, women could only serve in non-combat capacities in the British Indian Army.
The Army Act of 1950 forbade women from being appointed to regular commissions.
The Indian Army's Medical Corps was the first military institution to regularly appoint female troops on November 1st, 1958. Throughout the 1980s and 1990s, women were also permitted to serve on short-service commissions.
The Indian Army began inducting women in 1992. They were commissioned for five years in certain chosen streams such as the Army Education Corps, Corps of Signals, Intelligence Corps, and Corps of Engineers.
By 2020, women are not allowed to serve as combat troops in Special Forces such as the Parachute Regiment. They can still join other non-combatant wings such as the signal corps and engineers.
Women in Armed Forces
Combat role in the Indian Army has for long been an exclusive domain for men. India will be among the few countries globally to have broken the gender barrier. Women have been serving in administrative and technical roles in various corps, but combat role for them, initially in the Military Police, is a new beginning.
The recent Supreme Court judgment has finally accepted gender parity in the Armed by allowing women officers in command positions.
A two-decade fight to reach this milestone ended on February 17, 2020, with the Supreme Court's ground-breaking decision enforcing gender-neutral terms and conditions of service in the armed services.
The Supreme Court's directives are currently being carried out by the government and military forces.
The debate on women in combat roles in the Armed Forces comes up at regular intervals, although women have been in such roles in other countries earlier too.
Army
The combat employment philosophy of women in the Armed Forces is a continuously evolving process and is regularly reviewed by the Indian Army.
At present, women are being commissioned in Indian Army in ten Streams viz. Corps of Engineers, Corps of Signals, Army Air Defence, Army Service Corps, Army Ordnance Corps, Corp of Electronics and Mechanical Engineers, Army Aviation Corps, Intelligence Corps, Judge Advocate General Branch, and Army Education Corps in addition to the Armed Forces Medical Services as Doctors and Military Nurses which is a woman only entry.
New Avenues such as the grant of permanent commission to SSC women officers, induction of women cadets in NDA, and recruitment of Women as Provost JCOs/OR.
Navy
The induction of women as officers in the Indian Navy commenced in the year 1991.  Since then the Indian Navy has gradually opened all branches to women officers including induction through NDA.
For the first time women are also being recruited for sailors' entries under the Agnipath Scheme with effect from 2022 and 20% of vacancies are reserved for women.
The Navy has also started inducting women officers on frontline ships, earlier a no-go zone for women officers.
Air Force
Officers' recruitment in the IAF is gender-neutral. Women officers are inducted in all the branches and streams of IAF.
Opportunities for a career in IAF service are widely publicized through print/ electronic media and special publicity drives.
An opening has also been provided through NCC Special Entry for flying SSC (Women) from 2017 onwards.
The experimental scheme to induct women officers in all combat roles, initiated by the IAF in 2015 has now been regularised into a permanent scheme.
Such a gender-neutral approach is facilitating the employment of women officers of IAF in all combat roles without any restrictions.
Recent developments for women in the armed forces
The military is poised to break new ground by allowing women to command teams on par with males.
A Special Number 3 Selection Board convened in January 2023 screened 108 female officers out of 224 from the 1992 to 2006 batches to promote them to the rank of Colonel.
Those chosen will soon begin holding command positions.
In response to the Supreme Court decision giving parity for permanent commission and promotion with their male counterparts, this selection board was created as a one-time solution to clear the backlog.
Future selection panels will be gender-neutral.
Direct admittance as officers through the National Defence Academy and enlistment in the Corps of Military Police and Assam Rifles have also been given a slow start.
Access has been granted to the artillery, another fighting branch.
Six female officers have completed the esteemed Defense Services Staff Course (DSSC) and Defense Services Technical Staff Course (DSTSC).
Currently working at Siachen Glacier is the first female officer.
Women have started enlisting in the military under the Agnipath program as well.
However, women are still not allowed to join the fighting forces, including the Armoured Corps, Infantry/Mechanized Infantry, Special Forces, and merit-driven competitive entry, which would allow women to join the military on an equal footing with men as officers and soldiers as opposed to the vacancy-based entry that they can currently do.
Challenges
According to various global data, the women's labor force participation rate is about 25% compared to the global average is 47%.
The biggest challenge before the armed forces is best expressed in the observations of the Supreme Court – "Seventy years after the birth of a post-colonial independent state, there is still a need for change in attitudes and mindsets to recognize the commitment to the values of the Constitution." 
Equality of opportunity:
The law of the nation now mandates equal chances for men and women in the armed services.
Education of all ranks to embrace the change is thus the first step.
The military would do well to conduct a thorough investigation to establish a policy for female enlistment, training, terms and conditions, and management that takes into account the knowledge and best practices of all contemporary militaries.
Gender neutrality:
In addition to commanders, the armed services will need to start direct recruiting for soldiers, sailors, and airmen.
The ultimate objective should be a merit-based entrance system that is gender-neutral.
Gender quotas may need to be established at first for administrative reasons to build the appropriate infrastructure and promote women.
Physical fitness standards:
The physical fitness standards for women are another debatable area.
The armed forces need to carry out scientific studies to chalk out gender-specific or gender-neutral physical fitness standards for men and women.
The fact that women stand to lose a good amount of service period due to pregnancy, post-partum recovery, and motherhood, also is viewed as a disadvantage in women assuming combat roles.
Sexual harassment:
The armed forces will be confronted with the problem of sexual assault and harassment of women.
Due to the masculine "warrior mentality," which does not view women as equals, this social issue expresses itself more visibly in the armed services.
The issue is only made worse by the proximity of men and women in the 20- to 40-year-old age range who live, train, and engage in combat.
According to military experience, sexual offenses against women account for a disproportionately high proportion of all crimes.
The government must carry out a detailed study based on its own experience and that of other militaries to lay down policies, rules, regulations, and laws.
Way forward
The inclusion of more women in leadership roles is one of the most crucial things that the nation should take into account while trying to solve its problems.
The nation, which aspires to be a rising power, needs to confront the ongoing problem of gender discrimination in the armed forces. In every element of their job, women should get equal treatment.
The administrative and institutional regulations concerning maternity leave and transfers should also get continuous scrutiny. India needs to change its perspective on women if it wants to accelerate economic development and enhance its standing in the world. Also, doing so will support the empowerment of women.
They would be able to interact with other countries using their foreign language abilities in addition to being able to carry out their tasks as translators. This is because the country's military is seeking individuals who are fluent in various languages.
India has historically given rise to various notable female leaders and independence fighters. It's time for the military to build a feminist culture by following their lead. The country's military services will now be allowed to provide women the same privileges and possibilities as their male colleagues following the Supreme Court's decision to let women serve longer tenures and get promotions.
To advance gender equality and preserve the nation's security, society must undergo a constructive transformation. India will improve as a result of doing this.
-Article written by Swathi Satish