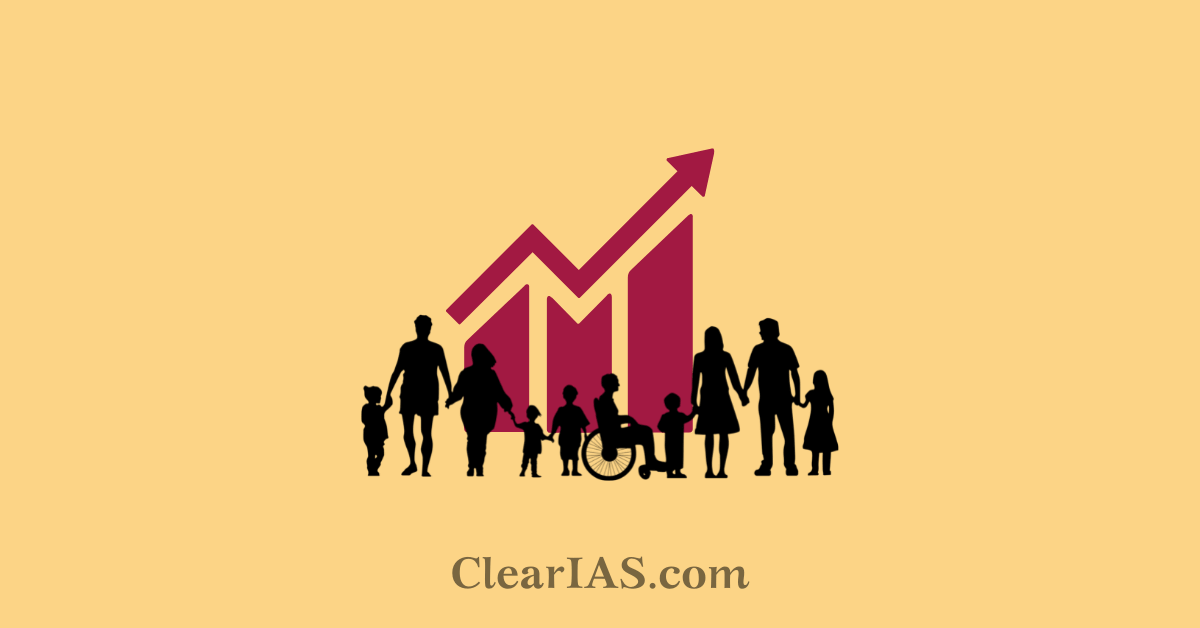 Inclusive growth is economic growth that is distributed fairly across society and creates opportunities for all. Read here to understand inclusive growth and the associated challenges with it.
The concept of inclusive growth has become vital to economic development due to rising economic inequality and its effects on human well-being and prosperity.
OECD defines inclusive growth as economic growth that is distributed fairly across society and creates opportunities for all.
Inclusive growth is intended to meet the objectives of inclusiveness and sustainability together. Former President Pranab Mukherjee had mentioned that "Inclusive growth should not be a mere slogan but a fundamental driving force for sustainable development."
Inclusive growth focuses on ecologically friendly economic growth which is a necessary and crucial condition for poverty reduction and sustainability.
Features of Inclusive Growth
Long-term perspective with sustainable growth
Broad-based and spread across all sectors for economic diversification
It must be inclusive of the large labor force concerning market access, resources, and an equal environment for trade and business.
Focus on ace and pattern of growth
Potential outcomes are employment generation or income distribution.
A comprehensive approach that is in line with pro-poor growth.
Elements of Inclusive Growth
Skill development:
The employable population needs vocational training and education for skill development for better output.
In India, there is a dearth of highly trained workforce on the one hand and conventionally trained youths are unemployed on the other hand.
Financial inclusion:
It means access to financial aid and services for all and affordable especially for vulnerable groups.
For inclusive growth and economic development, financial inclusion is crucial.
Technology:
With the advent of Industrial Revolution 4.0, advancements in technology can increase and decrease inequality causing urban and rural divide.
Digital India Mission is an attempt by the government to smoothen the divide by increasing digital literacy.
Technology can have a positive impact on other areas like agriculture, manufacturing, education, health, and governance by transforming how each sector functions.
Economic growth:
As one of the fastest-growing economies in the world, India has to focus more on inclusive growth for overall economic development.
Social development:
It is another important aspect of inclusive growth as it targets the marginalized and vulnerable sections of the population.
Investing in social structures for providing services for the marginalized sections will create capable future generations as well boost fiscal growth.
Challenges
Poverty:
A recent World Bank report published that extreme poverty in India declined by 12.3 % between 2011 and 2019.
But India still has a long way to go as poverty is one of the causes and reasons hindering inclusive growth.
The global multidimensional poverty index ranked India 66 out of 109 countries.
Unemployment:
Unemployment among the educated urban youth has increased alarmingly, especially after the Covid-19 pandemic.
The workforce is mostly employed in informal sectors with no social security.
Now, the gig economy is taking over the employment market. Though it provides more opportunities to people, it still lacks social security for the employed.
Urban and rural divide:
Rural India is facing agricultural backwardness majorly due to declining per capita land availability and yield due to climate change, land degradation, etc.
There are significant regional and social disparities between the urban and rural populations and the divide was widened by digital advancement as well.
Social issues:
Social issues like gender disparity, caste system, and religious disparity are also causing hindrance to inclusive growth.
Malnutrition among children is another worry affecting the future of the country.
Measurement of inclusive growth
Inclusive Development Index (IDI)
The Inclusive Development Index (IDI) was compiled by the World Economic Forum (WEF).
The IDI is based on the idea that most people base their country's growth not on GDP but on their standard of living.
It gives a measure of inequality based on three parameters: Growth and development, Inclusion, and Inter-generational equity and sustainability.
Social Progress Index (SPI)
It is an aggregate index of social and environmental indicators that includes- Basic human needs, Foundation of well-being, and Opportunities.
SPI measures the outcomes of the government measures rather than money spent. It also takes into account of efficiency with which money spent by the government has been used.
It is more comprehensive.
Global Slavery Index
It is released by the Walk Free Foundation of Australia.
Modern Slavery means a situation where one person has taken away another person's freedom, to control their body so that they can be exploited.
Factors responsible for modern slavery are the absence of rights, Lack of physical safety, Access to necessities such as health care, education, food, etc, and Pattern of migration.
Indian efforts for inclusive growth
The government of India has come forth with multiple schemes that address inclusive growth:
Mahatma Gandhi National Rural Employment Guarantee Act Scheme (MGNREGA): MGNREGA also known as Mahatma Gandhi National Rural Employment Guarantee Scheme (MNREGS) is Indian legislation enacted on August 25, 2005. The MGNREGA provides a legal guarantee for one hundred days of employment in every financial year to adult members of any rural household willing to do public work-related unskilled manual work at the statutory minimum wage. The Ministry of Rural Development (MRD), Govt of India is monitoring the entire implementation of this scheme in association with state governments
Prime Minister's Employment Generation Programme (PMEGP): The scheme is implemented by the Khadi and Village Industries Commission (KVIC) functioning as the nodal agency at the national level. At the state level, the scheme is implemented through State KVIC Directorates, State Khadi and Village Industries Boards (KVIBs), District Industries Centres (DICs), and banks. In such cases, KVIC routes government subsidies through designated banks for eventual disbursal to the beneficiaries/entrepreneurs directly into their bank accounts.
Mudra Bank scheme: Pradhan Mantri MUDRA Yojana (PMMY) is a scheme launched in 2015 for providing loans up to 10 lakh to the non-corporate, non-farm small/micro-enterprises. These loans are classified as MUDRA loans under PMMY. These loans are given by Commercial Banks, RRBs, Small Finance Banks, MFIs, and NBFCs.
Pt. Deen Dayal Upadhyaya Grameen Kaushalya Yojana (DDU-GKY): It aims to skill rural youth who are poor and provide them with jobs having regular monthly wages or above the minimum wages. It is one of the clusters of initiatives of the Ministry of Rural Development, Government of India that seeks to promote rural livelihoods. It is a part of the National Rural Livelihood Mission (NRLM) – the Mission for poverty reduction called Aajeevika. The scheme will benefit more than 55 million poor rural youth who are ready to be skilled by providing sustainable employment.
This scheme derives importance from its potential to reduce poverty. It is also designed to be a major contributor to the Prime Minister's 'Make in India' campaign.
Deendayal Antyodaya Yojana- National Urban Livelihoods Mission (DAY-NULM): The mission would aim at providing shelters equipped with essential services to the urban homeless in a phased manner. In addition, the mission would also address the livelihood concerns of the urban street vendors by facilitating access to suitable spaces, institutional credit, social security, and skills to the urban street vendors for accessing emerging market opportunities.
Sarva Shiksha Abhiyan (SSA): Sarva Shiksha Abhiyan (SSA) is the Government of India's flagship program for the achievement of Universalization of Elementary Education (UEE) in a time-bound manner, as mandated by the 86th amendment to the Constitution of India making free and compulsory Education to the Children of 6-14 years age group, a Fundamental Right.
National Rural Health Mission (NRHM): The National Rural Health Mission (NRHM) was launched in 2005, to provide accessible, affordable, and quality health care to the rural population, especially the vulnerable groups.
Swachh Bharat Mission: To ensure that open defecation-free behavior is sustained, no one is left behind, and that solid and liquid waste management facilities are accessible, the Mission is moving towards the next Phase II of SBMG i.e. ODF-Plus. ODF Plus activities under Phase II of the Swachh Bharat Mission (Grameen) will reinforce ODF behaviors and focus on providing interventions for the safe management of solid and liquid waste in villages.
Mission Ayushman: The Ayushman Bharat Digital Mission (ABDM) aims to develop the backbone necessary to support the integrated digital health infrastructure of the country. It will bridge the existing gap among different stakeholders of the Healthcare ecosystem through digital highways.
Pradhan Mantri Jan Dhan Yojana: PMJDY is the National Mission for Financial Inclusion to ensure access to financial services, namely, basic savings & deposit accounts, remittance, credit, insurance, and pension in an affordable manner. Under the scheme, a basic savings bank deposit (BSBD) account can be opened in any bank branch or Business Correspondent (Bank Mitra) outlet, by persons not having any other account.
DISHA Project is being implemented in partnership with UNDP to create employment and entrepreneurship opportunities for women in India.
Way forward
India's economic growth has not been well reflected in the real-time development on the ground which pushes back the aim to achieve complete inclusive growth. More steps need to be taken to make inclusive growth the target of development.
Issues like social and regional disparity, rural and urban divide, malnutrition, poverty, etc, are being addressed via various schemes and projects but need more impetus.
The 2008 financial crisis was a dramatic wake-up call. Growth as we know it doesn't work for all and is putting everyone's well-being at risk. We need to develop new and improved models and focus on ensuring growth improves lives.
People would feel more motivated and involved if the benefits of economic growth were not allowed to flow into the pockets of a rich minority. This can be achieved by a few simpler steps like-
Making our tax systems fairer and more effective
Ensuring people can earn the wages they need to thrive
Creating a business environment that attracts new firms and boosts communities
On a global scale, some social groups and territories, even in rich countries, have been left out for decades and need support. With the right policies and investments in essential public services, we can build more cohesive societies and bridge the divides that threaten our future prosperity.
Most importantly, we need to anticipate the radical changes induced by globalization, digitalization, and demographic shift and target them by answering questions like:
How can we build the skills of tomorrow's workforce?
How can we support risk-taking and entrepreneurship while safeguarding job quality, collective bargaining, and social protection?
How do we integrate the growing number of migrants to enhance solidarity, performance, and cohesion in our societies?
In the end, inclusive growth has to start from the grassroots level, hence targeting the basic issues is key. Nowadays, large numbers of people are losing faith in their institutions. This trend can be reversed if public authorities demonstrate the highest standards of integrity and efficiency in their work, and promote more transparency and public participation.
Also read: Rights of Persons with Disabilities