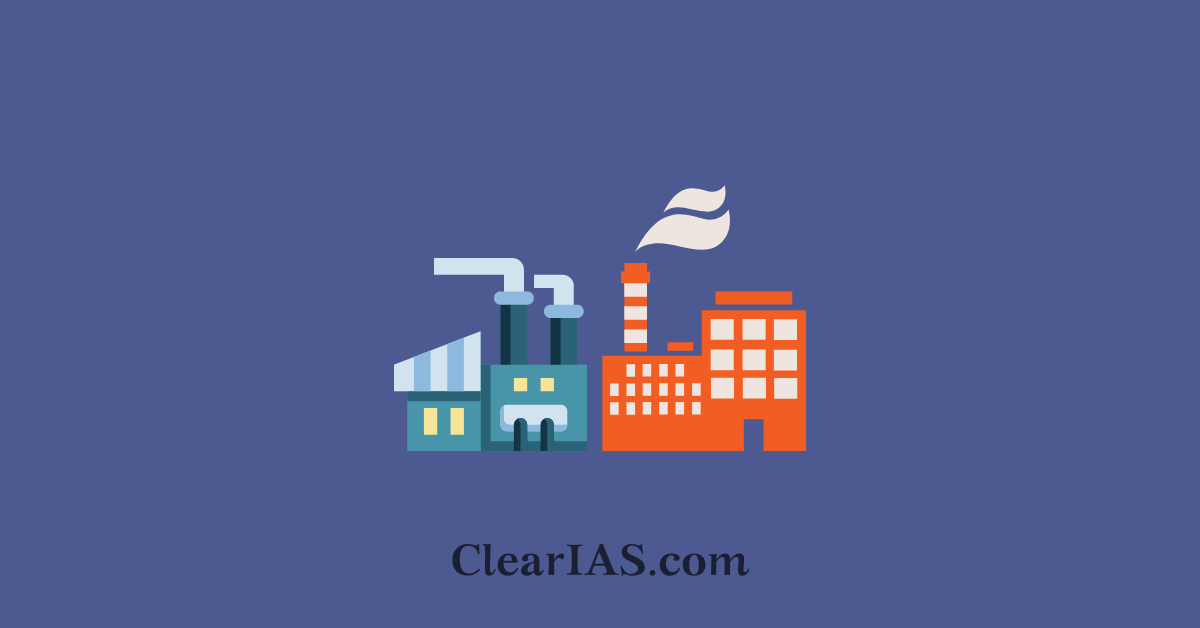 This decade, the Indian manufacturing sector has the greatest potential to propel economic growth and employment creation. India has a huge capacity to participate in global markets because of elements like electricity expansion, long-term employment possibilities, and skill paths for millions of people. Read here to know more about the Indian manufacturing sector.
Establishments engaged in the mechanical, physical, or chemical transformation of raw materials, substances, or parts into new, finished goods make up the manufacturing industry.
India's manufacturing industry plays a significant role in the economic expansion of the nation. About 12% of the workforce in India is employed by it, and it contributes about 15% of the GDP of the nation.
The sector is varied and made up of a variety of businesses in the textile, pharmaceutical, automotive, and consumer durables industries.
Indian Manufacturing Sector
India has a huge capacity to participate in global markets because of elements like electricity expansion, long-term employment possibilities, and skill paths for millions of people.
Several factors contribute to their potential:
India's assets in terms of raw materials, industrial know-how, and entrepreneurship are well-positioned to benefit value chains.
Four market opportunities are available to them: increasing exports, localizing imports, internal demand, and contract manufacturing.
Technology has today encouraged creativity, with digital transformation being a critical element in gaining an advantage in this increasingly competitive industry.
The Indian manufacturing sector is steadily moving toward more automated and process-driven manufacturing, which is projected to improve efficiency and enhance productivity.
The "Make in India" program, which aims to improve manufacturing's contribution to the GDP of the nation and encourage the expansion of domestic manufacturing, is only one of the recent efforts the Indian government has put in place to support the manufacturing industry.
Several special economic zones (SEZs) have also been established by the government to entice international investment in the industry.
Out of a total of 28% for the industry during the past 20 years, which also includes 10% for mining, quarrying, power, and gas, manufacturing's proportion of GDP has stayed consistent at 28% of GDP.
Challenges faced by the manufacturing sector
The manufacturing sector in India has underperformed in recent decades as compared to other countries, and the reasons for the same are:
Infrastructure based on technology, particularly in the areas of communication, transportation, and skilled labour, is crucial for improving manufacturing competitiveness.
The majority of telecom communication facilities are found in large cities. The majority of State Electricity Boards operate at a loss and are in terrible shape.
Although it only employs less than 30% of the workforce, the service sector is the largest contributor to GDP growth. In contrast, the agricultural sector employs 45% of the workers but only makes up 15% of GDP growth.
In comparison to medium- and large-scale industrial and service sectors, the Micro, Small, and Medium-sized Enterprises (MSME) sector seems to have less favorable access to finance and greater costs for working capital.
The manufacturing industry in India faces a workforce shortage, which is limiting its ability to expand.
Numerous intricate laws, including licensing, tender, and audit, apply to India's manufacturing industry, which can be burdensome for enterprises and impede their expansion.
Additionally, the industry is frequently hampered by subpar supply chain management, which can result in inefficiencies and higher costs.
Due to the fierce rivalry from other nations in the manufacturing industry, it may be challenging for indigenous companies to compete in the global market.
Additionally, India remains dependent on imports from abroad for things like plastic materials, iron and steel, paper, chemicals and fertilizers, and both electrical and non-electrical gear.
Government initiatives
India is making slow but steady progress toward Industry 4.0 thanks to government initiatives like:
The National Manufacturing Policy aims to raise manufacturing's GDP share to 25% by 2025.
The PLI scheme for Manufacturing, which was introduced in 2022 and aims to bring India's core manufacturing sector up to par with international manufacturing standards.
'Make in India' program to place India on the world map as a manufacturing hub and give global recognition to the Indian economy. The government aims to create 100 million new jobs in the sector by 2022.
The "Atma Nirbhar Bharat" campaign announced in 2020 was also intended to further boost local manufacturing under its stated goal of making India economically self-sufficient.
PM Gati Shakti– National Master Plan which is a Multimodal connectivity infrastructure project.
The PLI for semiconductor manufacturing is set with the goal of making India one of the world's major producers of this crucial component.
PLI scheme for 16 plants for key starting materials (KSMs)/drug intermediates and active pharmaceutical ingredients (APIs).
The Mega Investment Textiles Parks (MITRA) scheme to build world-class infrastructure will enable global industry champions to be created, benefiting from economies of scale and agglomeration. Seven Textile Parks will be established over three years.
The 'Operation Green' scheme of the Ministry of the Food Processing Industry, which was limited to onions, potatoes, and tomatoes, has been expanded to 22 perishable products to encourage exports from the agricultural sector. This will facilitate infrastructure projects for horticulture products.
The government of India's Ministry for Heavy Industries & Public Enterprises is SAMARTH Udyog Bharat 4.0, or SAMARTH Advanced Manufacturing and Rapid Transformation Hubs. This is expected to increase the competitiveness of the manufacturing sector in the capital goods market.
Way forward
India is a desirable location for foreign manufacturing ventures. Numerous companies, including those from the luxury, automobile, and mobile phone industries, have already established or are planning to do so in the nation.
India's manufacturing industry has the potential to generate $1 trillion in revenue by 2025. With a GDP of US$2.5 trillion and a population of 1.32 billion, India will become a common market after the Goods and Services Tax (GST) is implemented, which would be very attractive to investors.
According to the Indian Cellular and Electronics Association (ICEA), by regulatory changes, India could increase its total capacity for producing laptops and tablets to US$ 100 billion by 2025.
The Government seeks to ensure the overall growth of the country by emphasizing the development of industrial corridors and smart cities. The corridors will also support advanced manufacturing techniques by integrating, monitoring, and creating an atmosphere that is favorable to industrial progress.
The industrial sector may draw additional investment and enterprises if infrastructure, such as ports, highways, and power supplies, is improved in terms of both quality and accessibility.
This can entail constructing brand-new infrastructure or improving already-existing infrastructure.
Supporting the growth of export-oriented manufacturing could aid Indian companies in expanding into new markets and becoming more competitive.
-Article written by Swathi Satish