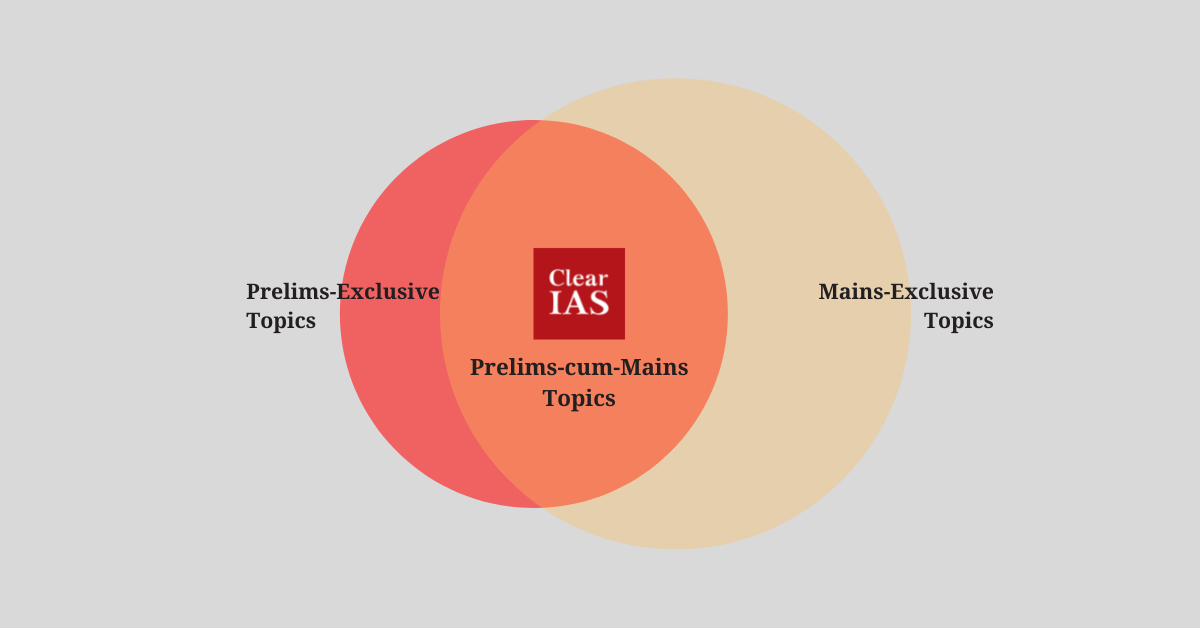 As a beginner, should you start with UPSC Civil Services Exam Prelims Topics first? Or is it a better strategy to begin with Mains related topics, and then move on to Prelims Topics?
"UPSC Prelims OR Mains First?" – that's an important decision.
Some aspirants prefer to start from Prelims Topics while some others prefer to start from Mains Topics.
Let's try to first understand the main differences between Prelims and Mains. Then, we shall see what ClearIAS recommends.
Prelims vs Mains – Objective vs Subjective (Written)
The Preliminary Exam (Prelims) is the first stage of the UPSC Civil Services Exam. This exam is objective in nature (answers are to be marked in an OMR sheet).
The Main Exam (Mains), is the second stage (applicable only for those who qualify prelims). Answers of the main exam should be hand-written in a question-cum-answer booklet supplied by UPSC.
UPSC Prelims Syllabus
UPSC CSE Prelims stage has 2 papers – General Studies Paper 1 and General Studies Paper 2 (CSAT).
As per the UPSC syllabus, General Studies Paper 1 covers subjects like Indian History, Indian and World Geography, Economics, Indian Polity, Science and Technology, Environment, and Current Affairs.
General Studies Paper 2 (CSAT) covers topics like Comprehension, Logical Reasoning, Mental Ability, Quantitative Ability etc.
UPSC Mains Syllabus
UPSC CSE Main Stage has 9 papers – out of which 7 papers are counted for final ranking.
Papers to be counted for the merit ranking are
Paper‐I Essay.
Paper‐II General Studies – I. (Indian Heritage and Culture, History and Geography of the World and Society).
Paper‐III General Studies –II. (Governance, Constitution, Polity, Social Justice and International relations).
Paper‐IV General Studies –III. (Technology, Economic Development, Bio‐diversity, Environment, Security and Disaster Management).
Paper‐V General Studies –IV. (Ethics, Integrity and Aptitude).
Paper‐VI Optional Subject – Paper 1 – 250 Marks.
Paper‐VII Optional Subject – Paper 2 – 250 Marks.
Topics in UPSC Mains, which are in addition to what is covered in UPSC Prelims
Though UPSC Prelims covers many subjects like Indian History, Geography etc, UPSC Mains stage has certain topics which are not covered in Prelims.
This include:
India Since Independence (GS Paper 1).
World History (GS Paper 1)
Indian Society (GS Paper 1)
Foreign Relations (GS Paper 2)
International Affairs (GS Paper 2)
Internal Security (GS Paper 3)
Disaster Management (GS Paper 3)
Ethics, Integrity and Aptitude (Entire GS Paper 4)
Essay Paper (There is no essay in Prelims!)
Optional Papers (There is no optional subject in Prelims!)
Is 3 months after UPSC Prelims enough to cover Optional Subject, Current Affairs, and Additional GS Topics for UPSC Mains?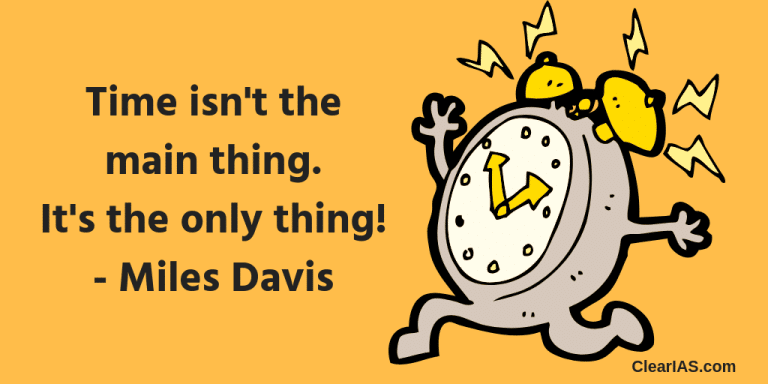 That's a big question!
Usually, UPSC conducts the Preliminary Exam in June, followed by the Main Exam in September.
The time gap between Prelims and Mains would be hardly 3 months (approximately 100 days).
Unless you are extremely brilliant and hardworking, it is not easy to satisfactorily cover the Optional Subject, Ethics Paper, Additional GS Topics, and Current Affairs in 3 months – if you are a first-timer.
We are not saying that it is impossible. It is certainly possible, and many toppers have already done that. However, it's not an easy task for any first-timer.
What if you start preparing for Prelims First?
For most aspirants, it's quite natural to start from Prelims topics – as the Preliminary Exam is the first stage. It's not a bad strategy. After all, you cannot write the Main exam if you don't qualify for Prelims.
Both papers of Prelims have to be given their due importance. However, your Prelims preparation should not compromise Mains.
You should ensure that you have enough time to cover the Mains topics as well. It might take considerable time to cover your optional subject. Besides, not everyone would not have exam-oriented writing skills. And, develop writing skills, requires time and effort.
What if you start preparing for Mains First?
There are many candidates who follow the reverse approach of preparing for Mains first, followed by Prelims. Well, this can be a quite useful strategy for many. Those already follow this method, we appreciate your pre-planning and long-term vision 🙂
However, don't get too immersed in Mains that you forget the requirements of Prelims (solving MCQs with good accuracy, within a time limit).
If you start preparing for Mains first, you should finish most of the Mains topics (including optional subject), much before Prelims. At least 6 months should be given for dedicated Prelims preparation – if you are appearing for Prelims for the first time. Only Current Affairs topics should remain for Mains- which you can easily cover in the 3-4 month period between Prelims and Mains.
UPSC Prelims OR Mains – What does ClearIAS recommend?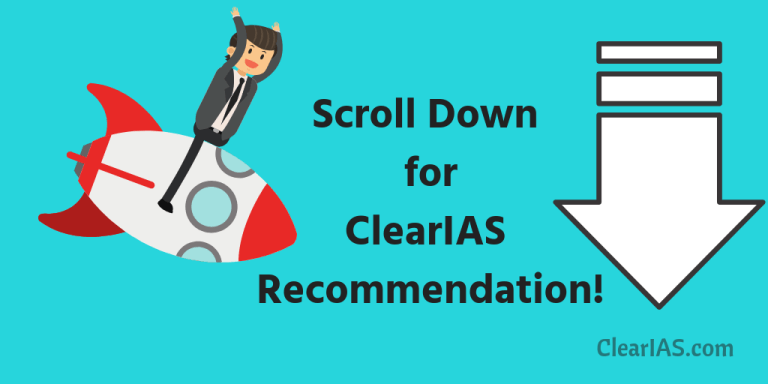 Having seen both approaches to start UPSC Civil Services Exam preparation, what do you think as our recommendation?
For which stage should you prepare first for the IAS exam?
Prelims? Or Mains?
ClearIAS always recommends a Prelims cum Mains integrated approach.
This approach is followed throughout this website.
Prelims and Mains are not really separate. There is a big overlap of topics. Only your approach should be different – Mains requires analytical thinking and writing skills, whereas Prelims requires MCQ Solving Techniques.
Prelims cum Mains Integrated Approach by ClearIAS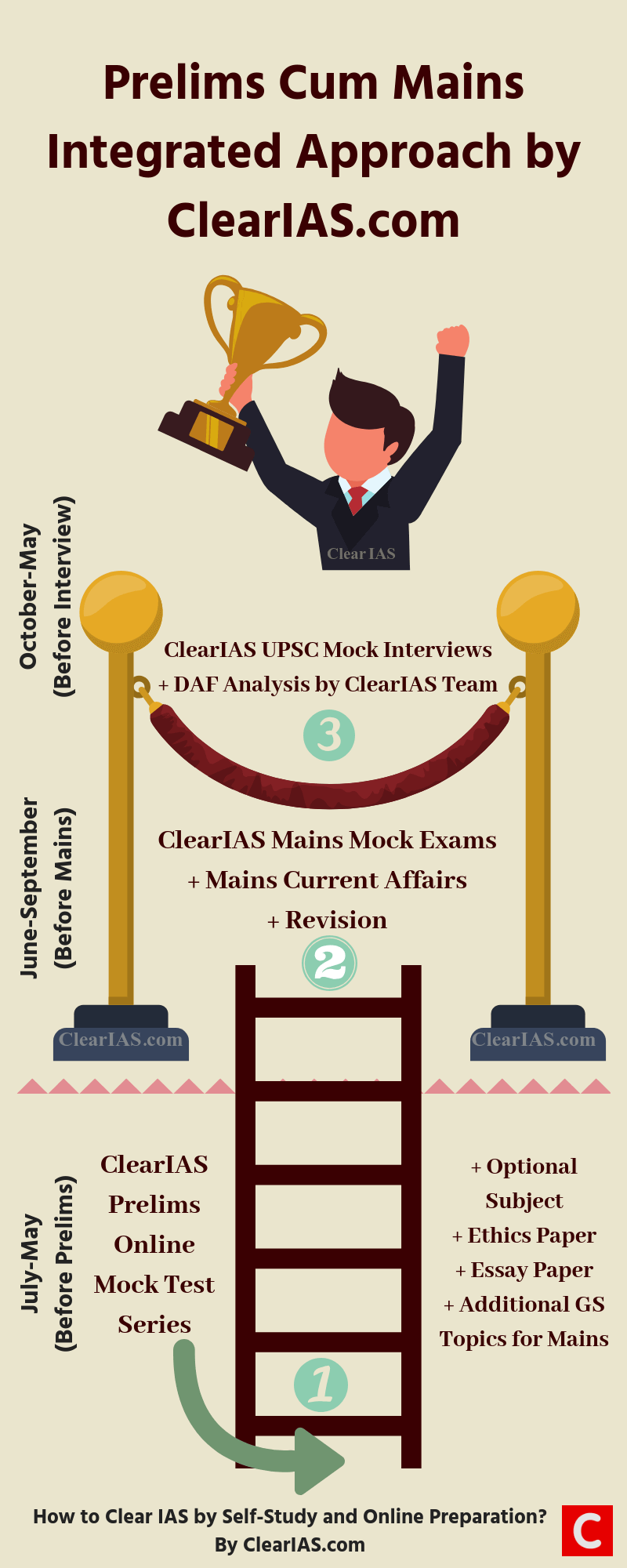 If you have decided that smart-study and online preparation is your choice for UPSC Civil Service Exam – then the first step you should make is to join ClearIAS Online Classroom Program.
If you selected a plan without Prelims Test Series, join ClearIAS Prelims Online Mock Test Series separately. If you joined the Ultimate Plan of PCM, Test Series is included in it.
As a beginner who does not know what to study and how to study – ClearIAS Timetable can be the best pathfinder.
Irrespective of your date of joining, the ClearIAS PCM Classroom Program and ClearIAS Prelims Test Series will act as the backbone of your UPSC preparation.
Do the right things first, not last!
We recommend taking ClearIAS Mock Exams right from the beginning. Ideally, you should study what we mention in the timetable for a week, and then take a mock exam on weekends. By adopting this approach, you will never go deviated and will get a quick idea of the UPSC Civil Services Exam requirements.
Along with ClearIAS Prelims Test Series, devote at least 2 hours daily (before Prelims) for topics that are not covered in Prelims syllabus but part of Mains syllabus. This is because you won't get enough time between Prelims and Mains to cover these.
If you can study for 8 hours daily, give 4 hours for Prelims related topics, and 4 hours for the additional Mains related topics mentioned below. For best returns on your investment (time), the below topics should be covered in the mentioned order of priority (before Prelims).
Optional Subject (There is no optional subject in Prelims!)
Foreign Relations (GS Paper 2)
International Affairs (GS Paper 2)
Internal Security (GS Paper 3)
Indian Society (GS Paper 1)
Disaster Management (GS Paper 3)
World History (GS Paper 1)
India Since Independence (GS Paper 1)
Before Prelims…
As learning from NCERT Textbooks and Standard Reference books (Eg: Laxmikanth) go hand-in-hand with ClearIAS Prelims Test Series, no separate effort may not be needed.
However, if you are a first-timer, dedicate the last 6 months before the Preliminary Exam, entirely for Prelims Topics. Do multiple revisions of mock exams already attempted. Also, please check ClearIAS 100 days action plan for Prelims.
Attempt UPSC Prelims Re-Take exams in a timed environment, to understand the real nature of UPSC questions.
After Prelims, Before Mains…
As you have already covered Your Optional Subject, Ethics paper, Essay Paper and many GS Topics by this time (ie by the time your Prelims is over) – what would be left behind for Mains will only be Current Affairs.
For Mains, keep reading The Hindu for daily analysis of important issues. Also, read ebooks released by ClearIAS.
Keep revising what you have studied already – GS and Optional Subject. Don't worry! You are well on track!
Take ClearIAS Mains Mock Exams to polish your answer writing. Yes, that's enough!
After Mains, Before Interview…
Once Mains is over, Enrol in ClearIAS Interview Program. Get your DAF analysed by ClearIAS Team for individual feedback and probable questions. Take ClearIAS UPSC Mock Interviews.
Yes, that's the fastest (and shortest) roadmap.
Conclusion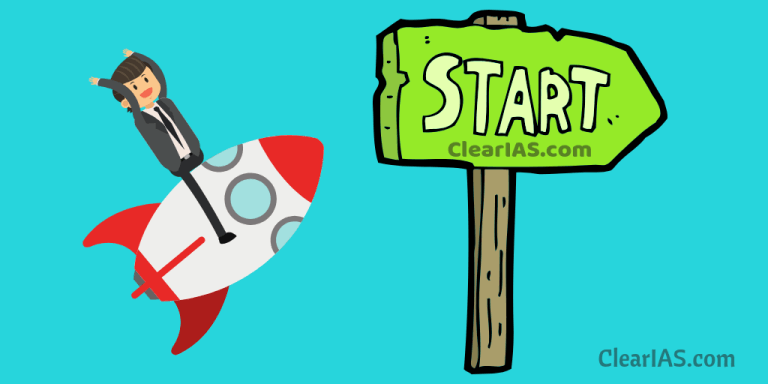 Whether you should focus more on Prelims topics or Mains topics depends on how many months are left for the exam.
If you have only less than 6 months for Prelims, focus more on the topics related to UPSC Prelims.
However, if you are an early starter, who has 10-12 months' time for advance preparation, devote time to cover the topics mentioned only in the UPSC Mains syllabus like Ethics, Optional etc along with your Prelims preparation.
Whatever be the case, see the big picture.
Take your Prelims and Mains preparation together whenever possible.
Follow ClearIAS Prelims-cum-Mains Integrated approach. All the best!