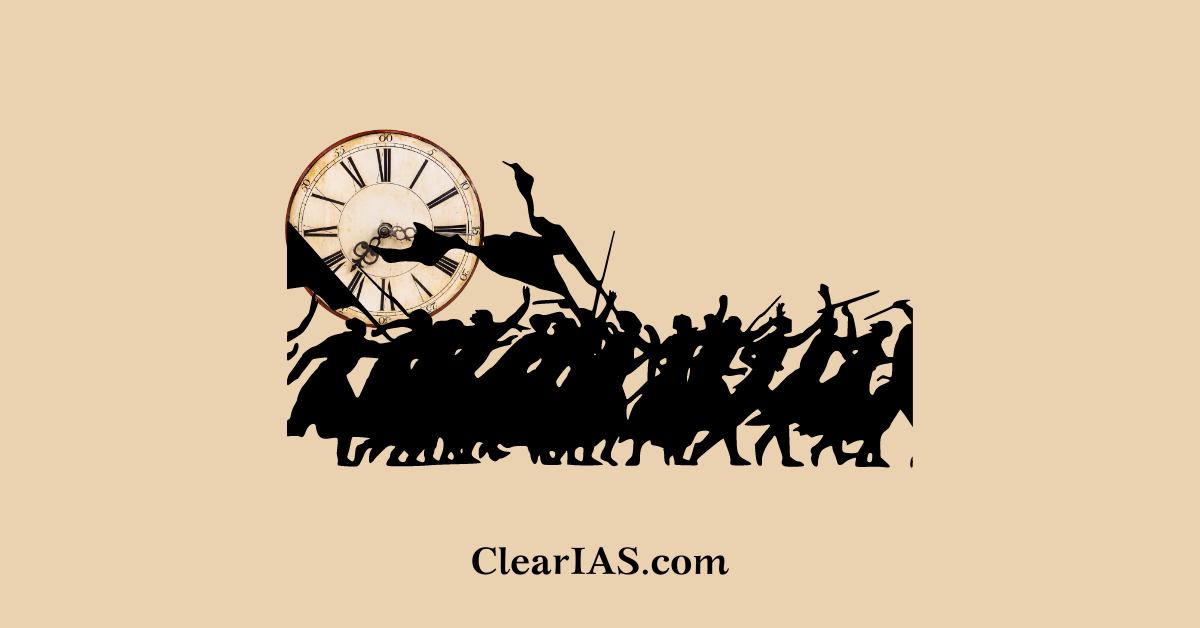 Unveiling the fascinating Historical of India: An Elaborate Chronological Journey through the History of India and Indian National Movement. Read to know more.
India's history is a captivating saga that unfurls over the millennia, each era leaving its indelible mark on the nation's identity.
India's history is like a treasure chest full of stories and lessons, starting with ancient wonders that built the base, moving to today's progress, and featuring a colourful mix of art and culture all the way.
Let's embark on an elaborate chronological voyage through these distinct eras.
Ancient India:
Ancient India, spanning from approximately 12000 BC to AD 750, is a tapestry woven with remarkable developments and civilizations. During its earliest phases, nomadic hunter-gatherer communities transitioned to settled agricultural life, giving rise to the fertile Indus Valley Civilization around 3300 BC. This advanced urban society flourished with organized cities like Mohenjo-Daro and Harappa, showcasing sophisticated drainage systems and intricate art.
In the Vedic period, roughly from 1500 BC to 600 BC, sacred texts known as the Vedas were composed, reflecting the spiritual and philosophical contemplations of the time. The emergence of early Hinduism and the establishment of the caste system also occurred during this period.
The Mauryan Empire, from 322 BC to 185 BC, marked a significant political consolidation under Chandragupta Maurya and Ashoka. Ashoka's advocacy for non-violence and spread of Buddhism impacted not only India but also neighbouring regions.
As we progress to the Gupta Dynasty, spanning around 320 to 550 AD, we witness the "Golden Age" of India. This period saw remarkable achievements in literature, art, and science. The decimal numeral system, the concept of zero, and advancements in astronomy and mathematics emerged during this time.
Indus Valley Civilization (3300 BCE – 1300 BCE):
The Indus Valley Civilization was an ancient urban society known for its advanced city planning, intricate drainage systems, and remarkable trade networks across the Indian subcontinent.
Iconic cities like Mohenjo-daro and Harappa offer a glimpse into the organized lives of ancient Indians.
Vedic Period (1500 BCE – 600 BCE):
A time of intellectual ferment where the sacred texts known as Vedas were composed. These texts, comprising hymns, rituals, and philosophies, laid the foundation for Hinduism and offered insights into the society's beliefs, rituals, and practices.
Mauryan Empire (322 BCE – 185 BCE):
The rise of the Mauryan Empire under the leadership of Chandragupta Maurya marked a pivotal moment in Indian history. The reign of Emperor Ashoka, known for his conversion to Buddhism and advocacy of non-violence, left an enduring legacy.
Gupta Dynasty (320 CE – 550 CE):
Often referred to as the "Golden Age" of India, the Gupta Dynasty witnessed remarkable achievements in various fields such as mathematics, astronomy, medicine, and art. The decimal numeral system and the concept of zero originated during this period.
Medieval India:
Medieval India, spanning from approximately AD 750 to AD 1600, is a period characterized by dynamic shifts in politics, culture, and societal structures. It witnessed the rise and fall of empires, the fusion of diverse cultures, and the establishment of significant trade networks.
The early medieval period saw the emergence of the Rajput kingdoms, with regional rulers asserting their authority across northern India. This era was marked by chivalry, valor, and the patronage of art and literature.
The Delhi Sultanate, established in the 13th century, brought Islamic rulers to India. This marked a period of cultural amalgamation, where Persian influences blended with indigenous traditions. Magnificent architectural wonders such as the Qutub Minar and the Alai Darwaza were built during this time.
The Mughal Empire, from the 16th to the 18th century, was a defining feature of medieval India. Founded by Babur, the Mughals brought a unique blend of Persian, Central Asian, and Indian cultures. The reigns of Akbar, known for religious tolerance and administrative reforms, and Shah Jahan, who built the iconic Taj Mahal, are particularly noteworthy.
The medieval period also witnessed artistic achievements in music, literature, and painting. Classical Indian music evolved during this time, with the development of the Hindustani and Carnatic traditions. Literature like the poetry of Amir Khusrau and the epic tales of Tulsidas added to the cultural richness.
However, this era was not without challenges. The invasions of Central Asian powers, regional conflicts, and power struggles created a landscape of political complexities.
In essence, medieval India stands as a testament to the interplay of diverse cultures, the architectural marvels of different dynasties, and the artistic and intellectual achievements that continue to shape the nation's identity.
Delhi Sultanate (1206 CE – 1526 CE):
The arrival of Muslim rulers in Delhi ushered in a new era of architecture, culture, and governance. Notable dynasties like the Ghurids and the Mughals left their mark on India's history through grand monuments and intricate art.
Mughal Empire (1526 CE – 1857 CE):
The Mughal dynasty, founded by Babur, brought with it a fusion of Persian and Indian cultures. The empire reached its zenith under Akbar, whose policies emphasized religious tolerance and cultural integration. The architectural marvels of this era, including the Taj Mahal, continue to captivate the world.
Modern India:
From the 1600s to 1947, Modern India experienced profound changes that shaped its course.
The arrival of the British East India Company marked a significant shift, as trade evolved into colonization, resulting in the East India Company's dominance over Indian territories. The struggle for independence gained momentum in the late 19th century, with leaders like Mahatma Gandhi employing nonviolent resistance and civil disobedience to challenge British rule.
The 20th century saw India's unwavering pursuit of self-rule, culminating in its hard-won independence in 1947. However, this period was also marked by the challenging phenomenon of partition, which led to the division of the subcontinent into India and Pakistan, causing widespread displacement and communal tensions.
Despite these trials, the era set the stage for India's emergence as a sovereign nation and its subsequent endeavours in nation-building, democracy, and development.
British East India Company (1600 CE – 1858 CE):
The East India Company's increasing control over trade led to its dominance over Indian territories. This period marked the colonization of India and the gradual erosion of indigenous governance structures.
Indian National Movement (1857 – 1947):
The Indian National Movement was a pivotal period in India's history marked by a determined struggle for independence from British colonial rule. Spanning the late 19th century to 1947, the movement encompassed a spectrum of approaches, from moderate constitutional reforms to more radical demands for complete self-governance.
Visionary leaders like Mahatma Gandhi, Jawaharlal Nehru, and Subhas Chandra Bose spearheaded the movement, advocating nonviolent protests, civil disobedience, and mass mobilization.
Iconic events like the Salt March and Quit India Movement symbolized the unity and resilience of the Indian people.
The movement's culmination in 1947 led to the end of British colonialism, granting India its hard-fought freedom and shaping its trajectory as a sovereign nation committed to democracy and social justice.
Independence and Partition (1947):
The watershed moment of India's history saw the nation gain independence from colonial rule. However, the partition of India and Pakistan led to a tragic displacement of people and communal violence.
India Since Independence:
Since gaining independence in 1947, India has embarked on a dynamic journey of nation-building and progress. The adoption of a democratic constitution laid the groundwork for a diverse and inclusive society, emphasizing fundamental rights and principles of governance.
The post-independence era saw India engaging in several conflicts with Pakistan, influencing regional dynamics and geopolitics.
In 1991, the nation undertook economic liberalization, opening its doors to global markets and initiating transformative reforms that spurred economic growth and innovation. Despite these advancements, challenges such as poverty, inequality, and environmental concerns persist.
India's modern story is one of resilience and adaptation, as it navigates a complex landscape while cherishing its rich cultural heritage, diverse traditions, and aspirations for a brighter future.
Constitution and Democracy (1947 – present):
India adopted a democratic constitution that guaranteed fundamental rights and promoted social justice. This marked the beginning of a new chapter in the nation's history.
Indo-Pak Wars (1947, 1965, 1971, 1999):
The post-independence era witnessed conflicts with Pakistan over territorial disputes and conflicting ideologies, shaping regional dynamics and geopolitical relationships.
Economic Liberalization (1991):
In response to economic challenges, India embarked on a path of liberalization, privatization, and globalization. This shift paved the way for rapid economic growth and a transformed global image.
Art and Culture:
Indian art and culture are a captivating tapestry woven from centuries of diverse influences, traditions, and creativity. Rooted in ancient civilizations, these artistic expressions have evolved over time, showcasing the rich heritage of the subcontinent.
Architecture:
Indian architecture is a blend of diverse styles, from the intricate carvings of temples to the grandeur of Mughal forts and palaces. The symmetrical beauty of the Taj Mahal and the awe-inspiring temples of South India illustrates the mastery of design and construction.
Sculptures:
Indian art boasts a wide range of styles and forms. From the intricate sculptures of ancient temples, such as the exquisite carvings at Khajuraho, to the serene Buddha statues of the Gandhara period, visual arts have reflected religious beliefs, cultural values, and artistic finesse.
Paintings:
Indian paintings, a vibrant facet of the country's cultural heritage, encompass a range of styles. Mughal paintings, reflecting royal life and Persian influences, coexist with Rajput art's romantic themes and Pahari paintings' devotional narratives. Tanjore paintings from the South exude opulence, while the Bengal School revived traditional forms with Western techniques. Contemporary artists like Souza and Mehta bridge tradition and modernity. These paintings chronicle India's history, beliefs, and artistic evolution, presenting a colourful tapestry of narratives that reflect the nation's diverse cultural expressions.
Classical Dance:
Classical dance forms like Bharatanatyam, Kathak, Odissi, and Kathakali blend rhythmic footwork, graceful movements, and emotive storytelling. These dances communicate tales from Hindu mythology and cultural narratives, preserving traditions that date back centuries.
Music:
Indian music encompasses both classical and folk traditions. Hindustani and Carnatic classical music are known for their melodic intricacy and improvisational flair. Traditional instruments like the sitar, tabla, and veena play a pivotal role in creating soul-stirring melodies.
Literature:
Indian literature spans from ancient texts like the Vedas to epics like the Ramayana and Mahabharata. Classic works like Kalidasa's poetry and Sanskrit dramas showcase India's literary brilliance, while modern writers like Rabindranath Tagore and Salman Rushdie continue to contribute to global literature.
Cinema:
Indian cinema, commonly referred to as Bollywood, is a cultural phenomenon known for its colourful storytelling, music, and dance sequences. Regional cinema, such as Tamil, Telugu, and Bengali films, adds to the vibrancy of the cinematic landscape.
Cuisine:
Indian cuisine is a reflection of the country's regional diversity. Each region offers a unique palette of flavours, spices, and cooking techniques. From the fiery curries of the North to the coconut-infused dishes of the South, Indian cuisine is a delight for the senses.
Festivals:
Festivals like Diwali, Holi, Eid, and Christmas celebrate the cultural diversity of India. These occasions are marked by vibrant celebrations, rituals, and feasting, uniting people from various backgrounds.
In essence, Indian art and culture are an embodiment of the nation's history, philosophy, and creativity. They weave a colourful narrative that connects the past with the present while fostering a sense of identity and unity among its people.
How to study Indian History and the Indian Freedom Movement?
Readers may note that this article on the History of India and the Indian National Movement is just an overview of the topic. There is a lot more to learn about the history of India.
We recommend the below sources to learn the History of India and the Indian National Movement.
Go through ClearIAS notes on Indian History.
Read books on Indian History.
Conclusion: History of India and the Indian National Movement
In wrapping up the narrative of Indian history and the pivotal Indian National Movement, it becomes evident how these interwoven threads have shaped the nation's present and future trajectory.
From the ancient marvels of the Indus Valley Civilization to the resolute struggles of the Indian National Movement, India's journey is a testament to its enduring spirit.
The Indian National Movement's heroes, like Mahatma Gandhi and Jawaharlal Nehru, carved a path to freedom through nonviolent resistance and unwavering determination.
As we reflect on India's history, it becomes clear that its rich heritage is not just a chronicle of the past, but a guide for building a progressive and inclusive future.
The echoes of independence reverberate in India's democratic principles and its commitment to social and economic advancement.
In the digital age, understanding India's history and the sacrifices of the Indian National Movement is not just an academic exercise; it's a reminder of the nation's journey and an inspiration for the global community.