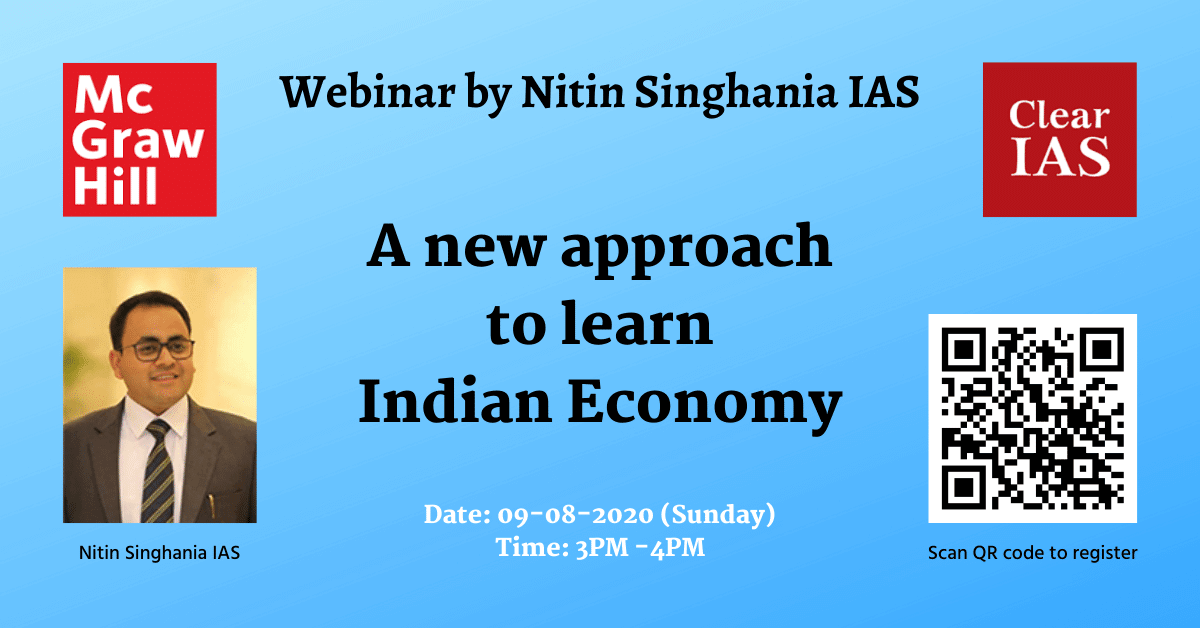 ClearIAS and McGraw Hill have partnered together to bring a live webinar by the renowned author Nitin Singhania. The webinar by Nitin Singhania IAS will be on the topic 'A new approach to learn Indian Economy'.
Nitin Singhania IAS is a name which needs no introduction to UPSC aspirants. Widely reputed for his 'Indian Art and Culture' book published by McGraw Hill, the author has now come up with a new book on his core expertise – Economics.
Nitin Singhania's 'Indian Economy' is now the new buzz word among UPSC aspirants. This book presents an innovative approach to learn and understand the Indian Economy as per the latest requirements of the UPSC Civil Services Exam.
A new approach to learn Indian Economy
Nitin Singhania will be conducting a webinar for the readers on ClearIAS on his approach to study Economics and Indian Economy.
The webinar is scheduled to be conducted on 9th August 2020 (Sunday) 3 PM – 4 PM.
Click here to register and participate in the webinar.
Registration is free. However, prior registration through above the ClearIAS link is mandatory to attend the session.
Webinar by Nitin Singhania IAS: Focus Areas
This webinar, primarily intended for UPSC aspirants, will focus on the topic "New approach to preparing Indian Economy for Civil Services Examination".
Already registered?
If you're already registered for the 'A new approach to learn Indian Economy' webcast by Nitin Singhania, click here:
This link will be active by 2.45 PM on 09-08-2020 and will take you to the webinar (web-cast).
About Nitin Singhania
Nitin Singhania is an IAS officer of the 2013 batch in West Bengal Cadre and is presently posted as Joint Secretary, Chief Minister's Office, Government of West Bengal. He has also worked as Assistant Secretary in Ministry of Home Affairs, Gol and as Assistant Collector in Bardhaman.
He is a graduate and postgraduate in Economics and Finance background from Presidency College, Kolkata and is also a Chartered Accountant and Company Secretary.
He cleared UPSC Civil Services Examination with Economy as Optional paper. The author is known for guiding a large number of IAS and WBCS (Exe.) aspirants in Economics, Art and Culture, Indian History and Geography. He is the author of bestseller 'Indian Art and Culture'. His latest book,  'Indian Economy', has already become another hit.