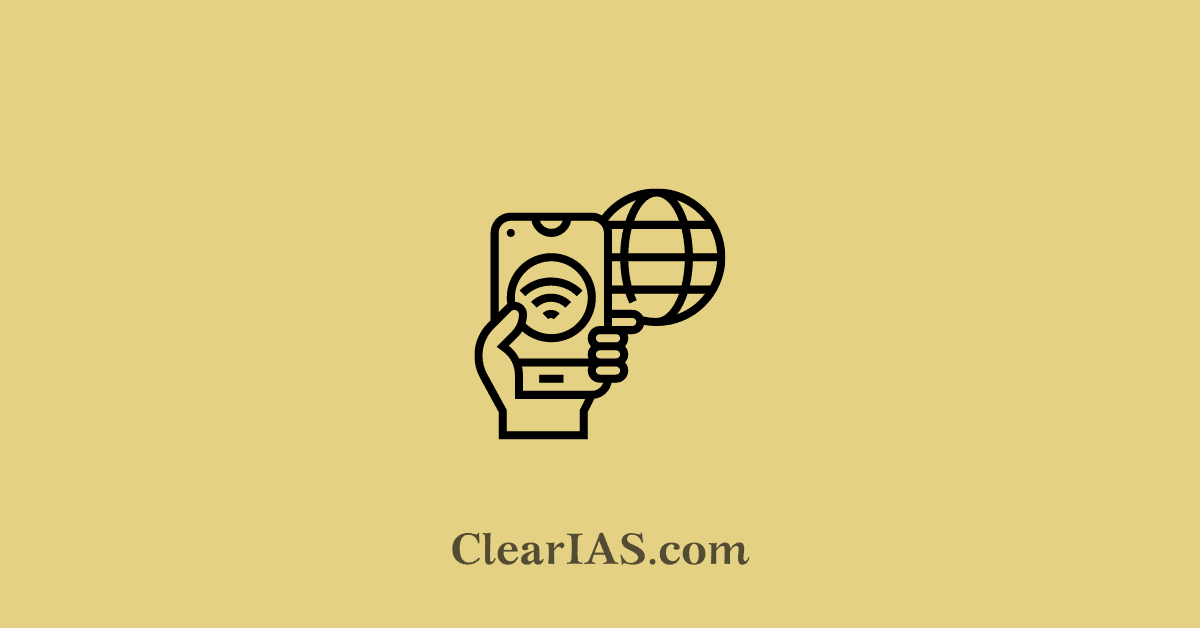 Digital infrastructure in India has been transformed significantly in recent years with the government's push towards digitization and increasing adoption of technology. India is the second largest internet user in the world. Read here to know more about the digital development of India.
Rapid technology developments that have altered the way people live, work, and interact are what are driving sustainable economic development in the twenty-first century.
Digital infrastructure has emerged as an equally or arguably more significant infrastructure necessity, as compared to traditional infrastructure necessities such as power, water, and roads.
The COVID-19 pandemic has not only shuffled the global order but has also provided an impetus to the ever-expanding digital infrastructure.
Digital Infrastructure in India
While the role of traditional infrastructure has been well recognized, in recent years, the role of digital infrastructure in the socioeconomic development of the country has assumed increased importance.
In the coming years, the availability and spread of digital infrastructure will contribute significantly to economic growth, states the Economic Survey 2022-23.
The National Optical Fibre Network (NOFN) project and the Digital India program are two recent examples of the Indian government's considerable efforts to expand internet access and communications infrastructure.
The National Broadband Mission and the National Data Centre Policy were also introduced by the government to support the expansion of data centers in India and the creation of a strong telecommunications infrastructure.
This will result in faster internet speeds, better network coverage, and easier access to digital services for both businesses and consumers.
There have been dedicated digital drives across rural areas through ambitious government schemes, like the flagship BharatNet Project Scheme, Telecom Development Plan, Aspirational District Scheme, initiatives in North-Eastern Region through Comprehensive Telecom Development Plan (CTDP) and initiatives towards areas affected by Left Wing Extremism (LWE), etc.
Government initiatives
To further widen the net, to include unconnected areas and populations, dedicated long-term efforts by the government have been taken.
Government Schemes like Production Linked Incentives (PLI) for telecom and networking products will promote domestic mobile manufacturing as well as network installation.
Continuous proliferation of measures such as the Bharat Net Project shall continue to improve accessibility, affordability, connectivity, and inclusivity pan-India.
This, in turn, will help in realizing the vision to digitally empower every Indian, as we march towards India's 'Techade'.
The National Internet Exchange of India (NIXI) was set up in 2003 to increase internet penetration among the citizens.
The government has made significant investments in enhancing the nation's logistics infrastructure to facilitate a quicker and more effective flow of commodities.
Real-time monitoring, GPS tracking, and Radio Frequency Identification (RFID) have improved the transparency of logistical operations.
A digital platform called the PM Gati Shakti Master Plan uses a geographic information system (GIS) map to show the locations of all the nation's logistical and infrastructural facilities.
The National Single Window System (NSWS) is a government initiative that uses digital infrastructure to speed up the approval process for businesses by enabling traders to electronically submit all necessary documents and information through a single portal, doing away with the need to visit multiple agencies and cutting down on the time and expense of getting clearances and approvals.
The Government e-Marketplace (GeM), an online procurement platform created to create an inclusive, effective, and transparent platform for buyers and sellers to carry out procurement activities fairly and competitively, is another illustration of the government's efforts to streamline procurement procedures.
A landmark achievement in telecommunications in India was the launch of 5G services.
As a major reform measure, the Indian Telegraph Right of Way (Amendment) Rules, 2022, will facilitate faster and easier deployment of telegraph infrastructure to enable a speedy 5G rollout.
The government has brought in procedural reforms in Wireless Licensing, including delicensing of various frequency bands to promote innovation, manufacturing, and export.
The National Frequency Allocation Plan 2022 (NFAP) will give guidance to the users of the spectrum to plan their networks by the relevant frequency and parameters provided therein.
Read here: Bharat 6G Project
Growth of Digital Infrastructure in India
The journey of Digital Public Infrastructure started in 2009 when Aadhaar was first launched. It is fourteen years now, and the digital journey since then has taken the country quite far.
The three growth drivers that acted as catalysts for DPI growth were favorable demographics, a vast expansion of the middle class, and digital behavior patterns.
By leveraging these growth drivers, India has built a competitive digital economy that empowers every individual and business to transact paperless and cashless.
Various schemes and applications launched by the government such as 'MyScheme' and Unified Mobile Application for New-Age Governance (UMANG), 'Bhashini', and others enable citizens to access e-Government services offered by the Central and State Governments in various sectors.
Through platforms like OpenForge, the use of open-source software and sharing and reuse of e-governance-related source code are promoted.
The increasing digital adoption during covid-19 in areas like healthcare, agriculture, FinTech, education, and skilling indicates that the digital delivery of services in India has a massive potential across economic sectors.
With other initiatives like CoWIN, e-RUPI, TReDS, Account Aggregators, ONDC, Open Credit Enablement Network (OCEN), etc. at different stages of implementation, India has developed a unique and cogent digital space.
India stack
A set of frequently utilized digital public infrastructure in India is referred to as the "India Stack."
It consists of three separate layers:
Aadhaar Payments Bridge (an Aadhaar-enabled payment service),
Complimentary payment systems (UPI),
DigiLocker and Account Aggregator, which interchange data, and unique identity (Aadhaar).
Together, they provide digital access to a variety of public and private services that are online, paperless, cashless, and privacy protected.
JAM trinity
The Jan Dhan, Aadhaar, and Mobile (JAM) Trinity is a crucial enabler at the center of India's evolving digital payment ecosystem.
One of the biggest programs for financial inclusion in the world is the Pradhan Mantri Jan-Dhan Yojana (PMJDY).
It was introduced in August 2014 to offer all unbanked households access to universal banking services.
Aadhaar, mobile connectivity, and Jan Dhan accounts have all helped to create a digital India.
Way forward
Future technology would become a necessary component of practically all commercial and social endeavors. Making these procedures more inclusive and compassionate will be difficult, but doing so will enable the average person to reap the rewards.
In addition to promoting "ease of doing business," digital infrastructure in India seeks to establish an inclusive and democratic environment from which both firms and individuals may profit.
The rapid adoption of frontier technologies such as Artificial Intelligence (AI), Blockchain, Internet of Things (IoT), and the advent of the COVID-19 pandemic, has placed the entire digital infrastructure under immense pressure.
With the Government of India progressively working towards goals such as Smart Cities and Smart Health, the nation must augment its digital infrastructure, to effectively utilize the frontier technologies in economic development.
The journey is ongoing and there is much-untapped potential in India's digital public infrastructure space. In sum, the synergy between physical and digital infrastructure will be one of the defining features of India's future growth story.
-Article by Swathi Satish