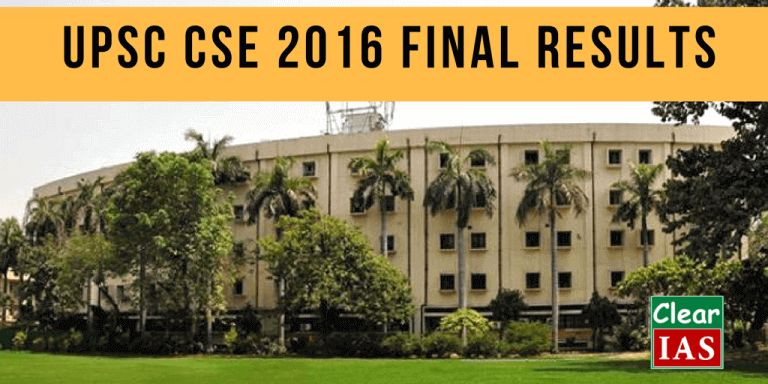 UPSC has published the final results of UPSC Civil Services Exam 2016. Nandini K R is the all-India topper. 1099 candidates are recommended by UPSC in the first rank list.
UPSC Civil Services Exam 2016 Final Results
Out of the 1209 vacancies for which UPSC conducted the Civil Services Exam (CSE), 1099 candidates are recommended in the first rank list. 110 remaining posts are to be filled from the consolidated reserve list maintained by UPSC based on the ranks in the same exam, which will be published later.
Marks of all candidates who gave Prelims, Mains or Interview will be available on the website within 15 days from the date of declaration of result.
Rank is calculated on the basis of total marks scored in UPSC CSE Mains Exam and Personality Test. About 11,36,000 candidates had applied for the first stage in 2016 – Preliminary Exam.
Toppers of UPSC CSE 2016
Anmol Sher Singh Bedi secured the 2nd rank.
Gopalkrishna Ronanki stood third.
More than 50 Students of ClearIAS tops the UPSC Final Rank List!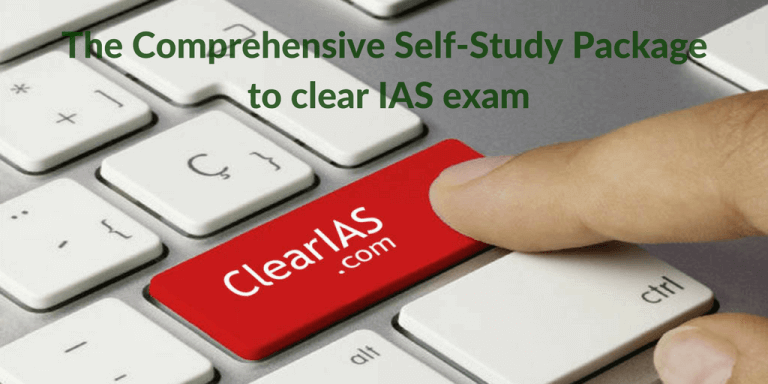 It's a greatly rewarding experience to see many students of ClearIAS made us proud by coming out as UPSC Toppers. On a quick estimate, about 50 candidates who used our study materials and mock exams for Prelims, Mains or Interview have made it to the final rank list. The actual numbers can be much higher and we will update the same with more details soon.
ClearIAS – as an affordable but comprehensive self-study package for IAS exam – has once again proved that IAS aspirants can clear the Civil Service Exam by self-study and online preparation. We feel very happy and satisfied if any of our articles, guidance, online study materials, prelims test series or mains test series,  or interview program – on clearias.com website/Clear IAS mobile app – helped any of the candidates to make it into the rank list.
Congratulations to all UPSC toppers!
ClearIAS.com would like to congratulate all those who successfully cleared the Civil Services Exam. Our best wishes as you begin the journey to serve the nation. And to those who didn't clear the exam – such moments are a part of life. This must not deter you from your future
And to those who didn't clear the exam – such moments are a part of life. This must not deter you from your future endeavours. Perseverance is what resulted in the success of many of the toppers today.
Know your probable service based on last year trends!
If you are confused about the allocation based on your rank/category, please refer our article – 'Till rank can an aspirant get into IAS, IPS, IFS etc?', which is prepared on the basis of data collected from last 8 years (from 2007-2015). You may share with your friends/toppers via Whatsapp or Facebook.
UPSC CSE 2016: 1209 vacancies and 11.36 lakh applications!
The Civil Services Examination (CSE) is conducted by the UPSC annually in three stages – preliminary, mains and interviews. The civil services preliminary examination (objective test) was conducted on August 7 last year. About 11,36,000  candidates had applied for it, but only approximately 5.5 lakh appeared for the examination. Of these, 15445 were declared qualified for the Main examination (written test). The main examination was held in December 2016.
The result of the civil services main examination was declared in the last week of February 2017. 2961 candidates were declared qualified for the personality test. Personality tests were held from March 20 to May 25.
Vacancy break-up for each category – UPSC CSE 2016
1099 candidates have been recommended for appointment. The candidature of 34 recommended candidates is provisional. The vacancy break-up for each category is as follows (including provisional candidates in the rank list):
GENERAL- 500
OBC – 347
SC – 163
ST – 89
TOTAL = 1099
Consolidated Reserve List Break-up (names not published now)
In the consolidated reserve list, UPSC keeps the names of 210 candidates, ie. double the number of remaining vacancies (110).
Category-wise vacancies for each service – UPSC CSE 2016
The total number of seats for a general category candidate is only 610. Only 500 candidates among general category candidates placed in the first rank list.
Toppers of UPSC Civil Services Exam 2016-17 – Rank List
Details – rank, roll number and names of toppers of UPSC Civil Services Exam 2016-17 is available in clearias.com as another post. The details are taken from official UPSC website (upsc.gov.in). The first column is the serial number and not all India rank. Both coincide for candidates qualified in general merit (roughly till rank 600), but all India rank is different from the serial number for the rest of the candidates who fall under reservation category. The second column is roll number and the third column is the name of the candidate.
UPSC Civil Service Exam 2016-2017 – Exam Date | Result Date
Date

UPSC CSE Prelims 2016

UPSC CSE Mains 2016

UPSC CSE Interview 2016

Date of the UPSC exam

7 Aug 2016

3 – 9 Dec 2016

20 Mar 2017 – 25 May 2017

Date of the 

Declaration 

of the  UPSC result

16 Sep 2016

21 Feb 2017

May 31, 2017
Share your story: Clear IAS – Toppers Interviews
Whether or not referred clearias.com during your preparation, we welcome all the toppers to share their story in our platform to inspire future aspirants. Our readers are eagerly waiting to know from the toppers their preparation strategies. That would also help us to improve our platform based on the feedback.
Interested candidates who gave UPSC Civil Services interviews can share their story, experience, preparation methods, success tips etc in Civil Services Exam Toppers Interview series. We shall send the model interview questionnaire and details if you contact us at contactus[at]clearias[dot]com, highlighting UPSC Interview in the subject line. Thanks and all the very best in career and life! Be an asset to the nation!