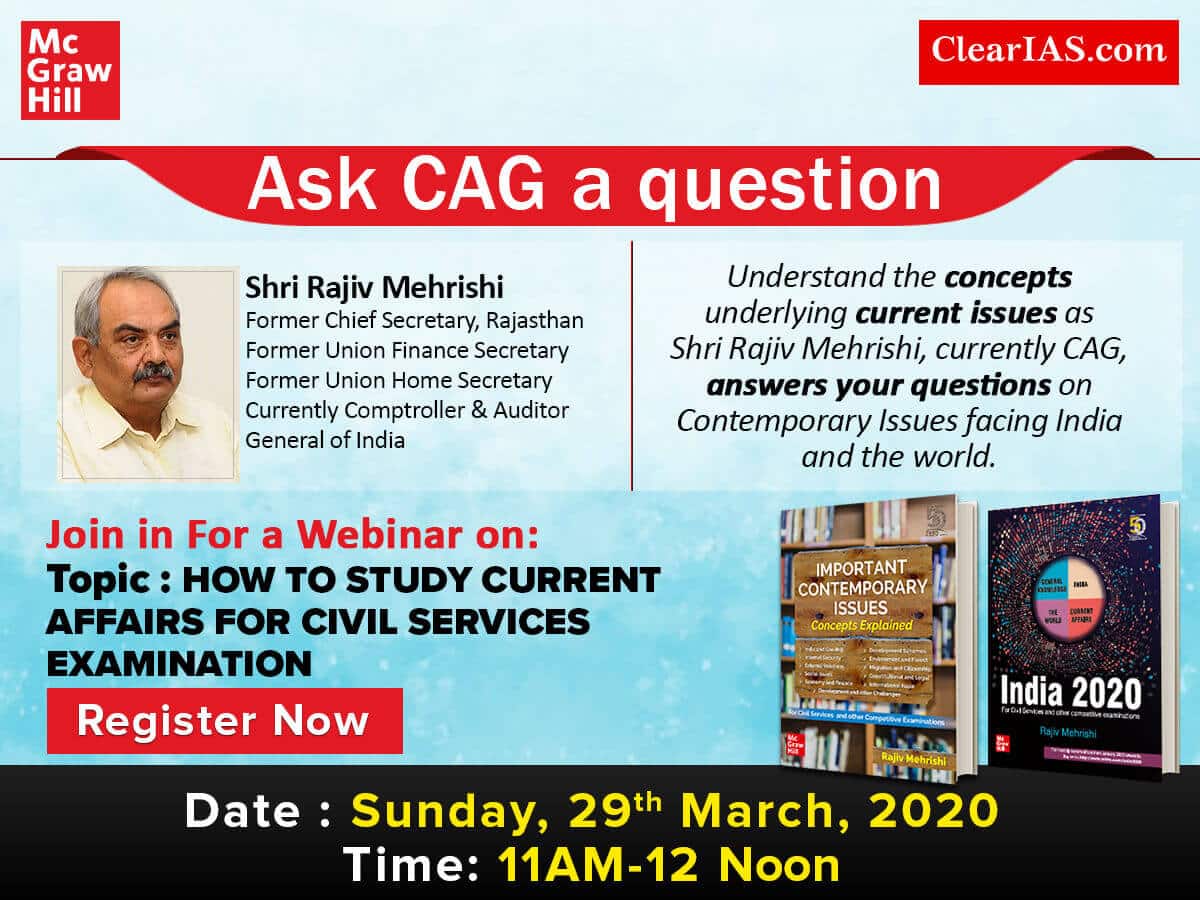 Have you ever dreamt of interacting with the Comptroller and Auditor General of India (CAG) of India? If yes, as a UPSC aspirant, you will now get a wonderful opportunity to ask a question to the CAG of India, Shri. Rajiv Mehrishi, via a webinar.
We have some great news for UPSC aspirants!
The current CAG of India, Shri Rajiv Mehrishi IAS will be interacting with IAS/IPS aspirants on the topic "How to study Current Affairs for Civil Services Examination". The interaction will be though a webinar co-organised by McGraw-Hill Education India and ClearIAS.
Current Affairs Webinar By Shri Rajiv Mehrishi
An eminent civil servant, Mr. Rajiv Mehrishi is also a well-known author. He is the author of the reputed India Yearbook series published by McGraw-Hill Education. His latest book is 'Important Contemporary Issues: Concepts Explained '.
In this live, web-based, seminar, Shri Rajiv Mehrishi will provide his invaluable guidance to young aspirants on how to prepare current affairs section for UPSC Civil Services Exam.
Topics covered in the webinar
In the webinar, the focus will be on the following topic: Current Affairs: Tips and Tricks for Civil Services Examination.
Sub-topics that will be covered during the session include :
Importance of Current affairs in UPSC CSE preparation.
Best books for preparation.
The ideal approach for preparation of Current affairs.
We suggest all UPSC aspirants use this opportunity to seek advice from a senior and knowledgeable officer.
Ask CAG a Question: How to join the free webinar on Current Affairs?
Aspirants need to register first, before attending the webinar (seminar over the internet).
The duration of the webinar will be 60 minutes.
Date: 29th March 2020 (Sunday)
Time: 11 AM – 12 Noon (1 hour)
Topic: How to study current affairs for Civil Service Examination?
Register now for Current Affairs Webinar
Rajiv Mehrishi: CAG of India
Rajiv Mehrishi is an Indian Administrative Service (IAS) officer of 1978 batch belonging to Rajasthan cadre. He is the current 13th Comptroller and Auditor General of India (C&AG) and Vice – Chairman of United Nations Panel of External Auditors.
Before his appointment as CAG, he also served as Home Secretary of India and Finance Secretary. Prior to his stint as the Finance Secretary, he was the Chief Secretary, Government of Rajasthan.
In his free time, he loves to mentor candidates aspiring to serve the country.
About McGraw-Hill Education
McGraw-Hill Education is a learning science company that delivers personalized learning experiences that help students, parents, educators and professionals drive results.
McGraw Hill Education India offers a comprehensive range of educational content and digital tools, empowering and preparing professionals and students of all ages to connect, learn and succeed in the global economy.
About ClearIAS
ClearIAS is an education-technology startup, with a vision of educating India.
ClearIAS website and mobile app are designed as a self-study package for IAS exam preparation.
ClearIAS has helped many candidates to successfully clear the UPSC Civil Services Examination. We work hard to ensure high-quality education accessible and affordable to millions in the country.