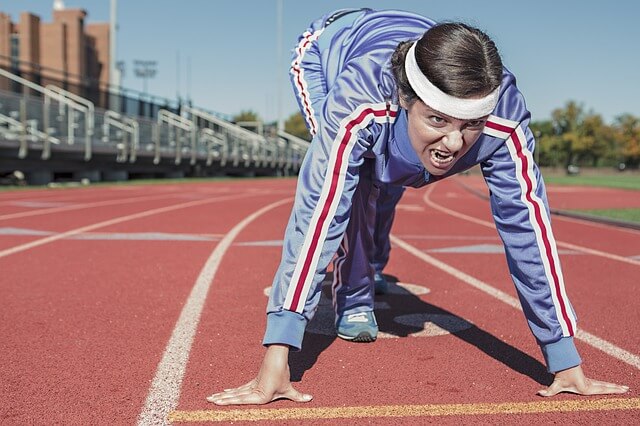 Aspirants, when they begin IAS preparation, are generally confused. They are unsure about how to start, and what to study.
IAS/IPS aspirants have numerous queries in their mind regarding exam eligibility, exam dates etc.
Many are not sure if coaching is essential or not. Their worries are not unfounded.
Don't be misguided!
Misguidance can cost any aspirant a lot of time and money. Many coaching institutes are unsure how to properly guide aspirants as per the latest requirements of UPSC. There are coaching institutes which charge hefty fees but provide poor service and low-quality study materials.
You need to adapt to the changing requirements of UPSC!
Whether you are a beginner in the arena of UPSC Civil Services Exam preparation or an experienced candidate, knowledge about the changing requirements of the UPSC is essential for success. This post covers the necessary things you should note before you begin IAS preparation or coaching.
Download the FREE ebook (PDF) – The Beginner's Guide to Success in UPSC Civil Services Exam
Aspirants who dream to start a career in IAS, IPS, or IFS can download this book (PDF) for FREE.
The ClearIAS ebook (PDF) covers almost all of the queries of freshers regarding UPSC Civil Sevices Exam (CSE). This includes –
Know the eligibility criteria of the IAS exam
Keep in mind the Exam Dates and UPSC CSE Syllabus
Your preparation should be aligned with the UPSC Civil Services Exam Cycle, which has three stages – Prelims, Mains and Interview, which normally has a fixed schedule like June (for Prelims), Sep/Oct (for Mains) and Feb-April (for Interviews).
Read our posts, and understand the details of Civil Services, IAS, UPSC syllabus etc.
Have a realistic idea about the competition in UPSC Civil Services Exam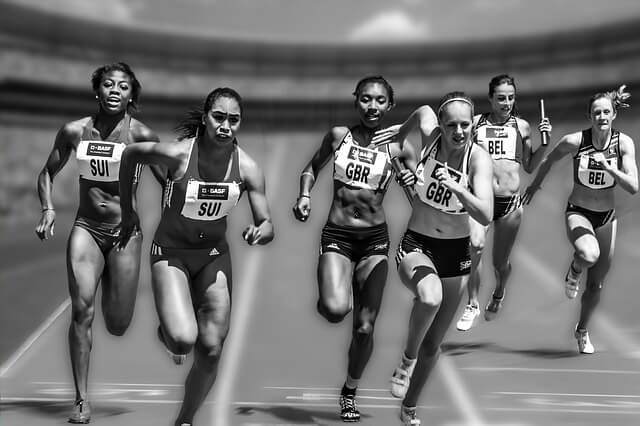 How To Start Preparing for Civil Services?
To start the Civil Services Exam preparation, it is not a must to attend any coaching institutes. But good coaching – either online or offline – can be of great help to the candidates for proper guidance and knowledge.
Path 1: IAS Self-Study (Online Coaching and Books)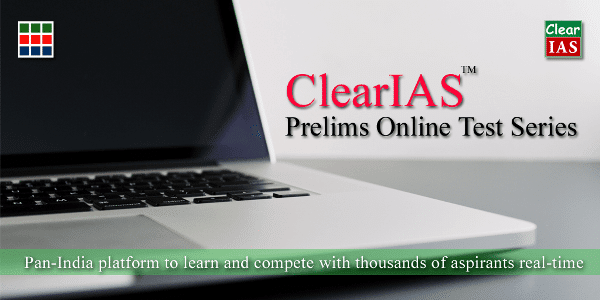 ClearIAS.com offers free IAS guidance, study materials and mock exams to equip aspirants who wish to do self-study.
Self-study can be done at the comfort of one's own home at less than 1/10th of the amount charged by many coaching institutes. There are no time/space constraints. This type of approach is suitable for working professionals and all others who feel that classroom coaching is unnecessary.
However, while doing self-preparation, if not following a systematic approach by referring right IAS books, prelims mock exams, magazines and websites, one will lose focus.
Follow a good strategy.
Learn what UPSC toppers did.
Adopt a test-based approach to learn faster. Take periodic mock tests to evaluate your performance.
As you may know, only when tested in an exam atmosphere with negative marking, you can improve the ability to deliver in the actual exam hall. Enroll for UPSC Prelims online mock exams by ClearIAS in the new innovative platform which integrates learning with test-taking. You would be surprised to find how fast you can learn!
Path 2: IAS Classroom Coaching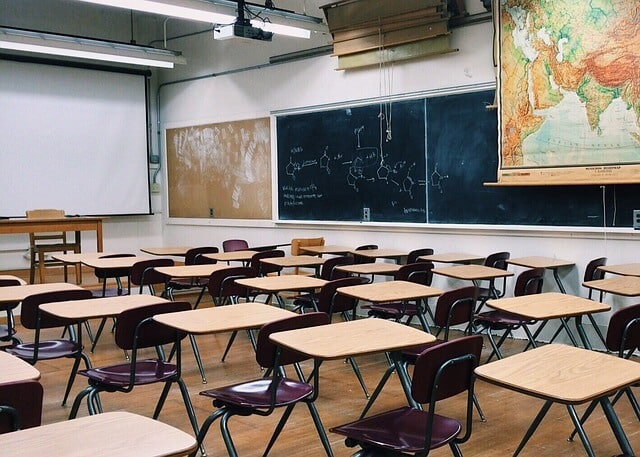 We are not against classroom coaching. We respect the services of good teachers.
If you are lucky enough to get a good teacher or a mentor, you can learn a lot from them – directly. If not, you may fall asleep in the class!
If classroom IAS coaching is focused, according to the latest requirements of the UPSC, this approach can quickly place aspirants on the right path. Besides, there will be the advantage of peer learning and competition, mock tests, analysis etc.
However, classroom coaching for UPSC is very expensive. Many institutes have turned money-making factories.
Time/space constraints, unavailability of coaching outside metros like Delhi, outdated study materials, misguidance etc. are other problems.
How expensive is IAS Preparation?
If you plan to join any classroom coaching class in metros like Delhi, for a package covering Prelims and Mains, the coaching fees can be in the range of Rs.1,00,000-1,50,000. Optional subject preparation may cost you extra. The expense for food and accommodation might cost you additional 1-1.5 lakhs.
However, if you opt for online IAS preparation, the cost will be very less (less than Rs.10,000). You can join ClearIAS Prelims Test Series for just Rs. 9000 Rs.4999.
You can clear the IAS exam without classroom coaching!
In case due to any reasons, if the aspirant is not in a position to attend classroom coaching, there is nothing to worry.
Read – Strategy and Books for Early Birds To Clear IAS Exam
There are many who have cleared IAS in the past without coaching. But there is one thing common to all of those – they had proper orientation, and they knew what to study and what-not.
Read – Civil Service Prelims 6 Month Strategy – How Can You Clear UPSC Prelims in 6 Months?
Self-preparation cuts the expense cost to a minimum, but you need to keep aside a sum in the range of Rs.5000- Rs.10,000 for essential IAS books, mock exams, magazines, and newspapers. 24*7 access to the internet (over laptop/mobile) will be an added advantage.
Read:
Aspirants should also keep in mind that the UPSC Civil Services exam is among the cheapest exams in the country. The Fee for IAS Prelims is Rs.100/- only. (Exam is free for all female candidates!).
Read – 100-Days Action Plan to Clear IAS Prelims
What subjects should be studied for IAS Exam?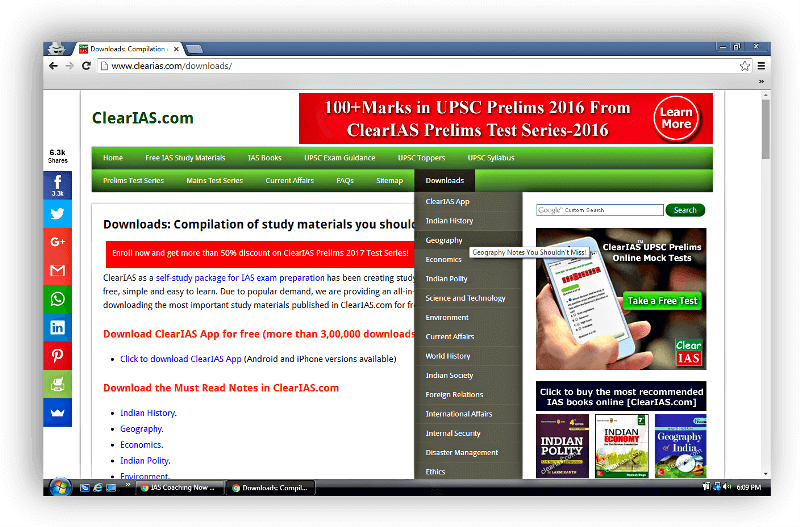 UPSC Prelims cum Mains
Additional Subjects for UPSC Mains
In addition to this: One Optional Subject like History, Geography etc from a list of near 50 subjects and One Essay paper.
Why this mission "Clear IAS"?
A career in Civil Services (Central/State) is an ambition of thousands, but unfortunately, not all of them achieve their dream.
The primary reason behind the failure is the lack of proper guidance (or misguidance) from the so-called 'coaching experts/gurus'. Also, classroom coaching is expensive and is not affordable/available to all sections or regions.
It was at this juncture that Clear IAS was conceptualized, with a vision to bridge the gap between facilities and guidance. ClearIAS.com truly wish the door to the dream of IAS/IPS or any Civil Services should not be closed to any genuine candidate due to misguidance or lack of proper awareness.
We ventured out to help all aspirants who look for guidance outside the classroom coaching or who can't afford it due to time/financial constraints.
ClearIAS.com is affordable and most of our online study materials are free. Easy-to-learn notes are provided on the website to supplement the traditional textbooks. A compilation of useful books for each subject (Prelims and Mains) is made along with facilities for direct online purchase.
Clear IAS has released free mobile apps (android apps as well as iPhone apps) as a complete self-study package for free. We have also launched full length timed online mock test series with negative marking for UPSC Prelims which can be attempted at the ClearIAS mock test platform. All the best!