ClearIAS Backgrounder (Current Affairs) is our new product in PDF format which covers the background of 100 most important topics for UPSC Civil Services Exam (CSE).
This ebook (PDF) is now available on ClearIAS Online Store for just Rs.199.
The book is useful not only for aspirants preparing for UPSC 2019 Mains and Interview (quick-revision of background concepts), but for aspirants preparing UPSC 2020 as well.
Attention: ClearIAS Prelims Test Series Subscribers (2020)
As a value-addition to ClearIAS Prelims Online Mock Test Series 2020 Subscribers, we are offering ClearIAS Backgrounder (Current Affairs) for FREE. This is an offer exclusive for the paid users on ClearIAS mock exam platform.
Once you enroll in ClearIAS Prelims Test Series 2020, you will get an email from ClearIAS with subscriber discount code. If you don't get the discount code even after 7 days of enrolling, email us your registered email and username, we will get back to you again with the discount code.
ClearIAS Backgrounder – Connecting Background of Current Affairs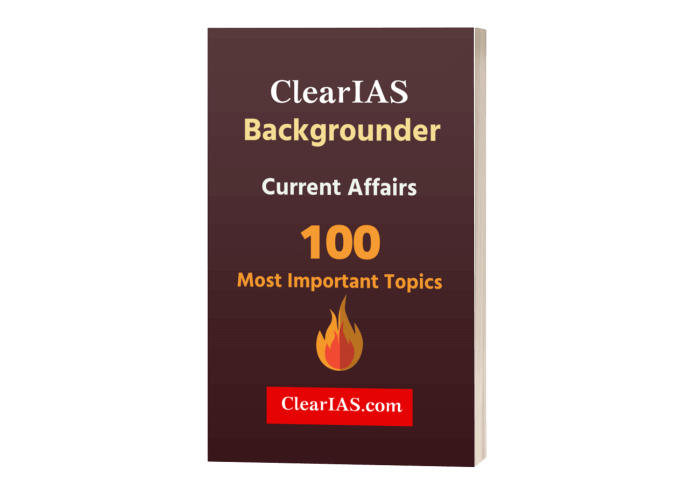 To understand any current affairs topic in news, it is extremely important to first understand its background.
Once the background is clearly understood, you can easily connect it with the present-day issues/affairs.
What if a book helps you connect the background with the current issues?
It will help you save a lot of time, besides giving you great conceptual clarity. Also, such a compilation would be highly useful for last-minute revision.
This book "ClearIAS Backgrounder: Current Affairs" perfectly does this job.
Table of Contents (100 Most Important Topics for UPSC CSE)
Abrogation of Special Status of Jammu and Kashmir
Full statehood to Delhi: Should it be granted or not?
Ayodhya dispute
Price Deficiency Payment mechanism
Election Funding
Free Speech: Rights & Limits
Frequent promulgation of Ordinance
Judicial appointment: Collegiums Vs NJAC
Media freedom and Responsible reporting
Muslim Personal law: Polygamy/ Triple talaq
NGOs and Development/ Crackdown on NGOs
Dalit assertion and Politics of reservation
Supreme Court judgement on Caste, Religion in Polls
Parliamentary disruptions
Issues related to Social Media
Criminalisation of politics
Marital rape
Net neutrality
The merger of PSU banks
Politics and Economics of farm loan waiver
The entry of foreign universities in India
National Medical Commission Act 2019
Barring MPs from practising law
Section 377: Constitutionality Vs Morality
Institutions of Eminence: Can the tag help to create world-class universities?
Higher Education Commission of India
Bad bank: Is it a good idea?
Data protection: Privacy Vs Innovation
Ayushman Bharat: Can it make India healthier?
SC/ST Act judgment: Protecting the innocent or diluting the Protection?
Khap Panchayats and honour killing
National Policy on Biofuels
Should the SC proceedings be live-streamed?
Doubling the Farmer's income
What prevents women from working in India?
Special category status
National Register of Citizens
Death penalty for raping minor
Mob lynching: Is it becoming a new normal?
RTI: Is it on the brink of extinction?
India in SCO: Benefits and challenges
Minimum Support Price
Reservation in promotion for SC/ST employees
No detention under RTE
Inter-linking of rivers
Compensatory Afforestation
Amendments to the prevention of corruption act
Issues related to the appointment of Lokpal
Office of the Speaker: Powers and Issues
Use and Misuse of sedition law
Armed Forces Special Powers Act (AFSPA)
Rights of the Transgender Persons
Swachh Bharat Mission and Manual Scavenging
NITI Aayog: Old wine in a new bottle?
Adultery: Section 497 of IPC
Regional Comprehensive Economic Partnership (RCEP) and India
The National Digital Communications Policy 2018
Sexual harassment at the workplace
India's effort towards fighting Climate Change: Issues and Challenges
Forest Rights Act (FRA)
Central Bureau of Investigation (CBI)
Online pharmacies: Why the opposition?
INS Arihant: India's nuclear deterrence
Data interception order: digital surveillance?
Surrogacy: Issues and challenges
Implementing NOTA in the right spirit
Intellectual Property Rights in Agriculture: Pepsico case
New rules for e-commerce
Election commission of India: A crisis of credibility?
Women's Reservation Bill
Unemployment Crisis in India
Official Secrets Act, 1923
The water crisis in India
Should India shift to proportional representation from the FPTP system?
What SAARC can learn from ASEAN?
Draft National Education Policy, 2019
India's push for Electric Vehicles
Mission Shakti: Anti-satellite missile
Code on Wages Bill, 2019
Plastic pollution
National Human Rights Commission (NHRC)
Ban on cow slaughter/ Beef ban
Economic growth Vs Environmental conservation
Nationalism vs Regionalism
Should India spend more on science or Social welfare?
Laws to ban certain social practices
Unique features of the ebook "ClearIAS Backgrounder – Current Affairs"
Most Important Events of National and International Importance is presented in a simple and easy-to-learn language.
You will get an idea of the background/history of important issues.
Arguments in favour and arguments against are presented. This will be highly useful for UPSC CSE Mains and Interview to take a stand.
Reference links to related discussions – text and video – from important websites like Rajya Sabha TV, PIB, PRS India, AIR etc are provided.
Issue-based study (with views and counter-views).
Helpful for Essay Paper as well.
The details presented in this ebook will be highly useful to answer various questions from the current affairs section of UPSC Civil Service Exam – Prelims, Mains and Interview.
Review of ClearIAS Backgrounder (Current Affairs)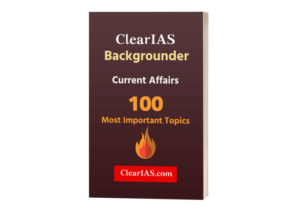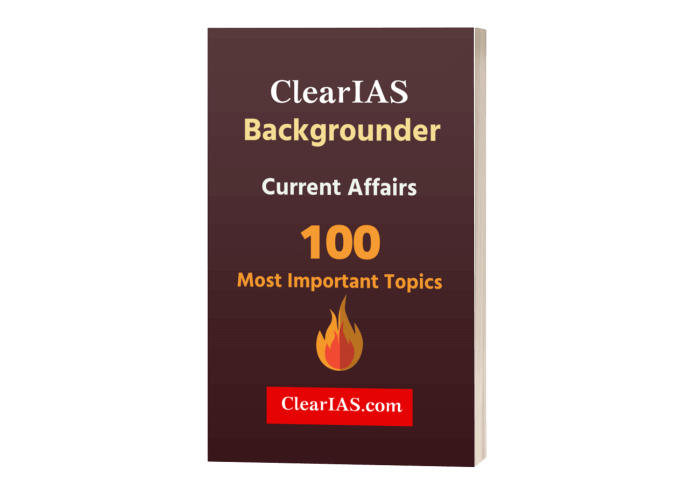 Book Title: ClearIAS Backgrounder (Current Affairs)
Book Description: ClearIAS Backgrounder (Current Affairs) is a new product in PDF format which covers the background of 100 most important topics for UPSC Civil Services Exam (CSE).
Book Author: ClearIAS
Book Format: EBook
Number Of Pages: 540
Content

Presentation and Ease of Reading

Language

Authority

Relevance to UPSC CSE Syllabus
Summary
ClearIAS Backgrounder (Current Affairs) covers the background of 100 most important topics for UPSC Civil Services Exam. This ebook (PDF) is equally useful for Prelims, Mains, and Interview.